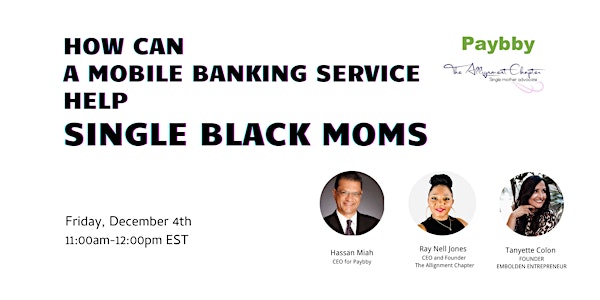 How Can A Mobile Banking Service Help Single Black Moms
How can a neobank relieve the hardship Black and Brown families face?
Refund Policy
Contact the organizer to request a refund.
Eventbrite's fee is nonrefundable.
About this event
The black and white economic divide is presently as wide as it was in 1968. Despite the closing of the education gap, there is still a significant difference between the amount of wealth blacks and whites have access to. This shows us that education is not the answer and covid-19 is making it even more evident with the significant impact it has had on the most vulnerable in the population.
We have seen how much more cases have arisen in low-income predominantly minority neighborhoods much more than predominantly white areas. Many single mothers find themselves raising their kids on their own because the father is incarcerated. Not only must they financially support and raise the kids on their own, they often cannot afford access to internet. We will be talking about how Paybby, a Public Benefit Challenger Bank, can address this issue.
Date and Time
Dec.4th 11:00 am-12:00 pm EST
Key Points
(a) How are single moms affected by not having access to bank accounts?
(b) How is mass incarceration a problem?
(c) How can a digital bank relieve the hardship associated with an incarcerated parent?
(d) What are some of the best ways for smart phones to help a single mom?
Speakers
Hassan Miah, CEO for Paybby
http://linkedin.com/in/hassanmiah
Founder and strategic adviser in technology, media, artificial intelligence, Blockchain and finance. Extensive international experience in China, Japan and Asia. Co-founder of Robin8, a social e-commerce AI platform in the US and China. Formerly Director of investments at Intel Capital, and a Management Consulting Partner at KPMG working on deals in entertainment and community banking. As CEO of Xing Technologies, launched the world's first MP3 consumer recording software that was later sold to Real Networks.
Ray Nell Jones, CEO and Founder, The Allignment Chapter
https://www.linkedin.com/in/ray-nell-lewis-252b49172/
Ray Nell Jones is the founder of The Allignment Chapter Corporation, a non-profit dedicated to single mothers in November 2019. Their mission is to help low income mothers make it through the month with basic necessities needed to wash their children, brush their teeth, and properly clean their clothes. They help low income single mothers and families in 22 states and 83 communities in need of emergency same-day assistance. They currently serve more than 700 single mothers.
Tanyette Colon, Founder, Emboldened Entrepreneur
https://www.linkedin.com/in/tanyettecolon/
Tanyette Colόn is a Senior Internet Marketing Consultant at Reachlocal, a Gannett company and Google partner. Prior to joining Reachlocal, she worked for Fortune 500 media groups including: ESPN, ABC/Disney, Univision Radio group and Sporting News. She is the LatinX founder of InFuuse a platform launching in March 2021, that leverages the best in human engagement with their proprietary HIPAA compliant SaaS platform that unifies all marketing communication channels. She is also the founder of Embolden Entrepreneur, a marketing consulting company that helps entrepreneurs and business owners to step into their authentic voices, amplify their business/marketing strategies and create socially conscious communities.
About
Paybby
A Public Benefit Challenger Bank built to empower the Black and Brown communities to pay less for banking, build wealth and end financial unfairness.
Official website: https://paybby.com/
Twitter: https://twitter.com/Paybby1
Facebook group: https://www.facebook.com/groups/637502496964253
Facebook page: https://www.facebook.com/paybby/
LinkedIn: https://www.linkedin.com/company/paybby
The Allignment Chapter Corporation
At The Allignment Chapter Corporation, we seek to help low income mothers make it through a 30 day calendar month with the basic necessities needed to wash their children, brush their teeth, and properly clean their clothes.
Our mission is to help single mothers stay aligned with their financial obligations while maintaining an stress-free household by providing them with a bag of household necessities.
To become a Life Saving Donor please visit this link to see different ways you can donate: https://flow.page/theallignmentchapter.