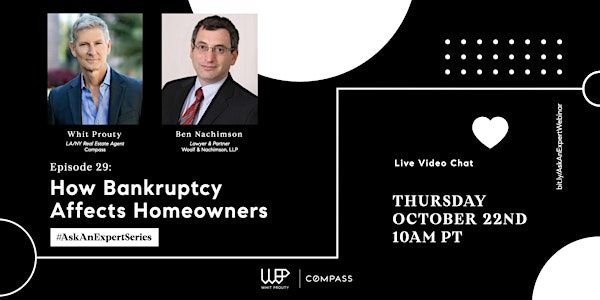 How Bankruptcy Affects Homeowners | Ask An Expert 29
Learn from the experts!
About this event
Expert:
BENJAMIN NACHIMSON, Lawyer & Partner at Woolf & Nachimson, LLP
Host:
Whit Prouty, LA/NY Real Estate Agent at Compass
Thursday, August 27th at 10am PT
https://us04web.zoom.us/j/7298565962
Meeting ID: 729 856 5962
Speaker info:
BENJAMIN NACHIMSON, Lawyer & Partner at Woolf & Nachimson, LLP
A partner at Woolf & Nachimson, LLP, Ben's practice focuses on representing individuals and small businesses in Chapter 11 and Chapter 7 cases. Prior to joining Woolf & Nachimson, LLP, Ben represented Bank of America's Dealer Financial Services, Home Equity Loan Department, and FIA Card Services throughout the State of California in their consumer and small business matters. He also represented other banks and financial institutions in bankruptcy litigation and in state court matters throughout California.
Over the past 27 years, Ben's has represented businesses and individuals in bankruptcy reorganization; non-bankruptcy workouts; litigants in adversary proceedings through trial and appeals to the Ninth Circuit Court of Appeals; creditors seeking recovery from bankruptcy debtors, and estates; Chapter 7 Trustees, and purchasers and sellers of bankruptcy assets.
Ben received his Juris Doctorate from the University of California Los Angeles School of Law. He is a certified mediator for the United States Bankruptcy Court for the Central District of California and an active member in the Los Angeles Bankruptcy Forum and the American Bankruptcy Institute.
Ben is fluent in English and Hebrew.