Description


How AI and Machine Learning Work at Apple - RobotX Meetup No.35
Apple has published several papers before to describe a technique for how to improve the training of an algorithm's ability to recognize images using computer- generated images rather than real-world images.
In machine learning research, using synthetic images (like those from a video game) to train neural networks can be more efficient than using real-world images. That's because synthetic image data is already labeled and annotated, while real-world image data requires somebody to exhaustively label everything the computer is seeing -- that's a tree, a dog, a bike. But the synthetic image approach can be problematic as what the algorithm learns doesn't always carry over neatly to real world scenes. The synthetic image data "is often not realistic enough, leading the network to learn details only present in synthetic images and fail to generalize well on real images," the paper from Apple says.
Do you want to know the newest step of Apple in AI? Do you wanna know it before you see it has been published on new iphone? Come and check out at our RobotX Space Meetup!
---
Agenda
6:00~6:30 PM Registration, Food & Drinks
6:30~7:30 PM Keynote: How AI and Machine Learning Work at Apple - RobotX Meetup No.31
7:30~8:00 PM Q&A
8:00~8:30 PM After Event Networking
---
Get Your Annual Tickets &
Join Our Vibrant A.I. Startup Community At The Heart Of Silicon Valley
Member Benefits:
Complimentary access to our full event schedule. We meet once every two weeks to network & discuss innovations .(Totally 50 times per year)
Happy Hour, Foods & Drink

Featuring robotics, artificial intelligence, 3D printing, wearables, IoT, smart devices, and more.


Unite geeks, startups, investors, and executives to explore cross-border opportunities.
Local Industry's leading companies for keynotes, collaborations and business services
Upcoming Event Schedule:
04.27 Topic: Scalable Bidirectional Communication Over the Web, Wenbo Zhu, Tech Leader/Mgr (Infrastructure Networking), Google
05.02 Topic: Intelligent Driving of FF, David Wang, Sr.R&D Manager of System Architecture at Faraday Future
05.16 Topic: Build Your Cognitive Business with IBM Watson, Michael Ludden, Program Director & Senior Product Manager, IBM Watson
06.13 Topic: Tensorflow: Machine Learning for Everyone, Xiaobing Liu, Senior Software Engineer at Google Brain
07.11 Topic: Cloudsight's Visual Cognition:High Quality Understanding of Images Within Seconds, Brad Folkens, CTO & Co-Founder, Cloudsight
07.25 Topic: Netflix, on the airChad Kapadia, Chief Technology Officer at Swissclear Global, Former Engineering manager at Netflix
08.08 Topic: The secret code of da Vinci Robotic Surgery, Wanxi, Systems Analyst at Intuitive Surgical
08.29 Topic: NewGen, Cross-border VC Fund between U.S and AsiaLu Zhang, Forbes 30 Under 30, Founding Partner, NewGen Capital
09.05 Topic: ABB Ventures + RoboticsGrant, Allen, Partner at ABB Venture
09.19 Topic: Qihoo360 Lab,the best smart hardware ecosystem, Shu Cao, Chief engineer at Qihoo 360
Keep Updating and More...
Our 2017 Meetup Timeline: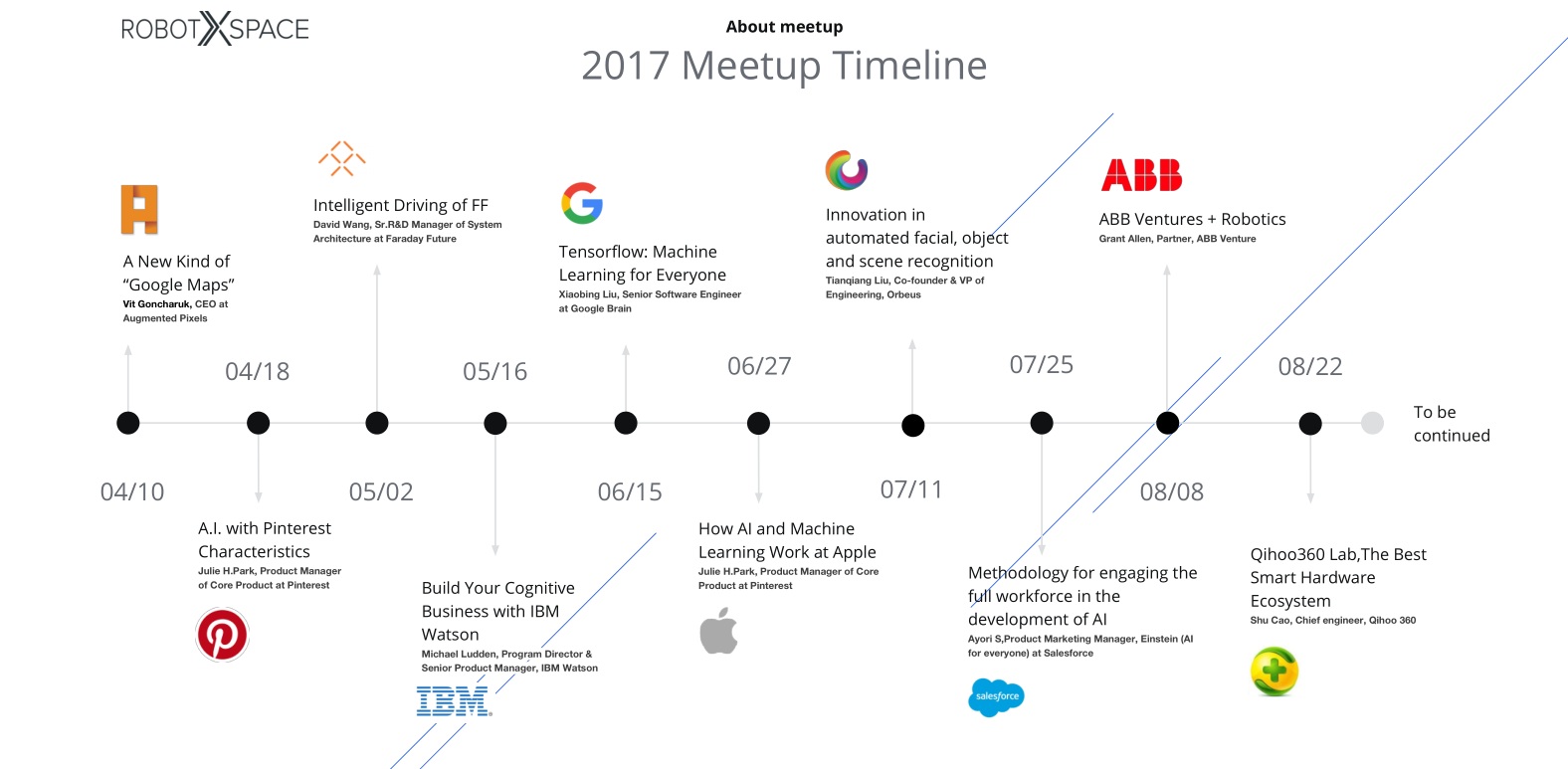 Our Clients: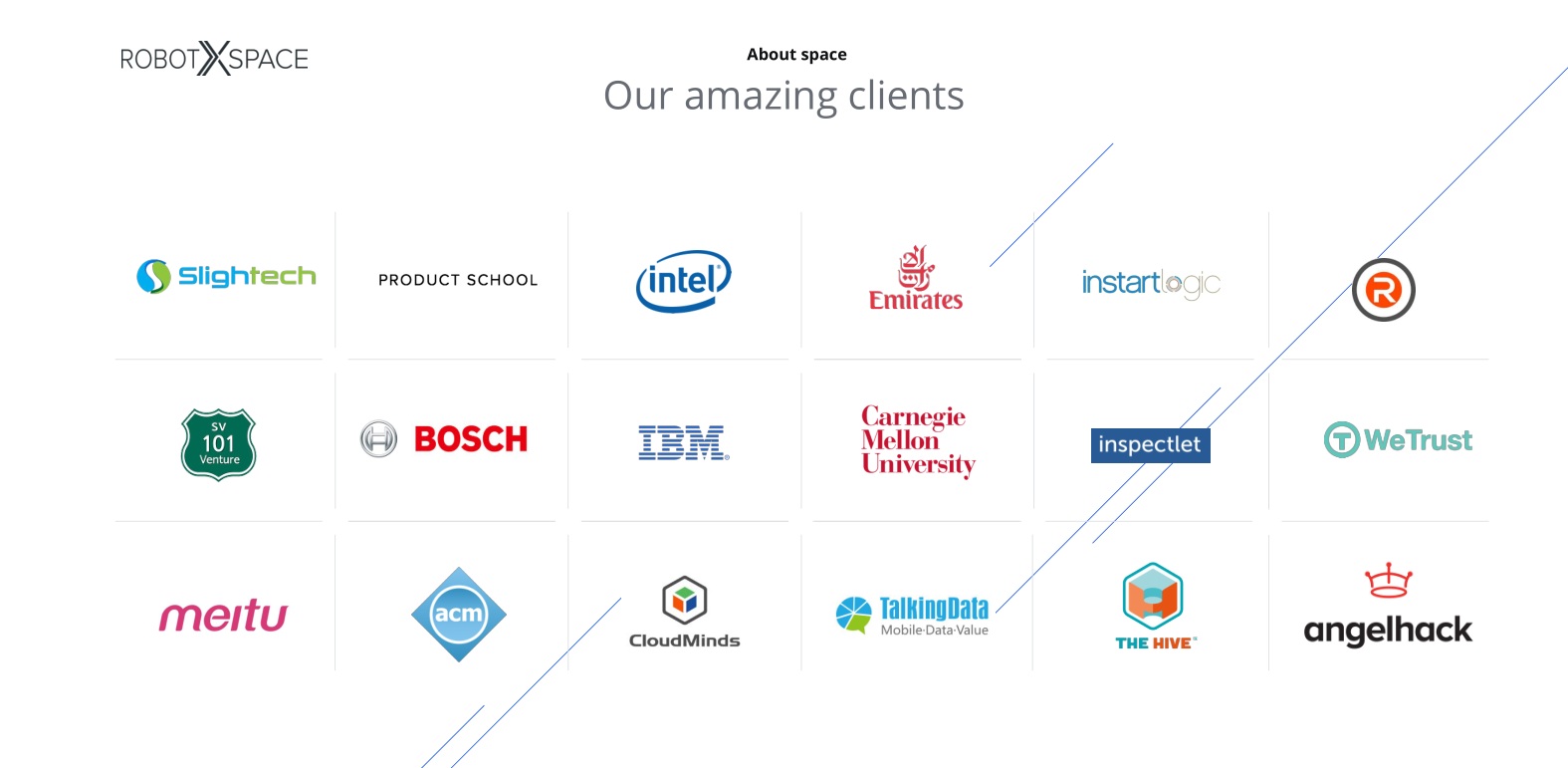 ---
More information: www.robotxspace.com or questions may be directed to email at info@robotxspace.com