Description
AN OVERVIEW:
Success does not come without hard work, patience and ambition. How a life of a boy grew up in a kampung with a limited opportunity, had taught him to be a hard-working, patient and ambitious man. A boy that had learned on hardship from a very young age had to pull himself out to be a success Global Business Investor. He manages to build up his business and reach out to other people to join and succeed together with him.
---
SPEAKER: Adj. Prof Maxshangkar (FGBC)
Adj. Prof Maxshangkar graduated with B.Sc. in Computer Science (1st Class Honours) from University Technology of Malaysia (UTM). After graduation despite being offered as a network engineer with a lucrative salary, he rejected the offer and ventured into network marketing business for 4 years where he built his valuable sales and marketing skills, leadership and global networks. This led him to his destination path to venture into international commodity trading business where he jointly linked a single supply contract of close to USD2 billion and other supply contracts to certain countries in South East Asia region.
In 2011, he established collaboration and partnership with some renowned property experts to promote local Malaysian property projects, especially projects in Klang Valley, Johor Iskandar and Penang to foreign investors.
With his vast experience in global real estate investment, he managed to establish a trusted relationship with developers across the globe like Hong Kong, Germany, Canada, US, UK, New Zealand, Australia and etc. He has advised many prominent developers on corporate branding, public relationship and business strategies to establish their presence in Malaysia.
He has also advised many high net worth property investors to make wise choices in investing overseas properties. Currently, he is handling several portfolios with a combined GDV of more than USD5 billion.
He is regularly invited as a special speaker for private exclusive talk to high net worth property investors to share his time-proven strategies and experiences of different times affecting the economic backdrop in the property segment. He has also been invited to speak at many international events and conferences, like the ASEAN Real Estate Investment Summit 2014 organized by Malaysian Government Agency, CIDB and UBM, Financial Growth Summit 2014 organized by Summit Capital and Affin Hwang Capital, and many appearances in a live interview by TV Bernama and BloombergTV.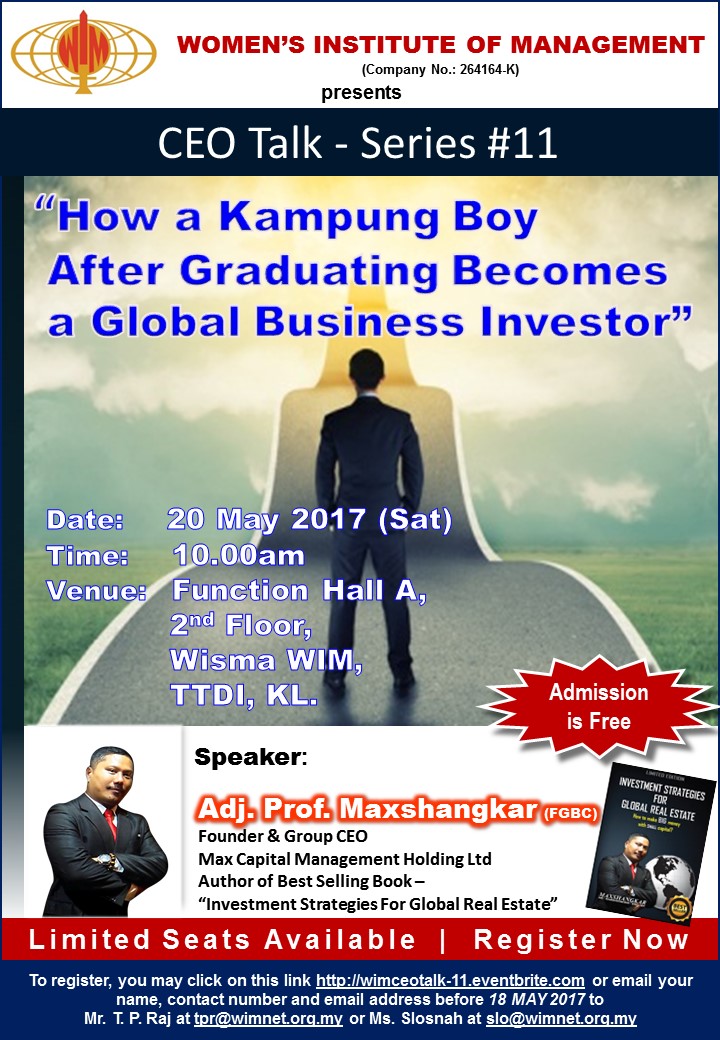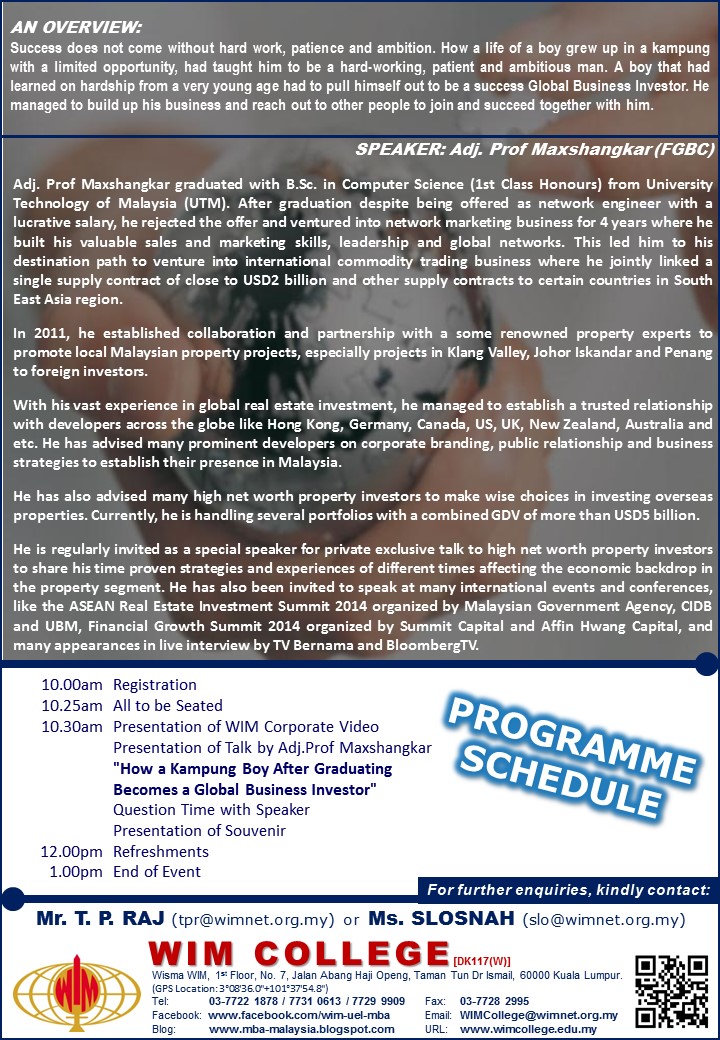 Date and Time
Location
Wisma Wim
7 Jalan Abang Haji Openg
Kuala Lumpur, Wilayah Persekutuan Kuala Lumpur 60000
Malaysia