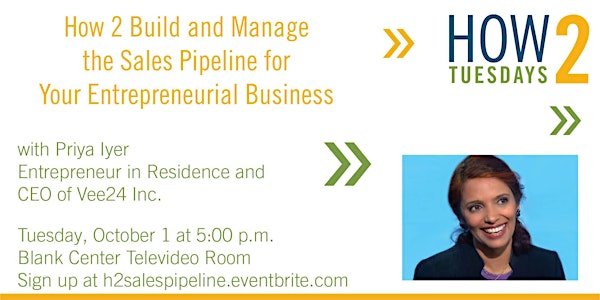 How 2 Build and Manage the Sales Pipeline for Your Entrepreneurial Business
When and where
Location
Blank Center Televideo Room Babson College 231 Forest Street Babson Park, MA 02457
Description
The Blank Center's #How2Tuesday series continues on Tuesday, October 1 at 5pm in the Blank Center Televideo Room: How 2 Build and Manage the Sales Pipeline for Your Entrepreneurial Business with Babson EIR Priya Iyer!

This workshop will focus on creating a process for your sales team. Priya will share tips on how to gather and manage your sales data to fit your pipeline process. We will also explore key pipeline metrics you should watch and manage on an ongoing basis.

About Priya Iyer
With over 25 years of diverse international experience in nearly every facet of software, Priya Iyer is a proven, high-growth entrepreneurial CEO with a leadership philosophy centered on engaging clients and employees to build industry leading SaaS software platforms and delivering exceptional stakeholder value. Iyer is currently Chairman & CEO of Vee24, Inc., and was most recently Chairman & CEO of Anaqua, Inc., which she founded in 2004 and grew into a global SaaS solutions provider for Intellectual Asset Management. She was awarded New England Entrepreneur of the Year in 2014, ranked on the 2015 Top 100 Entrepreneurs list by The Boston Globe, and named as one of The Top Women Leaders in SaaS 2018 by TSR (The SaaS Report). Iyer holds a B.E. in Computer Science & Engineering from Anna University and an MBA from the MIT Sloan School of Management.

What are #How2Tuesdays?:
Want to learn something really practical to get your startup moving in the right direction? #How2Tuesdays are short, workshop style sessions meant to bring you very specific, user friendly instruction on some of the most important things you need to know for your venture. Every Tuesday at 5pm in the Blank Center!