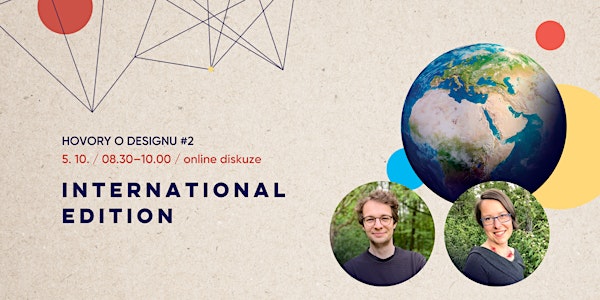 Hovory o designu #2: International edition
A discussion about sustainability in the current design practice with a bunch of designers from around the world.
About this event
We continue our ongoing discussion about the role of designers in the domain of sustainability. After two rounds of rather introductory debates, we decided to invite a couple of designers from around the world in an attempt to enrich our understanding with international perspectives.
You can check out the previous events for details – round 0, round 1 (only in Czech).
The final list of guests is a diverse group, both in terms of locations and topics. You can read the guests' profiles below. You are welcome to sign up for the event. It's free!
Each talk will last about 10 minutes followed by a 5-minute discussion.
Since our series attempts to make sense of what it means to be a designer these days, we asked our guests to base their talks on this article which describes a framework that organizes various design discipline into an elegant order—and which we highly recommend reading beforehand.
Guests
↦ BURCU ARSOY | Senior Service Design Lead and Evangelist at Scania, Sweden
Burcu would like to talk about both her current job (solving strategic business problems and improving customer experience) as well as the design of circular economy project for a telecom company.
↦ PETER ROD | UX Designer at Kentico, Slovakia
Peter will talk about techniques and methods for sustainable UX design. In his work, he will show us how to lower the footprint of digital products.
↦ LYLA SULAIMAN | Creative Director / Founder at Matter Design & Communication, Shanghai
Lyla will tell us about her approach to sustainable marketing and graphic/packing design. Her story will be about democratizing sports and going local in the sports equipment business.
↦ NURVITRIA M KRIŠTOFÍKOVÁ | Lead UX and Service Designer at AgUnity.com, Bali / Slovakia
Nirvitria has been in sustainability for over a decade; programming and designing products for the sector. She will tell us about her project AgUnity (impact work for smallholder farmers in the last miles).