Houston - The Punany Poets' The Head Doctor Show Season 25

Friday, July 24, 2020 from 10:00 PM to 11:55 PM (CDT)
Event Details
Tickets Holders would text 404-904-5046 to get your Free HIP Membership Dog Tag, Good for admission to shows for 1 year.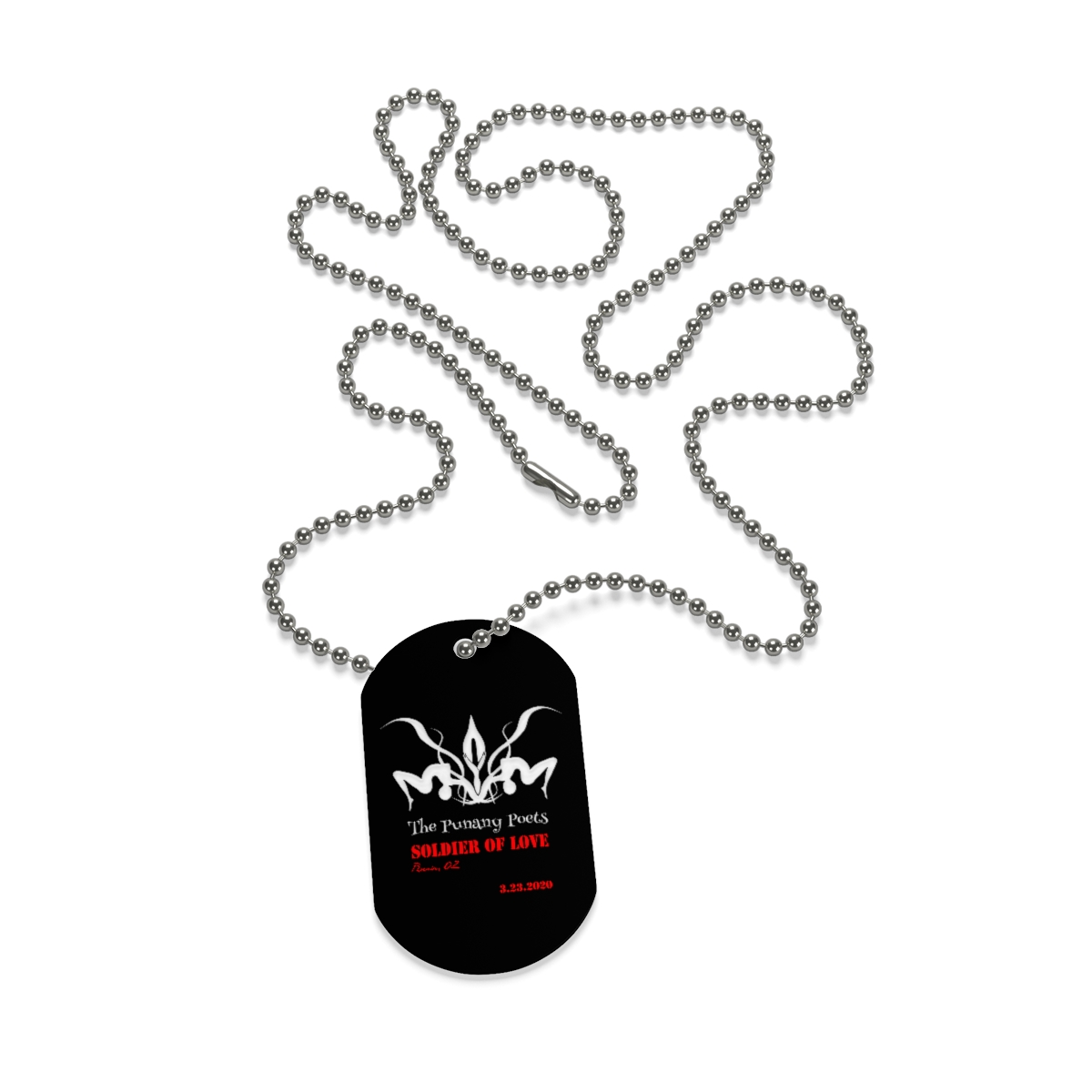 Order a Punany Dog Tag and come to any show, any time.
The Head Doctor Show: Pussy Willow
Welcome to Ghettoville where Club Pussy Willow is throwing a late-night block party with DJ Ol' Skool, Eboni Amore, Mz. Moet (KC Arington), Jessica Holter and Trinity, the Classic Shostopper. The party has already begun when you arrive inside this immersive community party, where the mic is hot and the stage is set with inspiration and precipitation. We are broadcasting live on our social media, audio and video networks, so be sure to bring your best love confession.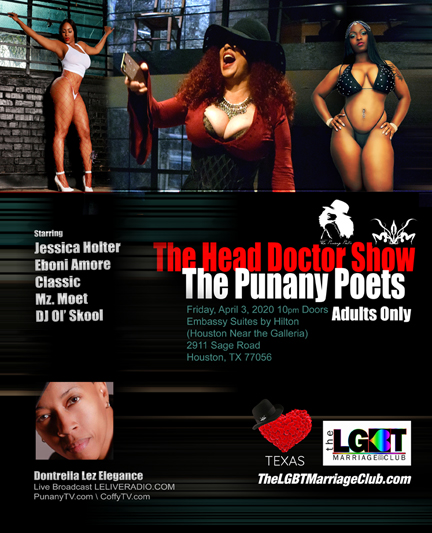 You know The Head Doctor, a raw, over-sexualized caricature of the bad girl who guides you on intimate theatrical trysts. You may even be familiar with Ghetto Girl Blue, a raw Oakland poet whose work is reminiscent of Iceberg Slim. Pussy Willow is an epic revelation of characters you have yet to meet, plus old familiar players, still hanging on the corner of Flesh and Consequence Streets, hustling your emotions for change.
Kineta James, J Steel, Credence Malone, Jane Therese, and newcomer Scarlett Falls all play their parts in this lyrical exploration of sexual conversation with safer sex demonstrations, public displays of affection, love confessions and a mesmerizing celebration of the big beautiful woman.
Jessica Holter and The Punany Poets are so happy to return to Houston during National Poetry Month... for this Black Sex Conversation that will change the way you think of date night. This event is open to all but is part of a larger conference for the Houston LGBT Marriage Club.
* Adult Language
* Adults Only
The Book: If you have always wanted a Punany book, but never got one, this is the book to get. Verbal Penetration 2: Pussy Willow is the culmination of 25 years of Jessica Holter's literary work. This book is a brilliant and transcendent collection of characters, voices, and experiences that are all at once, fantastic and familiar.
Save This Event
When & Where

Embassy Suites by Hilton Houston Near the Galleria
2911 Sage Road
Houston, TX 77056


Friday, July 24, 2020 from 10:00 PM to 11:55 PM (CDT)
Add to my calendar
Organizer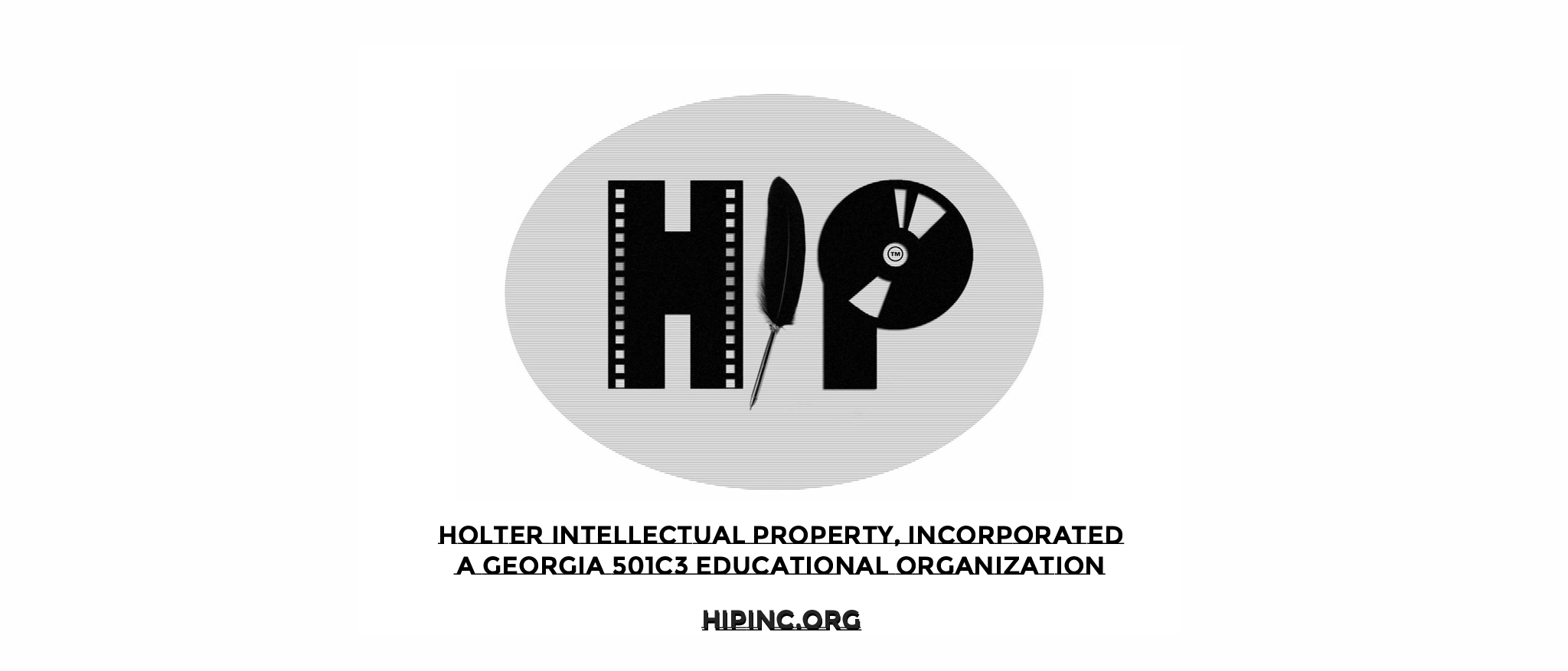 REALITY THEATER FOR PERSONAL CHANGE
Methodology:
The Punany Poets is not a group. It is a brand name for S.E.T. (Sex Education Theater) a program in development by Holter Intellectual Property, Incorporated, a nonprofit organization in Atlanta, GA. Our purpose with this interactive theater program is found in the creation of open dialogue around sexual health. We achieve this through the edutainment of the most under-served community, Black Women and their partners. According to the CDC, "HIV infections remain higher among African Americans than any other race/ethnicity." HIP aims to create the necessary space for conversations that are not available to outside agencies. In fact, the efforts of large nonprofit corporations to educate the public on subjects relating to AIDS, fall on deaf ears of the Black Population that comprises nearly 40% of HIV cases. Dammed by language and cultural differences and a great, unaddressed, fear of western medicine and agents of health care and social services, HIP is hopeful that large organizations will examine our methods and employ them on a universal platform. Through our carefully crafted, culturally sensitive methodology of interactive theater, Artistic Director Jessica Holter has created an urban design on Augusto Boal's Theater of the Oppressed. Our simple black box theater program engages small groups from 49 to 300 in adult-themed poetry, comedy, and fodder for self-awareness. Laid on a seductive musical bed of soulful sound... delivered with a sensual manner... we co-create with our guests a natural flow of open energy and inner standing of The Black Sex Conversation. - Teaching as we learn, in a judgment-free black box. Join us this year for our Valentine's Season Tour Raw: Valentine's in Black Light. 
Donations to our program are tax-deductible. You may receive tickets to shows and opportunities to come aboard projects when you become a member of www.hipinc.org.