Houston Texas: Become A AMAA Certified Fitness Kickboxing Instructor
Description
Do You Like Fitness?
Become A Certified Fitness & Kickboxing Instructor Level 1 Certification (Classes available live and online)
When: Thursday September 27th & Friday 28th, 2017
Where:Hilton Houston Galleria Area,

6780 Southwest Fwy, Houston, TX 77074
The AMAA Fitness Kickboxing Certification Program is designed to equip those seeking to become fitness kickboxing instructors with the competencies needed to design safe and effective programming.

Elite Fitness Kickboxing and Core Fitness is based on various forms of martial arts. This class will teach you the basics of kicking and punching, while incorporating athletic based drills and core strengthening exercises, and will get you on your way to a leaner body and healthier state of mind.
Special Registration Offer! $295 Reg $495
You will leave the training with everything you need to start a successful Kickboxing Instructional Program. The key to a successful coaching business is the ability to market yourself. This is why we have teamed with Beacbody to provide our coaches with the most up-to-date training, nutritional system, and business coaching model available, all of our instructor have the option of becoming a Independent Team Beachbody Coach also . Beachbody is the creator of the nation's most popular fitness and weight-loss solutions including P90X Series, INSANITY, FOCUS T25, 21 Day Fix, Body Beast, PiYo, ... The AMAA Fitness Kickboxing is a complete system giving you the flexibility for your certification or build your live or online business through our business and marketing platform.
This is a complete program: coaching support, websites, network, daily price give away and much more. Earn $10,000 - $50,000 a year part time.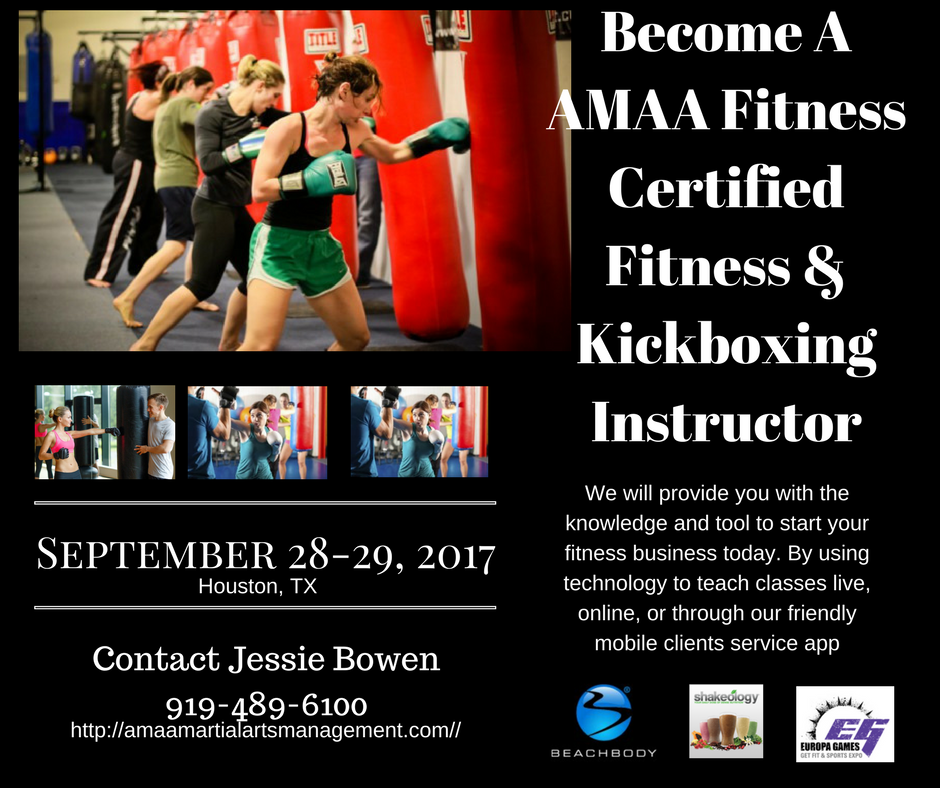 You will be able to start your online fitness coaching business, plus become a Beachbody Coach, with your own fitness website, trainer website, nutrition website and The tools to start a virtual coaching business. Becoming a Coach will reward you in ways you never thought possible--physically, personally, and financially.
What does it mean to be a AMAA Kickboxing Fit Coach? It means earning an income while you help yourself and others live healthier, with more fulfilling lives. It's being passionate about helping to end the trend of obesity in this country. All by doing what you love—staying fit and healthy, while inspiring others to do the same.
Becoming a AMAA Kickboxing Fit Coach will reward you in ways you never thought possible—physically, personally, and financially.
Think you're up for the challenge? Register today and start creating change—in your life and in the lives of others—today. You can be part of something so big, it's changing the world, one healthy decision at a time. How cool does that sound?
Contact us today!
919-489-6100