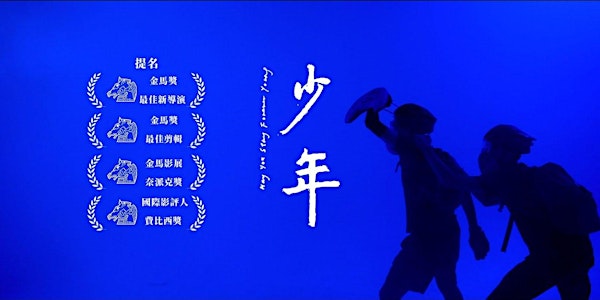 Houston Screening: May You Stay Forever Young 少年
After a young protester announces she will commit suicide on social media, a group of fellow protestors must race against time to find her.
When and where
Location
Cinemark Memorial City 310 Memorial City Mall Houston, TX 77024
Refund Policy
Contact the organizer to request a refund.
Eventbrite's fee is nonrefundable.
About this event
In June 2019, a series of massive demonstrations against the Hong Kong government's attempt to revise and pass the Extradition Law led to a chain of suicides by young protesters to validate their opposition. The story takes place on 28th July, a week after the white mob attack in Yuen Long. YY, a 17-year-old girl, announced her attempt to end her life on Instagram. After that, she couldn't be contacted or located. Nam, the 20-year-old "comrade" she met after a protest-related arrest, and amongst others, frantically searched for her around Kwai Tsing district where she lived. Her photo and other information were posted on Telegram and LIHKG Forum, resulting in hundreds of volunteers joining the search. It's a run against time. emotionally exhausting hunt, she was finally located in Mongkok, the busiest area populated by young people. Meanwhile, on the island side, protesters are confronting the fully armed riot police. Yet, it becomes a dilemma for those who are still searching for YY.
This youth drama sets against the backdrop of Hong Kong's 2019 Anti-ELAB movement (protests against government-proposed legislation, the Extradition Law Amendment Bill, which would have made it easier to send Hong Kong residents across the mainland Chinese border for trial and possible imprisonment in the PRC). Massive demonstrations—primarily peaceful but punctuated by violence—roiled the city. On July 21, 2019, a mob attacked people perceived to be protesters. Police were slow to respond; many young people were injured; others rounded up and imprisoned. Several tragic cases of suicide linked directly to the sense of hopelessness felt by the territory's youth, demonized and criminalized by the authorities and government supporters, provide the narrative foundation for this fictional composite.
A group of young protesters, accompanied by a social worker with expertise in preventing suicides, race to prevent a girl's death. As the film traces their intersecting stories, it uncovers many of the issues at the heart of protesters' demands that went beyond the initial call to squash the extradition bill. Rounded up at protests, threatened by plainclothes police without identification, sexually harassed, beaten, and imprisoned with little cause, the band of protestors, desperately trying to find their suicidal comrade, face authorities who have no regard for their plight. Yet, divorced parents keep their rebellious children at arm's length pursuing wealth in a rising mainland China or more opportunities in other parts of the world. This lack of interest in the life and death of these young people, who cry out to be saved as they come of age in a city darkened by political unrest and police repression, forms the basis of a story that goes beyond questions of political "martyrdom" to address the meaning of solidarity and struggle for the millennial generation in the HKSAR.
Since the National Security Law (NSL) went into effect on July 1, 2020, the debates surrounding the extradition bill, which had been withdrawn, became moot. The NSL greatly surpasses the original extradition amendment in scope as it reaches beyond the borders of Hong Kong to cover offenses committed outside the territory. The story of May You Stay Forever Young ends before COVID-19 and the NSL; however, it captures the sense of political alienation and despair still palpable among many in Hong Kong.
By Prof. Gina Marchetti (Department of Comparative Literature, The University of Hong Kong)
觀眾怎麼看《少年》?
💬 "唔識點形容,震撼嘅程度同〖時代革命〗唔一樣。 呢部電影好大膽將一啲大家無辦法去證實,而大家都相信曾經發生過嘅事,明目張膽咁直接講咗出嚟(女生係警署被性侵). 套戲入面針對描述人物嘅內心爭扎,比較personal. 同之前一直睇開嘅記載片/訪問唔同。 但一樣都令人心情好沉重!😭😭😭" – Jaydee
💬 "這是一個關於青春熱血的故事,只是時代太壞,讓少年們背負的太沉重。" - J.
💬 "在電影開始,曾經為了夾娃娃而興奮雀躍的少女,至片尾因對政權的施暴而絕望輕生。眼角一直滲着眼淚來看完整齣電影,久久不能釋懷。電影雖然沉重,當中卻有意想不到的笑點,讓整個影院的觀眾一起破涕為笑。電影中一班少年、司機和社工為了拯救一位素未謀面的少女,大家分工合作奔走穿梭於大廈當中。更有以血肉之軀抵擋濫用暴力的警察。一班少年在整個拯救少女的行動中,在整場社會運動中發揮人性光輝。感謝你們。"-普通人
💬"一個半小時裡 看到反修例抗爭下各個角色為了拯救一條人命的掙扎 - 離去還是留守? 犧牲還是放棄?最後又如何用自己有用之軀, 做到 「齊上齊落 一個都不能少。」" - V.
Co-organizers:
Students For Hong Kong
NY4HK - New Yorkers Supporting Hong Kong
TX4HK - Texans Supporting Hong Kong
Lion Rock Cafe
Hong Kong Student Advocacy Group at NYU
Hong Kong Liberation Coalition
We The HongKongers