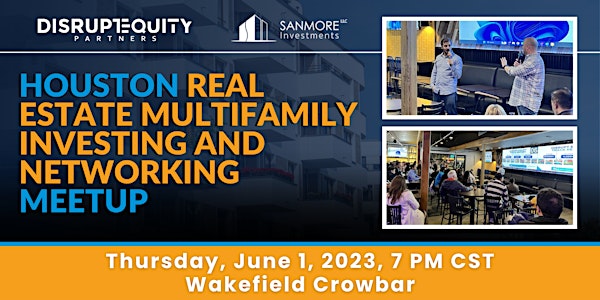 Multiple dates
Houston Real Estate Multifamily Investing and Networking Meetup
Houston Real Estate Multifamily Investing and Networking Meetup
Date and time
January 6, 2022 · 7pm - December 7 · 10pm CST
Location
Wakefield Crowbar 954 Wakefield Drive Houston, TX 77018
About this event
Join us on June 1st, 2023, for our upcoming Houston Real Estate Multifamily Investing and Networking Meetup! This event will bring together local real estate professionals and enthusiasts from all over the city to connect, share insights, and expand their networks. Whether you're a seasoned investor, a new agent, or simply interested in the Houston real estate market, this is the perfect opportunity to learn from experts in the field and make valuable connections that can help you achieve your goals. Don't miss out on this exciting event - register today and get ready to take your real estate investing to the next level!
Date and time:
June 1st, 2023, 7 PM Central
Venue:
Wakefield Crowbar located at 954 Wakefield Dr, Houston, TX 77018
We will host our Houston Apartment Investing and Networking Meetup on the first Thursday of every month at Wakefield Crowbar! We will have the private bar and event space towards the back of the venue.
The Agenda Will Be:
7:00 – 9:30 pm | Networking
Register here and show your ticket at the venue
https://www.disruptequity.com/htxmeetup
Remember, no sales pitch and no gimmicks. Come to network, stay for the food and drinks, and have a good time - So feel free to join, learn, and ask questions! We will have a private bar and event space towards the back of the venue. There is free parking onsite and free street parking on Wakefield Dr. There is a paid parking lot approximately to the right of Wakefield Crowbar for overflow parking.
For more information about the hosts of this Meetup visit- https://www.disruptequity.com/
About the organizer
 Disrupt Equity's mission is to provide valuable educational content to help empower individuals to build their net worth by strategically investing their capital. 
As a company, our primary focus is providing our investors with strong passive investing opportunities by utilizing multifamily real estate syndications. 
 To learn more about Disrupt Equity, our investment opportunites, or to connect with us further please reach out to us on our website: https://www.disruptequity.com/