HOUSTON PREMIER of "BIG MEN" - BRAD PITT Exclusive Documentary

Friday, June 6, 2014 from 5:30 PM to 9:30 PM (CDT)
Event Details

AABE Houston Presents
Houston PREMIER of "BIG MEN"
Brad Pitt's Exclusive Documentary Film

"BIG  MEN' Drills Into Big Oil, Big Money, and Big Danger"
KOSMOS Energy's Journey into Oil & Gas Exploration in West Africa

LINE-UP OF EVENTS
5:30PM - 6:30PM PREMIER RECEPTION
HARD ROCK CAFE | 502 Texas Street, TX 77002
FREE ADMISSION | MEET THE FILMMAKERS | CASH BAR
RECEPTION RSVP REQUIRED HERE ON EVENTBRITE

7:00PM - 9:00PM SHOWTIME**
9:00PM - 9:30PM Q&A SESSION
SUNDANCE CINEMAS | 510 Texas Street, TX 77002
*CLICK HERE TO PURCHASE MOVIE TICKETS ONLINE*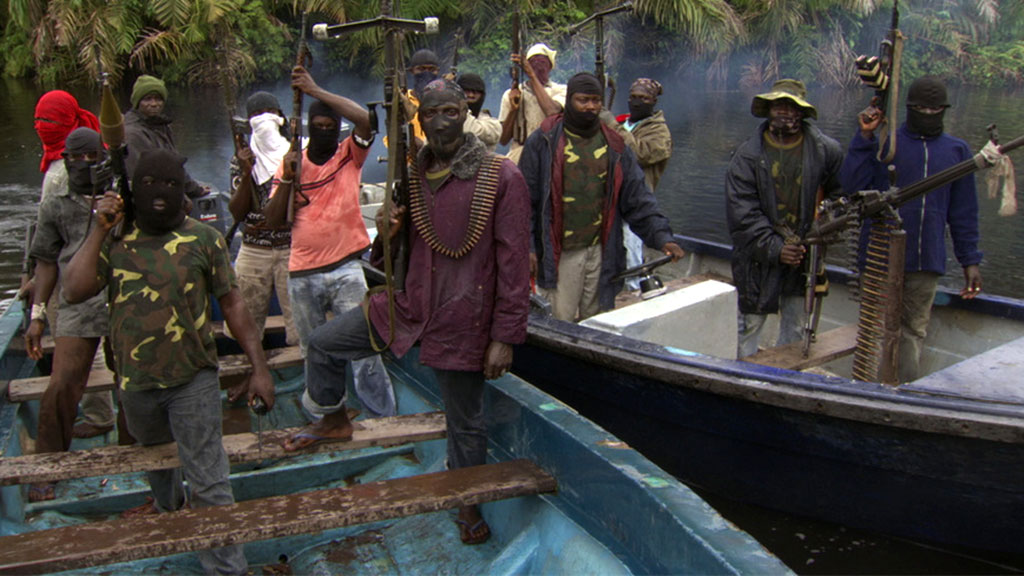 Oil, money, and civil unrest collide in the trailer for "Big Men," a sure to be controversial documentary by filmmaker Rachel Boynton that Variety has called "a real-life 'Chinatown' or 'There Will Be Blood.'"

"Big Men" focuses on Kosmos Energy, an American international oil company based in Dallas, upon its discovery of the first oil in the history of the West African Republic of Ghana in late 2007. The documentary chronicles Boynton's years-long investigation into this billion-dollar discovery, revealing a tale of greed and deception as big money is negotiated in one of the poorest — and most dangerous — places on Earth.

Production on "Big Men" commenced in April 2007 at the Offshore Technology Conference in Houston, where Boynton filed with Kosmos Energy months before their historic discovery, which has been named "The Jubilee Field." Over the next four years, the two-person crew (DP Jonathan Furmanski with Boynton herself recording sound) filmed seven times in Ghana, six times in Nigeria, seven times in Texas, once at Kosmos Energy's board of directors gathering in New York and once on the floor of the New York Stock Exchange, gaining insider's access into top secret meetings of both billion-dollar companies and heavily armed militant groups. Watch Trailer>>>


RSVP ABOVE FOR THE RECEPTION
&
**CLICK HERE TO PURCHASE MOVIE TICKETS EARLY ONLINE **

For Sponsorship & Event Organizer: info@aabehouston.org
When & Where

Sundance Cinemas
510 Texas Ave
Houston, TX 77002


Friday, June 6, 2014 from 5:30 PM to 9:30 PM (CDT)
Add to my calendar
Organizer
American Assoc. of Blacks in Energy (AABE Houston)
American Association of Blacks in Energy (AABE) is a national, nonprofit association of more than 1,700 energy professionals and business owners within 44 chapters in seven regions throughout the United States. Through its Scholarship Program, AABE seeks to increase the number of underrepresented minorities in energy related fields. By doing so, we help our nation address a critical need and a challenge to our economic vitality in the world market.
The Houston Chapter of AABE is one of eight chapters that comprise the Southwest Region of the organization [a 501(c)(3) nonprofit organization]. We welcome professionals from all energy and energy-related disciplines (oil, gas, electricity, nuclear, renewable, water, government, technology, and energy services). Some of the companies our membership represents include: ExxonMobil, Chevron, BP, Schlumberger, GE, Marathon Oil, CenterPoint Energy, EP Energy , Shell Oil Company, Weatherford, KBR, SIMEMA, LLC, Intelliscient, Omni Pipe, PINTRACO, Atlantic Petroleum, Morgan Stanley, Texas Southern University, Reliant Energy, Exelon, KOSMOS Energy, Cameron & others.
One of AABE's missions is to help create sustainable communities by linking energy professionals, executives, and entrepreneurs with students and other members of the community. AABE provides these groups a pathway to learn more about the energy industry through activities such as mentoring, education, community service and networking.
For additional information about the organization, please feel free to contact Autumn Bean at 832.524.6891 or send us an email via info@aabehouston.org. Thank you in advance for your kind consideration.
Yours Sincerely,
Christopher G. Odom

President
HOUSTON PREMIER of "BIG MEN" - BRAD PITT Exclusive Documentary