The Clubs at Houston Oaks presents an exclusive celebration of fine wine, gourmet bites, and an opportunity to mingle with premium vintners.
About this event
TICKETS
Experience an afternoon of premium wine and food at the beautiful Houston Oaks. on Saturday, Feb. 15th. You don't want to miss this amazing opportunity to swirl and sip more than 300 different wines from more than 100 wineries. Pair the wine with Roasted Pig, Paella, Shucked Oysters and more from Chef Nick Zaputil and the culinary team. Enjoy the sounds of the Spotted Horse band. Take a tour of the stunning 1,000 acre private property. Simply enjoy a perfect day with friends and family.
Participating wineries include:
Abadia * Adobe Road Wines * Alexander Valley Vineyards * Amici Cellars * Ancient Peaks Winery * Antica Terra * Aperture Cellars * Aquitane Wine Company * Arietta * Barnett Vineyards * Bertrand's Wines * Besserat Champagne * Ch Coutet *Ch Mongravey *Ch Picque Caillou *Ch Tournefeuille * Classified Wines * CONSTANT Diamond Mountain * Crawford Malone Selections * Crown Point Vineyards * CYRUS * Dom Perignon * Devil Proof Vineyards * Domaine Drouhin * Dusted Valley *Europvin * EJ Gallo Elevage Portfolio * Faust * Flowers * Grassini * Hess Collection * Honig Vineyard * Imago Mundi * J Vineyards * Jonata * Jos Drouhin * LangeTwins Family * La Chapelle de Meyney * Le Sec de Rayne *Leviathan *Lillian * Louis Martini * Lustau * Macauley Vineyard * Moet Chandon * Nellcote * Neyers Vineyards * Opolo * Orin Swift * Paradigm * Pellet Estate * Perrier-Jouët * Priest Ranch * Quigley Fine Wines * Quilceda Creek * Quintessa * Ramey Wine Cellars * RJV Wines * Robert Biale * Rombauer * Rosenthal Portfolio * Schug Estate Winery * Somerston Estate * Tate * Titus Vineyards * Triple Seven Cellars * Vega-Sicilia * Woodward Canyon * Zuccardi */ too many wines to list.....plus a few spirits
More to be announced!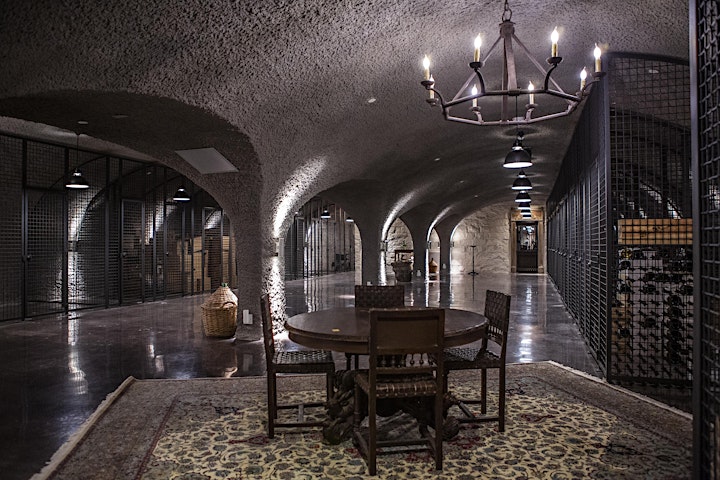 If you are a Legacy Member or Member - enter your access code by clicking on the blue link that says "ENTER PROMO CODE" after clicking on the "TICKETS" button. This will unlock your special ticket pricing.
VIP Ticket
$200 Legacy Member / $225 Member / $250 Member Guest & General Public
Includes
Early entry at 11:00am
Access to the VIP Lounge in Bunker 55 for exclusive wine sips - 12pm - 5pm
Souvenir Goodies
More than 100 wineries and spirits companies offering more than 300 different sips
Opportunity to purchase wine onsite, from ready-to-drink now to cellar-worthy collectibles
Lifestyle vendors sampling and selling their products
A souvenir Riedel wine tasting glass
Delicious food and action stations featuring the Club's culinary team
Live music
Complimentary on-site parking
Opportunity to purchase seminar passes
Grand Tasting Pass
$150 Legacy Member / $150 Member / $175 Member Guest & General Public
Includes
Access to the event from 12pm - 5pm
More than 100 wineries and spirits companies offering more than 300 different sips
Opportunity to purchase wine onsite, from ready-to-drink now to cellar-worthy collectibles
Lifestyle vendors sampling and selling their products
A souvenir Riedel wine tasting glass
Delicious food and action stations featuring the Club's culinary team
Live music
Complimentary on-site parking
Opportunity to purchase seminar passes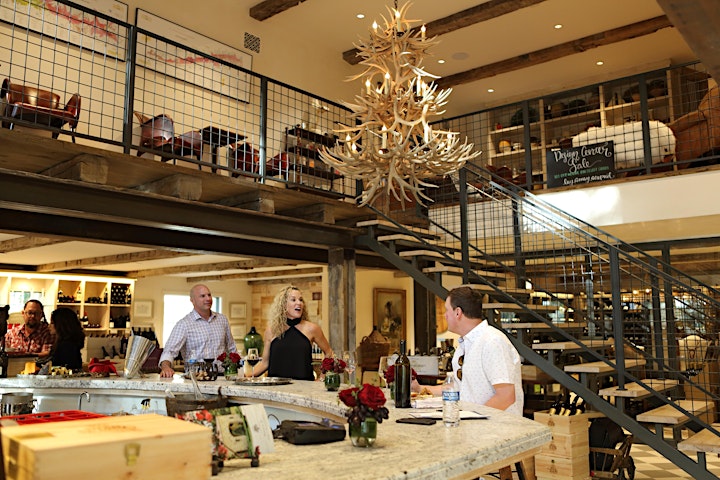 ADD-ONS
Bus Pass
$40 Legacy Member / $40 Member / $50 Member Guest & General Public
*Requires a VIP or Grand Tasting pass*
Bus transportation from Hotel Granduca Houston Galleria, valet parking included
Bus departs at 11:00am to Houston Oaks / Bus departs back to Hotel Granduca at 5:15pm
NOTE: BUS PASS IS NOT RECOMMENDED FOR VIP TICKET HOLDERS, AS YOU WILL ARRIVE AFTER THE VIP TASTING HOUR
Private Wine Experiences
$25 Legacy Member / $30 Member / $30 Member Guest & General Public
*Requires a VIP or Grand Tasting pass*
Space is limited to 12 attendees per seminar.
Group 1 - 1:30pm-2:30pm
Riedel Glassware: Does the glass shape and size really matter? Discover that it does in this interactive wine tasting session hosted by a local Riedel expert. Experience the impact that shape and size of a wine-glass has on different wines you will taste.
Bordeaux Master Class with Guy Stout: Take a quick tour of Bordeaux with Master Sommelier Guy Stout. The always entertaining and informative Stout will take you on a whirlwind venture through the famed Bordeaux region. Expect a surprise, one never knows what Stout 'might have up his sleeve.'
Champagne and Caviar: The ultimate Champagne tasting. This classic wine is a great all-around food wine, but nothing is classier than pairing Champagne with caviar. Treat your taste buds to famous food and wine pairing, while learning more pairing Champagne with a variety of foods.
Group 2 - 3:30pm-4:30pm
Blockbuster Reds: A set of "blockbuster" red wines famous for high ratings, big flavors and classic finishes. The international selection of wines is sure to make an impression on your taste buds. The comparative tasting will reveal how these wines achieve blockbuster status.
Quilceda Creek Winery Retrospective Tasting: Not to be missed! A multi-vintage library tasting. Brilliant way to discover one of wine critic's favorite wineries! Experience a six-vintage tasting of Quilceda Creek Winery winery's highly-rated wines. Enjoy this rare opportunity to taste select library vintages in addition to their current offering. Taste first-hand how these high quality wines can age gracefully in the cellar for many years.
Napa Valley Highway 29 Tasting: Taste "bottled poetry" from wineries along Napa Valley's infamous Highway 29 with Crawford Malone. The tasting will feature 6 tastes from different wineries representing the terroir variations throughout the valley.
Additional Events
Saturday Brunch (Pre-Event) - 9am-12pm
$25 Per Person
Join us for a delicious morning brunch prior to the Classic! Brunch includes a complimentary Mimosa or glass of bubbles
Fried Chicken Feast (Post-Event) - 6-8pm
$35 Per Person
The Club is FAMOUS for their Fried Chicken. Relax after your day of wine tasting with a fabulous home-cooked Fried Chicken Dinner, served with a salad bar, mashed potatoes and gravy, green beans, cornbread muffins, and more (baked chicken and vegetarian entrees available upon request)
FAQ
Tickets & Registration
What is the date of the 2020 Wine and Food Classic at The Clubs at Houston Oaks? Saturday, February 15, 2020, from Noon – 5:00 p.m. (VIP 11 a.m. early entry).
When will passes for the 2020 Wine and Food Classic at Houston Oaks go on sale?Member and member guest passes are targeted to go on sale November 29, 2019. Passes will be available at (Eventbrite link). Ticket holders must be 21 or older.
What events are included with a Grand Tasting Pass? Consumer passes provide access to the Grand Tasting Tent. Separate seminar passes will be sold allowing you to pre-register for the seminar(s) of your choice in order ensure your seat.
Are there VIP passes available? Yes. A separately ticketed VIP Pass can be purchased. The VIP Pass will provide early entry, admit you to a pre-event tasting from 11:00 am – Noon, and access to the VIP Tasting Area inside the Bunker 55 wine cave.
Where do I pick up my Wine & Food Classic passes? Ticket sales will be managed online by Eventbrite and sent to you via email upon purchase. Simply present the barcoded ticket at the marked event entry gates in exchange for an event lanyard, which must be worn at all times.
What if I lose my lanyard? An official Wine & Food Classic 2020 lanyard must be worn and properly displayed at all times. Please do not remove or replace the 2020 the official lanyard. Lanyards are non- transferable and will not be replaced if lost or stolen.
How do I select the seminars that I want to attend? Registration for the seminars is available as an add-on. Detailed seminar descriptions can be found at www.houstonoaks.com wine event page.
Is there seating available at the Houston Oaks Wine & Food Classic? General seating will be scattered around the various tasting venues and available on a first come/first-served basis. Guests who registered for a seminar are guaranteed a seat at the seminar.
Where do the tasting events take place? The afternoon's activities will take place, rain or shine. The main tasting area will be in the Grand Tasting Tent behind The Inn at Houston Oaks, set upon one of the Club's golf practice facilities. Adjacent to this area are the Club's Inn, Wine Shop and Bunker 55, where the VIP lounge, tasting seminars and wine purchase opportunities will be located.
How do I get a refund? Once purchased, tickets are non-refundable. Barcoded tickets are transferable prior to the event; if you discover you cannot attend, feel free to sell or give your ticket to a friend.
Are there any events that will be open to non-passholders? All Classic activities at Houston Oaks will require a Pass/Lanyard. If you do not have a ticket for the Houston Oaks Wine & Food Classic, separately ticketed wine events will take place at Hotel Granduca in Houston. Consult the hotel website for further information (www.granducahouston.com).
Travel & Lodging
Is transportation available from Houston so I can avoid drinking and driving? Yes. A separate bus ticket ($40.00) is available for purchase as an add-on. The bus will depart Houston's Granduca Hotel at Uptown Park at 11:00 a.m. and depart Houston Oaks at 5:15 p.m. for the return trip. Don't miss the bus! Valet parking included at Hotel Granduca.
What is the event address? The Clubs at Houston Oaks, 22602 Hegar Road, Hockley, TX 77447. Located northwest of Houston. Houston Oaks is an easy drive on the rewly-completed Northwest Freeway (Highway 290), just 35 minutes the from Loop 610/Galleria area.
Is parking included? Parking is included with all Pass options and assistance will be provided as you approach The Clubs at Houston Oaks. Shuttles will transport guests from the spacious parking area to the gated community's wine festival site.
What are lodging options? Our preferred lodging partners are the luxurious Hotel Granduca property in the Houston Galleria area. Visit www.granducahouston.com for special event packages. A bus will provide round-trip shuttle service from Hotel Granduca. Lodging at Houston Oaks is limited and currently subscribed with a waitlist. There are several small hotels in nearby Cypress and Waller, very convenient to Houston Oaks.
General Information & Policies
Can I bring a baby in a stroller or carrier? No one under 21 will be permitted in any Wine & Food Classic events, including infants and small children in child carriers. This policy pertains to all tastings and events.
Can I bring my pet? Pets are not permitted in any Wine & Food Classic events, nor on the shuttles. Service / working animals are not considered pets and are exempt from this policy.
Is smoking allowed? Smoking is prohibited at any Wine & Food Classic events.
What should I wear? The attire is smart casual. Check the weather forecast and dress accordingly. The VIP lounge in the underground Bunker 55, sporting the area's most exclusive private wine storage facility, is held at a wine appropriate 55 degrees. Dress accordingly and plan to bring a sweater or jacket to stay warm inside Bunker 55. The Grand Tasting Tent will be set atop grassy golf course practice area and subject to outdoor temperatures, so please plan footwear accordingly. All seminars are indoors at regular room temperature, inside private rooms.
What weather conditions should I expect? The weather in Houston in February can vary significantly and change quickly. Please consult the local weather forecast before the event.
How can I offer to volunteer? Volunteer registration begins in December 2019. For information about volunteer requirements and criteria, please email wineclassichoustonoaks@gmail.com with the subject line VOLUNTEER