Description
Houston Networking Lunch n' Learn: 5 Key Secrets to Boosting Brain Power for Optimal Energy & Productivity
Come join us for a fun, educational and interactive workshop on the 5 Key Secrets to Boosting Brain Power for Optimal Energy & Productivity.
We Will Be Doing a Raffle for:
• 3 Page WordPress Website
• Fashion Jewelry
• Gift Cards to Whole Foods
You Will Learn:
• What Foods are Right for You?
• Why Digestion and Detox Are So Important to Brain Health
• Learn Why the Gut is Considered the Second Brain
• What Everyday Foods to Avoid that are Toxic to Your Body?
• How to Customize Your Diet to Your Lifestyle for Optimal Brain Power
• 5 Pillars of Health and How They Can Impact Your Health
Did you know that the gut has a profound effect on hormones, brain circulation, and the overall health of the tissue? Don't miss this networking lunch n' learn to discover how your gut health can determine your health.
Who is This Event Ideal for?
This event is ideal for anyone who wants to learn how to have a healthier lifestyle, have more energy, be more productive at work and in business, and be more fit and network with other Houston like-minded professionals.
Our Featured Speaker: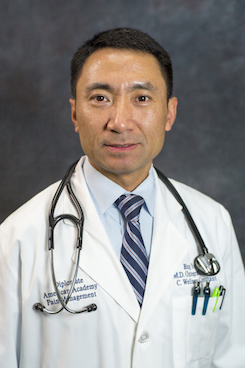 Dr. Bing You

Dr. Bing You, International Renowned Western-Eastern Medical Doctor, (who has over two decades integrated medical practice experience, St. Luke's Hospital Privileged and advising MD Anderson Cancer Center on fighting chemo and radiation side effects), will present nutrition inside out. Dr. You will teach you what you need to know to have a personalized nutrition strategy that will work for your lifestyle, fight chronic disease, and keep the holiday weight off.
Schedule:
11:30am-12:00pm Networking / Share Your Business Cards
12:00pm -12:15pm - We will go around the room and each guest will get 45 seconds to introduce themselves
12:15-1:15-pm Lunch and Featured Guest Speaker Dr. Bing You
1:15-1:30pm Questions and Announcements
***Ticket price covers your lunch.***
LUNCH MENU
Turkey Meatloaf 170 cal | 160 cal Seasoned ground turkey with carrots, mushrooms and spinach.
Side of Green Beans with Carrots 90 cal

Healthy Side Salad
Bottled Water
***Vegetarian options also available***
PARKING INFO: Free Valet Parking (turn right when you are in the driveway and you will see the valet stand). Let the concierge know that you are here for the Nutrition event on level 8. They will walk you to the event room on the 8th floor. If you park on the 2nd floor, you will have to take the retail elevator down (located by the down ramp) and walk to the right towards the building entrance by the valet stand. Do not attempt to go in the doors on the 2nd floor as they are locked.