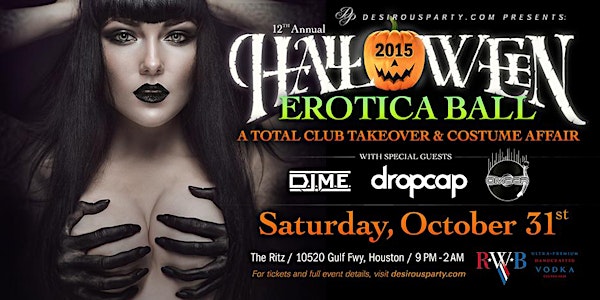 Houston Halloween Erotica Party
When and where
Location
The Ritz 10520 Gulf Freeway Houston, TX 77034
Refund Policy
Contact the organizer to request a refund.
Description
Customer Support
Available 9am-7pm CST
For questions regarding the Halloween Erotica Party
you may
CALL
OR
TEXT
us at
832-640-7604
The
Houston Halloween parties
that have become known as events with a Carnival' Mardi Gras twist to it. A night of costumed erotica and decadent adult fun. Last year over 600 people partied to the haunting hours at the Halloween Erotica Ball. Making this one of the largest, wildest and most erotic parties you can envision. Imagine naughty cops, dominatrix maids or just let your imagination be your invitation to fun. Nothing is too wild or to mild for this event.
These parties are the ones that everyone talks about all year long. People from all over the country fly into Houston to attend the Halloween Erotica Party. If you want wild parties that will push the limits of your imagination, make plans to spend your night with us.
Last Year's Halloween Party
The club is closed to normal patrons and will be a full venue takeover (all 22,000 sq. ft) for Halloween guests only. This includes both first and second floors plus the outdoor palapa bar. There will be no Dancers working this night. Meaning that all stages, dance poles etc.. will be open to all Halloween guests.
You
DO NOT
have to be a member of the Dp site to attend this event.
This is is what you can expect:
Group block at the Host Hotel.
Pre-party meet n greet at the Hotel bar-4:30pm-6:00pm
Complimentary transportation to and from the club
Over 22,000 sq. ft. of a full club takeover- Couples/Single females only. Gentlemen grab a date for this event.
Brand new 2nd floor Ultra Lounge
3 Dj's spinning all night
High energy dance lighting, lasers, cannon foggers & more
Dance floors on each level
Two dance stages and dance poles
Two Party floors at the club-full access for all party guests
Out door Palapa Bar with dj spinning outside all night.
Club decorated by Spooker's Halloween Wharehouse
5 bars and beer wells plus reduced drink prices, all night-shot specials
Select Reserved Tables w/ discounted bottle prices
Full Dinner Menu available to order from till 1am -ala carte
Costume Contest
(See forum for Contest rules)
1st place- $500(sponsored by Spookers)
If you can prove you bought the costume from Spookers, then 1st place will win an additional $500 for a total of $1000!!!!
2nd place- $100 (sponsored by DP)
$50 bar tab-night of party only- (sponsored by The Ritz)
3rd place- $50 (sponsored by DP)
$25 bar tab-night of party only (sponsored by The Ritz)
Want to have an idea what our Halloween parties are like. Just check out the last ten years parties in the photo gallery.
Note: You do
not
have to be a member of the Dp site to attend these parties. However, you must be a couple and or single female. So gentlemen grab a date for these parties.