Houston Black Film Festival Community Day Featuring the Cast of WARDS Lucky...
Description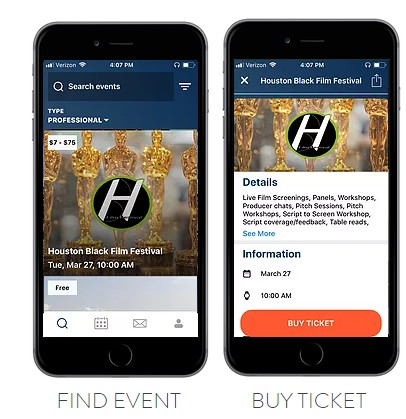 The festival runs from March 27 through March 31st 2018! On Day TWO of the festival, March 28th 2017, come out and enjoy FREE MOVIE SCREENINGS, and panels at the Montrose Center during the HBFF Community Outreach Day! Win door prizes, and passes for additional festival access. MEET ACTOR DOMINIC (TAZ) ALEXANDER, best known from appearing opposite Anthony Anderson & Juvenile in the Power of Few, HBO's Treme, Common law, The Game, BET NCIS: New Orleans, Queen Sugar, 21 Jump Street. Instagram: actordominicalexander http://www.imdb.com/name/nm4329212/ https://twitter.com/tattoosbytaz, and also, ACTOR LUCKY JOHNSON during the Actors panel. CREDITS: ELVIS & NIXON, QUEEN SUGAR, KIDNAP, 2 GUNS CONTRABAND, AMERICA HORROR STORY, THE OPERA GAME (TV MOVIE DOCUMENTARY, OPERATION GRID TWITTER @luckyjohnsonand others, CHECK OUT THE FEATURE FILM WARDS! . (Check out our program guide for times.)
Looking to connect with other attendees, panelist, filmmakers, and producers from other cities? Want to know who else is attending? Make sure you DOWNLOAD OUR APP NOW so that you can pre-plan your meetings with other attendees from across the globe. Set up your profile so that others in the FILM INDUSTRY can FIND You, and your projects and request an INDUSTRY NETWORKING meeting with you.
BUY INTRODUCTORY PRICED PASSES/TICKETS NOW! By using the APP you will receive a discount on transaction fees when you register for the Live Film Screenings, Panels, Workshops, Producer chats, Pitch Sessions, Pitch Workshops, Script to Screen Workshop, Script coverage/feedback, Table reads, Book signings and more.
VENDOR opportunities available