Housing Professionals Education Conference

Friday, March 10, 2017 from 8:00 AM to 5:30 PM (EST)
Event Details

2017 Housing Professionals Education Conference
New Construction - Remodeling - Real Estate - Engineering - Architecture - Design
When: March 10, 2016 from 8AM-5:30PM
Where: 

David L. Lawrence Convention Center - 1000 Fort Duquesne Blvd Pittsburgh, PA 15222
Over 20 Sessions 
Mix and Match Between these 4 Education Tracks
Building Construction - Codes, Techniques and Performance Standards

Housing and Interior Design

Land Development, Planning and Design

Real Estate Sales & Marketing
The conference will provide education credits for licensed industry professionals and designations as well as display industry products and services.  Network with other industry proefssionals.  Continental breakfast and lunch included.
This education event is the first day of the Pittsburgh Home & Garden Show.  Attendees will receive a VIP ticket to attend the cocktail and hors d'oeuvres reception starting at 5:30 as well as access to the Home & Garden Show.
Registration/breakfast networking starts at 8:00am, Keynote at 9:00am, breakout sessions begin at 10:00am.
Attendees can register for Seminars at the event
Program Schedule and Seminars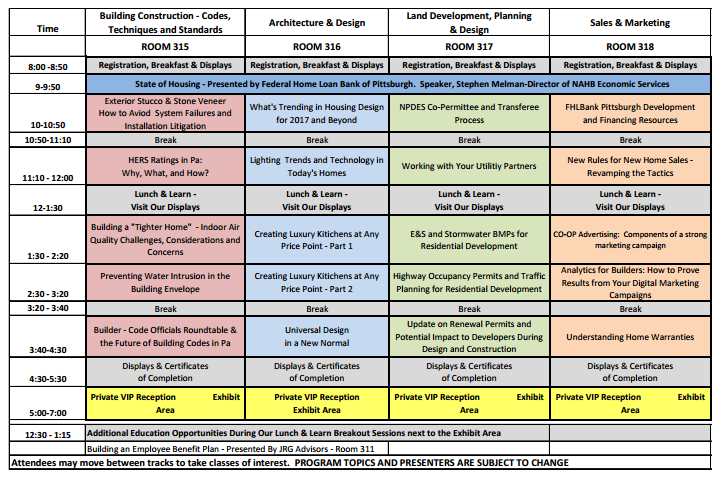 Keynote Address (9am) - The State of the Housing Industry – A National and Regional Perspective
Keynote Speaker - Stephen Melman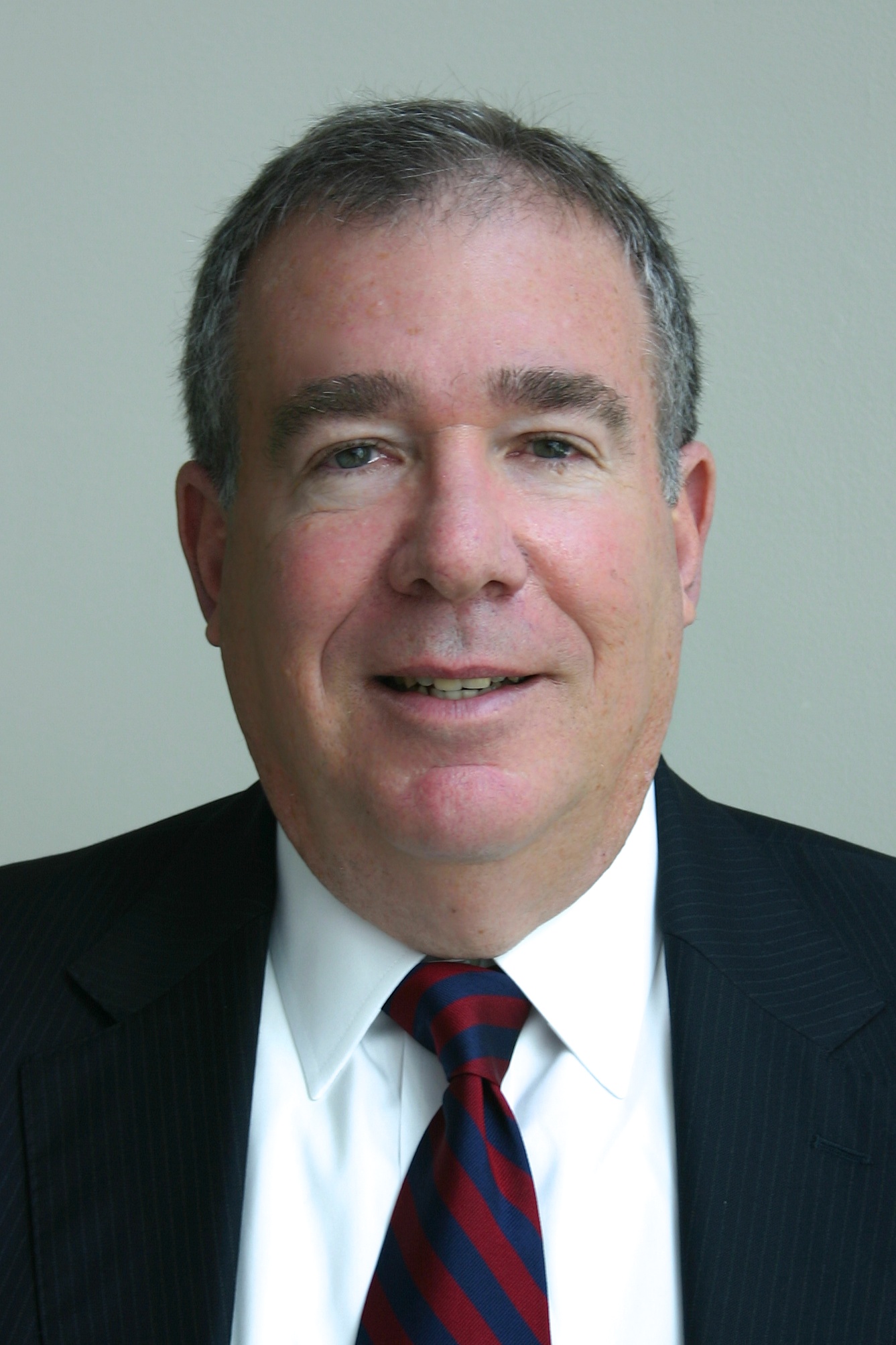 Stephen Melman is the Director of Economic Services at the National Association of Home Builders (NAHB).  Mr. Melman is a spokesman for NAHB's forecast of new housing trends and the analysis of the home building industry. He has published numerous research articles on topics including industry structure and publicly traded builders. Before his current position, Mr. Melman was responsible for NAHB's multifamily and federal housing program initiatives. 
Prior to NAHB, Mr. Melman was an Appeals Officer for the US Civil Service Commission in Washington, DC. He is a former president of Sinai House, a nonprofit that provides transitional housing for homeless families in Washington, DC.
Mr. Melman earned a J.D. from St. Louis University School of Law, a Masters in City and Regional Planning from Rutgers University, and a B.A. in Economics from Washington University in St. Louis.
---
Event Schedule
8-8:50 - Registration, Breakfast & Displays
9-9:50AM – State of Houseing - Presented by Federal Home Loan Bank of Pittsburgh.  Speaker, Stephen Melman - Director of NAHB Economic Services
---
Building Construction - Codes, Techniques and Performance Standards
10-10:50AM - Exterior Stucco & Stone Veneer – How to Avoid System Failures and Installation Litigation
Presentation will review changes in the building envelope that cause failures and installation techniques to avoid such failures. The attendee will learn the reasons for the problems, how these claddings are to be constructed to comply with the International Residential Code and recommendations to installation practices aimed at reducing failures common with these finishing's.
Presented by Steven Long, ER Long Associates.
11:10-12:00PM – HERS Ratings in PA: Why, What and How?
Nearly a quarter of all homes built in Pennsylvania receive HERS Ratings and the number is growing each year. Many builders say they build energy efficient homes, but with the Home Energy Rating System (HERS) a builder can prove it. A skilled energy professional performs software analysis, insulation and air barrier inspections, and blower door and duct leakage testing that combine to yield a HERS Index score. This score gives homebuyers critical information about a home's energy performance that's easy to understand. This session will focus on the role that the HERS index plays in the residential construction industry in PA.
Presented by Brian Wolfgang, Pennsylvania Housing Research Center.
1 Credit Hours: AIA-LU/HSW, L&I Pa Code Officials
1:30-2:20PM – Building a "Tighter Home" - Indoor Air Quality: Challenges, Considerations, and Concerns
Recently, in an effort to build higher performing homes, more stringent guidelines have resulted in the building envelope on residential homes becoming increasingly tighter. Despite having advantages regarding air leakage and overall energy consumption, maintaining good indoor air quality has become increasingly complicated. This session will educate participants on the topic of indoor air quality by explaining the key considerations for health and safety issues related to indoor air quality, strategies for controlling pollutants, as well as product selection and installation.
Presented by Chris Hine Pennsylvania Housing Research Center.
1 Credit Hours: AIA-LU/HSW, L&I PA Code Officials: 
2:30-3:30PM – Preventing Water Intrusion in the Building Envelope
The presentation will discuss proper installation techniques of weather barriers and flashing details around doors and windows. It will include photos of what to do and what not to do when installing weather barriers and flashing doors/windows. At the conclusion there will be a hands-on demonstration of how to properly flash a flanged window.
Presented by Bill Dudek and Chris Patrick, Senior Certified DuPont Tyvek Specialists, Bennett Supply Company.
3:40-4:30PM – Common Code Violations and Disputes – Builder/Code Officials Roundtable – Moderated by International Codes Council
Back by popular demand, this hour is dedicated to strengthening the lines of communications between builders and code officials. In addition to a general discussion of current code enforcement issues, the group will discuss the current status of building codes on the Commonwealth and the future of codes and amendments in Pennsylvania. Attendees will learn what possible changes are on the horizon and prospects for a Pennsylvania specific building code.
Credit Hours: L&I Pa Code Officials
---
Architecture & Design
10-10:50AM – What's Trending in Housing Design for 2017 and Beyond
Come learn the hottest home and community design trends for 2017, illustrated with stunning and inspiring photos from the NAHB 2016 Best in American LivingTM Award winners. They include what's happening nationally and regionally, including exterior and interior materials, colors, features, and home styles, based on the NAHB Design Committee annual trends roundtable, the Best in American Living Awards entries, and the NAHB What Home Buyers Want Survey, just released at the International Builders Show® in January.
Presented by Alexandra Isham, Program Manager-Design, National Association of Home Builders.
11:10-12:00PM – Lighting Trends and Technology in Today's Homes
This course will explore the latest in lighting design and technology available for today's homes. Presenters will go beyond lighting concepts to explore products designed to reduce energy and incorporate technology designed for efficiency of use by today's homeowners.
Presented By Cardello Electric with Rob Brownlee, Phillips, Elite and Brian Podobnik, Progress Lighting.
1:30-2:20PM – Creating Luxury Kitchens and Any Price Point - Part 1
There are many factors that go into a kitchen's design and installation that can create a luxury kitchen based on varying budgets of buyers and home owners. In order to create the kitchen of their dreams, designers, builders and remodelers need to have an understanding of the multiple approaches to respond to their client's needs, desires and expectations. 
Presented by Don's Appliances with, Nancy Sudsina, Allegheny Millwork & Lumber; Tim Galligan, Jenn Air; and Brad Keil, Franke
2:30-3:30PM – Creating Luxury Kitchens and Any Price Point - Part 2
This 2-session program will explore materials, products and design concepts that can provide the image of luxury in the kitchen. Our presenters will discuss the overall concept of kitchen design and product options That will send the message of luxury across the budget spectrum.
Presented by Don's Appliances with, Nancy Sudsina, Allegheny Millwork & Lumber; Tim Galligan, Jenn Air; and Brad Keil, Franke
3:40-4:30PM – Universal Design in a New Normal
Universal Design is not a new concept; however, it is time for a paradigm shift. This course prompts the question – should I be offering Universal Design solutions to all of my clients regardless of age or ability? This material provides compelling reasons for recommending Universal Design beyond the status quo. No longer limited to ADA product and an institutional look, you are empowered to exceed expectations with this new worldview.
Presented by Kohler. Credit Hours: AIA, IDCEC, NKBA
---
Land Development, Planning & Design
10-10:50AM – NPDES Co-Permittee and Treansferee Process
This course explores the processes involved with adding and removing co-permitees to an NPDES permit. We will also explore transferring the NPDES permit to a new entity.
Presented by: Kelly McLaughlin - Assistant District Manager and Melinda Meuhlbronner - Senior Resource Conservationist, Allegheny County Conservation District. CEUs: Pa Engineers / Professional Land Surveyors
11:10-12:00PM – Working with Your Utility Partners
This course explores the advantages and challenges of working with key utilities that are part of your development. Presented by Peoples Gas, this program will involve presentations from gas, water and electric utilities along with a roundtable discussion of common issues, problems and opportunities of working with your utility partners.
Presented by Peoples Gas with Pennsylvania American Water and Duquesne Light. CEUs: Pa Engineers / Professional Land Surveyors (1hr)
1:30-2:20PM – E&S Stormwater BMPs for Residential Development
This course explores the typical Best Management Practices (BMPs) used during build-out of new residential subdivisions or new standalone single family homes. We will discuss both Erosion and Sediment Controls as well as Stormwater Management practices that will adhere to Chapter 102 requirements.
Presented by: Matt Gordon Program Lead for Chapter 105, Allegheny Co. Conservation Dist., and Tysen Miller, PE, LEED AP, CPESC, KU Resources. CEUs: Pa Engineers / Professional Land Surveyors (1hr)
2:30-3:30PM – Highway Occupancy Permits and Traffic Planning for Residential Development
This course explores the research, planning, design, and permitting efforts required to obtain a Highway Occupancy Permit (HOP) from PennDOT or the local municipality.
Presented by Robert Goetz, P.E., Trans Associates. CEUs: Pa Engineers / Professional Land Surveyors (1hr)
3:40-4:30PM – Update on Renewal Permits and Potential Impact to Developers During Design and Construction
Presentation will be general overview of the current MS4 permit and requirements on developers and what the new requirements may be depending on the municipality and what additional design and construction efforts will be needed.
Presented by Kevin Brett P.E. and Shawn Wingrove, EIT. Lennon, Smith and Souleret. Credit Hours: Pa Engineers / Professional Land Surveyors (1hr)
---
Sales and Marketing
10-10:50AM – FHLBank Pittsburgh Development and Financing Resources
Gap financing, lending and grants for Housing Professionals. Attendees will be introduced to project financing and down payment and closing cost assistance available through FHLBank Pittsburgh. The 'tour' will include project financing, development grants, and homebuyer grants, used to promote homeownership, develop and rehab properties and the steps to take if the financing aligns with their projects.
Presented by Laura Rye, Community Investment Relationship Manager, FHLBank Pittsburgh.
11:10-12:00PM – New Rules for New Home Sales - Revamping the Tactics
The market has changed! The products you use, your buyers, your competition, and even the ways you connect with people haven't just evolved, they've exploded into something entirely new. Buyers are smarter and getting their information through new, instant, sources. The competition is smarter and technology has brought both great benefits and challenges. This session will explore new strategies and tactics to reach today's new home buyers.
1:30-2:20PM – CO-OP Advertising: An Essential Component of a Strong Marketing Campaign
During this seminar, you will learn about the multiple kinds of co-op advertising and how the untapped resource of co-op advertising can help fund your marketing campaign strategy throughout the year.
Presented by Pittsburgh Magazine
2:30-3:30PM – Analytics for Builders
Google Analytics is a wonderful tool. It provides data and detailed statistics on your digital marketing efforts. Yet it can be confusing and easily misunderstood in how to measure success. This session will explore how to make the most of your digital marketing dollars as well as explore best practices when deciding which programs work, and which ones don't, in deciding how and where to market in this new effort to reach your future customers.
3:40-4:30PM – Understanding Home Warranties
Is "warranty" as four-letter word in your business? This course is designed to assist agents/builders understand the warranty process, what is required by law and interpretations of the courts, what other factors can impact the builders responsibility to repair and methods to warranty and customer service beyond legal requirements to running a warranty and customer service program that can benefit your bottom line and make the homeowner happy.
*Select Courses Approved for Professional Continuing Education: PA Real Estate Commission, AIA, NKVA, ASID, PA Engineering & Landscape Architecture. 
---
FAQs 
What are my parking options for the event?
Here is a parking map to help find lots around the Convention Center - http://www.pghhome.com/attend-the-show/directions-and-parking/
 What is the cancellation policy?
No refunds for cancellations within 7 days of event. Any refunds will  be for the paid amount less processing fees.
When & Where

David L. Lawrence Convention Center
1000 Fort Duquesne Blvd
Pittsburgh, PA 15222


Friday, March 10, 2017 from 8:00 AM to 5:30 PM (EST)
Add to my calendar
Organizer
Builders Association of Metropolitan Pittsburgh
Housing Professionals Education Conference