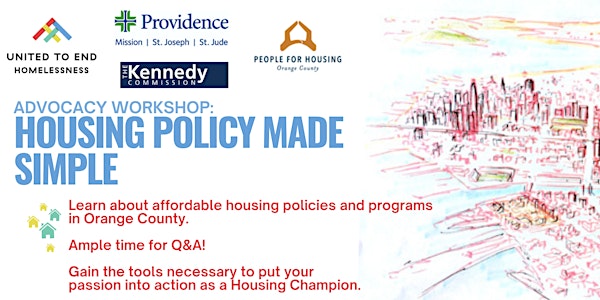 Housing Policy Made Simple Workshop: Housing Element Updates
Join our next workshop for a recap of Housing Elements- including where we are as a county-wide network of cities and what may be next.
About this event
Every month, United to End Homelessness hosts a Housing Policy Made Simple workshop for local advocates to learn about issues impacting homelessness in Orange County. These workshops take a deep dive into various topics to equip advocates with the tools needed to move more affordable and permanent supportive housing (PSH) into development in Orange County. Workshops are hosted in collaboration with the Kennedy Commission, People for Housing OC, and Providence St. Joseph.
The Zoom link will be emailed directly to registrants prior to the session, so please check your email.
We will start promptly at 6:00 PM.
*Please note that workshops is subject to cancellation if the number of attendees is below 15.