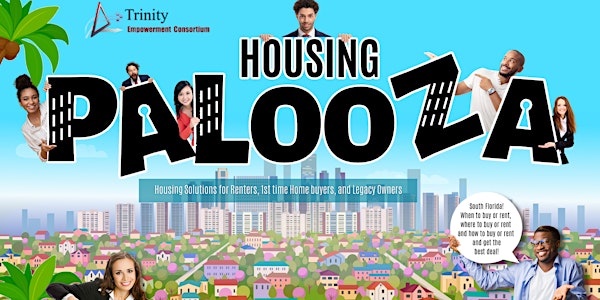 Housing Palooza 2023
Discover all of your South Dade housing options at the first Annual Housing Palooza on June 17th, 2023!
By Trinity Empowerment Consortium, Inc. and BOA Investment Group
Date and time
Saturday, June 17 · 10am - 3pm EDT
Location
11350 SW 216th St 11350 Southwest 216th Street Miami, FL 33170
About this event
This June 17th, Trinity Empowerment Consortium is hosting its first annual Housing Palooza event. This is a fantastic opportunity to learn the ins and outs of buying, renting, and investing in the real estate market. Banking and lending professionals, new development builders, and some of the top real estate and home planning experts in South Dade will be offering advice on how to make your housing dreams a reality.
Housing Palooza is designed to give insight into prepurchasing, best buying practices, renter planning tools, credit score improvement tips, and self-employed house buying guidelines. This event has something for everyone with family friendly activities to make the day enjoyable, such as bounce houses and food trucks. Attendees will also have access to essential documents and forms needed to get started.
Whether you are a renter, homeowner, or potential homeowner looking to establish a legacy or simply explore the area, the Housing Palooza event is for you. This event is sure to give you the knowledge for a successful journey in the South Dade real estate market. Don't miss this exceptional opportunity to take your housing dreams to the next level.
Housing Palooza is more than just a one-day event, it's a chance to form ongoing relationships with banking and lending professionals, new development builders, and top real estate experts and find the answers you need to secure the perfect home. So mark your calendars and plan to join us in South Dade on June 17th for the first annual Housing Palooza event.
Who should attend
Renters
Homeowners
Potential Homeowners
Senior, Estate, Trust and Investment Planning
New to the area families and individuals
What you will learn
How to find new and upcoming properties to rent and buy in the area.
Prepurchasing workshops for people interested in buying a home
Learning the best practices of home buying
How to establish good credit to maximize your buying and renting opportunities
How to retain legacy and build real estate wealth for your family
House buying advice for the self-employed
About the organizer
Trinity Empowerment Consortium is a HUD Certified Housing Counseling Agency Education, Counseling and Coaching to empower community residents in the accomplishment of their goals. We offer programs in both English & Spanish..