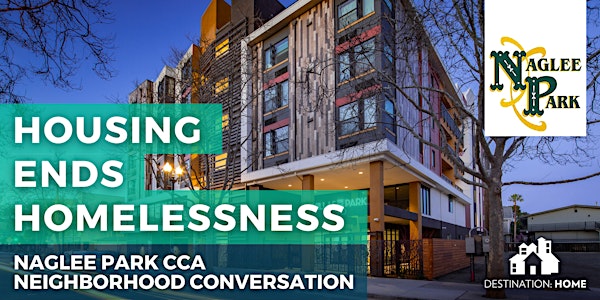 Housing Ends Homelessness in Naglee Park (virtual meeting)
Join Destination: Home for a conversation with Naglee Park CCA neighbors about how to end homelessness in downtown San Jose.
Date and time
Thursday, November 11, 2021 · 6 - 7pm PST
About this event
Please join Destination: Home and Naglee Park Campus Community Association neighbors for a virtual neighborhood conversation about homelessness, and affordable and supportive housing.
This is a great opportunity to learn more and talk about:
our homelessness and housing affordability crises and how they are interconnected,
the data-proven solutions to both end and prevent homelessness,
affordable housing development and supportive services,
new homes coming to San Jose and throughout the county, and
how to get involved and support new housing to end homelessness.
Register here to receive the online video meeting login information via email before the event.
Registration link: http://naglee.housingready.org
Presented by the Naglee Park Campus Community Association (CCA), the workshop and discussion will be facilitated by Robert Stromberg, Housing Ready Communities Project Manager at Destination: Home.
Please tell your neighbors, and bring a friend and join us for this urgent, important, and engaging conversation!
More information at https://destinationhomesv.org/understanding-homelessness
Webex video meeting instructions
This online video meeting will us the Webex platform. Webex works much like Google Meet, Microsoft Teams and Zoom, so the meeting controls will probably look familiar to you even if you have not used Webex before. Whether joining on your computer, smartphone or tablet, Webex works best if you download the app ahead of time. The workshop will be interactive, and important information will be presented on the screen during the meeting. Therefore, please join using a device with a camera, microphone and screen.
For complete instructions, please visit: https://help.webex.com/en-us/nrbgeodb/Join-a-Webex-Meeting
About the organizer
Destination: Home is a public-private partnership ending homelessness in Silicon Valley. Through our collective impact model, we incubate new ideas, advocate for policies, and fund impactful strategies that address the root causes of homelessness and help ensure that our most vulnerable neighbors have a stable home.