Are you interested in learning how to be a powerful voice in your community to help end homelessness?
About this event
Join us to explore:
How to find the information you need to be an effective voice for more supportive & affordable housing in your community
How to move supportive & affordable housing developments toward approval
How to avoid shouting matches & instead find/join with like-minded people to engage in positive action
How to deliver strong public comments at key city council & commission board hearings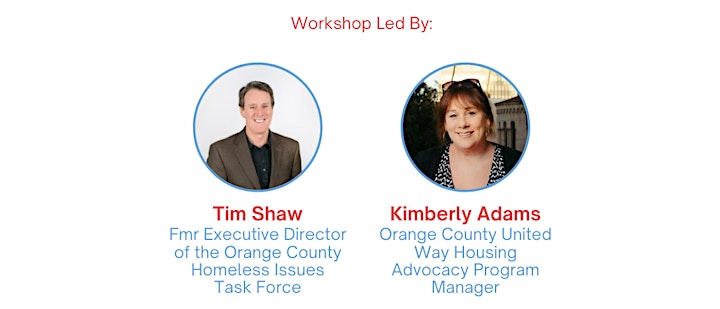 The Zoom link will be emailed directly to you prior to our event.
We will start promptly at 6:00pm on Wednesday, December 15.
*Please note that class is subject to cancellation if # of attendees is below 15
All interested residents are strongly encouraged to attend this free workshop!
Organizer of Housing Champions Advocacy 101 Online Workshop
About:
The United to End Homelessness initiative, empowered by United Way, is a powerful collaboration between Orange County's top business, philanthropic, governmental, faith-based and non-profit leaders. It also depends on caring residents like you who agree that we must act now if we are to end our community's homeless crisis. We are all working together to create long-term supportive housing to do more for those most in need.
Our Mission:
United to End Homelessness is committed to reducing homelessness in Orange County to functional zero. This means that there will be services and housing available for every individual who may need them. We complement the work of the Orange County Commission to End Homelessness and Continuum of Care Board.