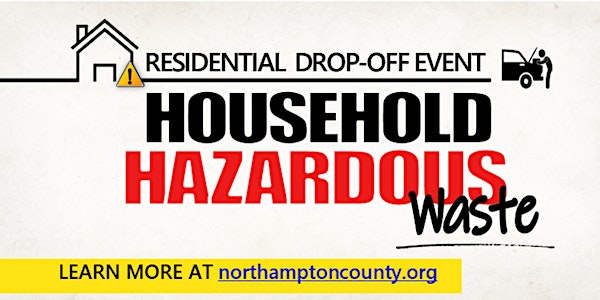 Household Hazardous Waste Collection Event
Free household hazardous waste (HHW) collection event for residents of Northampton County, PA. AN APPOINTMENT TIME IS REQUIRED!
When and where
Location
Northampton Community College 3835 Green Pond Road Bethlehem, PA 18020
About this event
In accordance to PA DEP requirements, collection events are following state guidelines and public health restrictions. An online pre-registered appointment is required to participate. Registration for the event will open September 1, 2022.
Please visit our website www.northamptoncounty.org for event information and new procedures.
PLEASE READ THE FOLLOWING INFORMATION IN ITS ENTIRETY BEFORE REGISTERING FOR THIS EVENT
This event is made possible by funding from the PA Dept. Environmental Protection, PA Dept. Agriculture and Waste Management Grand Central & Alliance landfills.
This is strictly a residential program for Northampton County RESIDENTS. We can only accept items from your household that have been used for household purposes. Businesses, contractors, municipalities, non-profits, organizations, schools and out-of-county households are NOT eligible and must contact a hazardous waste hauler for proper disposal, you will be turned away regardless of a registration ticket.
ONE APPOINTMENT PER HOUSEHOLD, no duplicate appointments. If duplicate appointments are found, only the original will be kept, the other appointments will be deleted. If you want to change your appointment time after registering, you must cancel your appointment and re-register. There is no guarantee that a spot will be available after your cancel. You will NOT be able to register the day of the event.
Only ACCEPTED materials will be collected. Do not bring items from the RESTRICTED list, see event flyer below. Amounts not to exceed 20 gallons and/or 60 lbs. of solid material per vehicle. No 25- or 55- gallon drums. Excess materials will be sent home with you.
You will need to present ticket confirmation, along with proof of residency (driver's license, utility bill) matching the address used for registration, at event check-in.
If you register for this event and are unable to attend, please cancel through your Eventbrite account as soon as possible so that another household is able to participate.
Quick drops and abandoning any material that was not collected or accepted will be handled as Illegal Dumping.
Drop-Off Guidelines will be included in your confirmation email, you can also visit www.northamptoncounty.org for additional information.