Location
Anita Dee Yacht Charters
200 North Breakwater Access
Chicago, IL 60601
HOUSE HEADS VS. STEPPERS YACHT CRUISE
About this event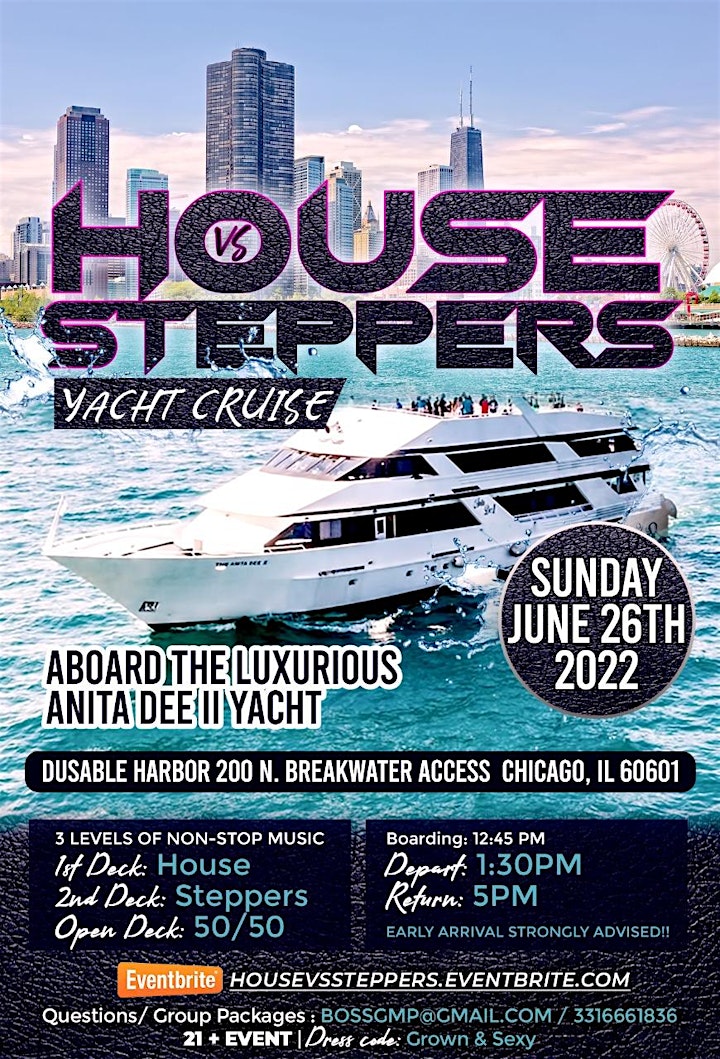 SUNDAY, JUNE 26TH 2022
If Your're a House Head/Stepper This Is 1 Event You Don't Want To Miss. Grab the Crew & Come On Out For A Wonderful Time!!! 3 Levels of Non Stop House & Steppers Classics, Food, Drinks, Great People & A Beautiful Skyline with Breathtaking views.
3.5 HOUR YACHT CRUISE
2 INDOOR CLIMATE CONTROLLED DECKS & 1 OUTDOOR DECK.
21 & OVER EVENT PROPER ID NEEDED
HOUSE HEADS VS. STEPPERS !!!!
1ST DECK : HOUSE | 2ND DECK: STEPPERS | OPEN DECK: HOUSE / STEPPERS
BOARDING - 12:45PM
DEPART - 1:30PM
RETURN - 5:00PM
EARLY ARRIVAL STRONGLY STRONGLY ADVISED!!!!
BARS ON EACH DECK & GREAT FOOD AVAILABLE FOR PURCHASE.
WE SAIL RAIN OR SHINE !!!!!
DRESS CODE: DRESS TO IMPRESS
ZERO TOLERANCE POLICIES, PARKING & COVID
!!!!! YOU DO NOT HAVE TO BE VACCINATED OR PROVIDE PROOF OF VACINATION TO ATTEND THIS CRUISE!!!
1. THERE IS NO PARKING AT DuSable HARBOR. USE THE MAP BELOW WHICH DETAILS PARKING OPTIONS IN THE AREA, GIVE YOURSELF PLENTY OF TIME TO PARK OFF-SITE AND GET TO THE HARBOR/BOAT BY THE SCHEDULED BOARDING TIME.
2. ENTRY ON BOARD THE YACHT IS STRICTLY DENIED FOR ANY PERSON INTOXICATED WITH ALCOHOL, NARCOTICS OR IN POSSESSION OF WEAPONS, ALCOHOL OR NARCOTICS. THIS INCLUDES MARIJUANA (IT IS ILLEGAL TO POSSES MARIJUANA, IN ANY QUANTITY, ON THE BOAT. THE BOATS ARE REGULATED BY THE UNITED STATES COAST GUARD AND INDIVIDUALS IN POSSESSION OF MARIJUANA OR OTHER NARCOTICS, ARE SUBJECT TO ARREST)
3. THERE IS A ZERO TOLERANCE POLICY BEFORE, DURING OR AFTER CRUISES FOR ANY INDIVIDUAL(S) FIGHTING OR EXHIBITING AGGRESSIVE AND VIOLENT BEHAVIOR. INDIVIDUALS WILL BE DETAINED BY SECURITY AND TURNED OVER TO THE CHICAGO POLICE DEPARTMENT TO BE ARRESTED IMMEDIATELY UPON RETURNING TO DOCK. INDIVIDUALS WILL BE BLACKLISTED AND DENIED ENTRY TO ANY FUTURE EVENT.
4. COVID: ANITA DEE YACHT CHARTERS WILL ENFORCE THE CURRENT FEDERAL, STATE OR CITY OF CHICAGO COVID PROTOCOLS THAT EXIST THE DAY OF EVENT.
BOARDING INFO
• Boarding will begin 45 minutes prior to scheduled cruise time.
• All guests must be present no later than 15 minutes prior to scheduled cruise time or their spot may be given away. Those who miss boarding will NOT receive a refund.
• Please have your printed Eventbrite QR Code and your valid 21+ ID ready as you enter the boarding line.
• As soon as boarding is complete, the gate will close and the crew will start preparing for departure. No one else will be permitted to board.
• Please be on time, as the Yacht will depart without you!
DRESS CODE: Semi Casual / Dress To Impress
• No flip flops
• No sports clothes including jogging pants
• No sports hats
DIRECTIONS:
The Anita Dee is docked at DuSable Harbor on the South side of the Chicago River at Lake Shore Drive.** Since the Harbor has no real physical address, GPS and online directions are unreliable. Use the maps along with the directions below to get to the boat! THERE IS NO PARKING ALLOWED AT DUSABLE HARBOR, WE'VE LISTED PARKING LOT OPTIONS IN THE AREA BELOW. BE SURE TO ALLOW TIME TO PARK IN ONE OF THESE OFF-SITE PARKING LOT OPTIONS AND ARRIVE AT THE HARBOR ON-TIME FOR BOARDING AND DEPARTURE!
* Parking Available around the area In Lots $$ (Please Google Best Options in The Area Before Heading Out) Navy Pier Parking is Always a Option But there are other Lots in the Area As Well (Please Note Boarding is not at Navy Pier its at the Dusable Harbor 200 Breakwater access in Chicago!!
Best Option! Park at Navy Pier Take the Bike Cabs To the Dock which is located across the bridge on the other side of the river from navy pier! (Allow Extra Time To Park)
PARKING OPTIONS:
Millennium Park Garage - 5 S. Columbus - (312) 616-0600
ABM Parking Services - 400 N McClurg - (855) 234-0260
ABM Parking Services - 323 E. Wacker - (312) 268-8116
LAZ Parking - 350 E. Monroe - (312) 616-0600
Navy Pier Lots - 600 E Grand - (312) 595-5072