House Party @ The Drive-In Halloween Bash
About this event
HOUSE PARTY @ THE DRIVE-IN ( HALLOWEEN BASH )
Saturday October 24th | Doors Open 4pm - Show Time 5pm
SeatGeek Stadium / Chicago Drive In - 7000 S. Harlem Ave Bridgeview, IL 60455
*Mask & Social Distancing Required
*Artist lineup and location subject to change without prior notice.
PERFORMING LIVE ON STAGE!
TKA/K7 - LIME - 2 IN A ROOM/ FULANITO - KEITH NUNNALLY - ROCHELLE - JESSEE/LEGACY - JULIAN JUMPIN PEREZ - FRANKIE HOLLYWOOD RODRIGUEZ - MICKEY MIXIN OLIVER - TIM SPINNIN SCHOMMER - JULIO SIERRA - DJ Q - GINO ROCKIN ROMO - DJ ERGE - DJ FRAUSTO - HOSTED BY JESSICA RODRIGUEZ
STATE OF THE ART STAGE, SOUND, LIGHTING, JUMBO SCREENS, FOOD & DRINKS!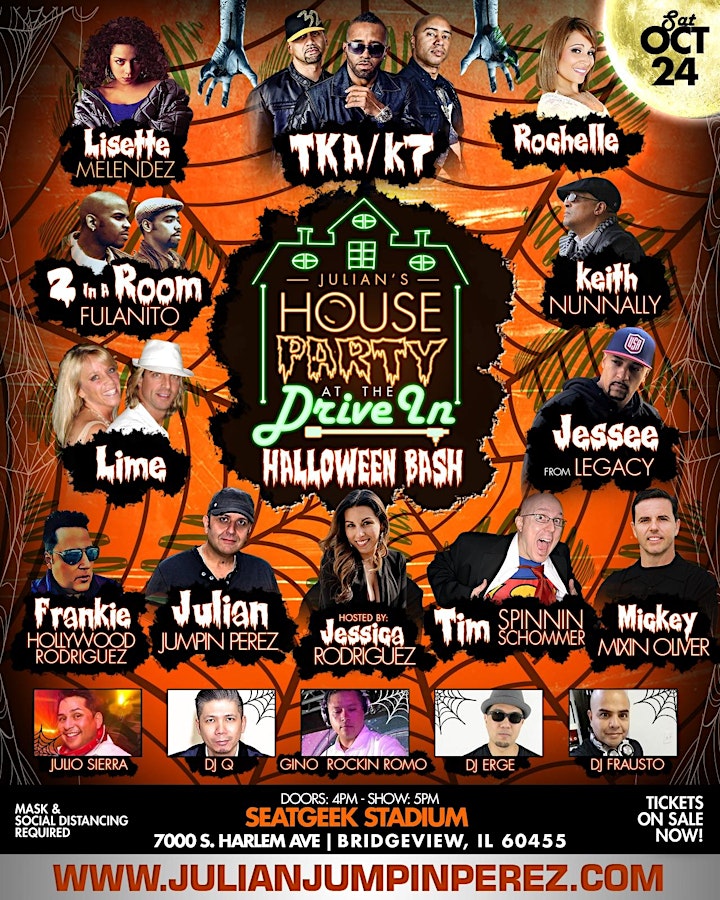 THIS EVENT IS SOLD OUT. YOU CAN STILL PURCHASE ADDON TICKETS
(LIMITED AVAILABLE)
FAQ - Rain or shine event
Is the price per Vehicle or per person?
The price is per vehicle ( Includes 4 tickets) Additional tickets can be purchased for extra passengers. Limit no more than 6 people per car and 8 people per SUV
(No Limousines , box trucks or over sized vehicles)
IMPORTANT: NO FOOD OR OUTSIDE BEVERAGES
General Admission add-ons or VIP Ticket add- ons must be riding with someone who has either purchased General Admission Or VIP Tickets.
"NO WALK-INS will be ALLOWED"
What's the difference between GA & VIP?
VIP guarantees you a parking spot in the first 5 rows closer to the stage .
Can I sit outside my vehicle to watch the show?
Yes, but we ask that you stay within 6 feet of other vehicles and people, this will enable us to maintain social distance requirements.
Do I have to wear a mask when outside of my vehicle?
Yes, please! We ask that you follow the current CDC guidelines
Can I bring my lawn chairs or small pop up table?
Yes, but please be mindful of social distancing and stay 6 feet away from other vehicles next to you.
Can I bring pets to the show?
Only if they are service animals.
How do I hear the Live Music?
We have state of the art sound from the stage as well as speaker towers throughout the event. The music is loud and it's awesome!
How do I buy candy and food for my screaming kids?
We will have candy, soda, chips, ice cream and food vendors available for purchase. We have a concessions cart that will be driving throughout the venue before and during the show.
Can I bring all the old booze in my garage so I can get "spring break" wasted and make my partner drive us home?
We ask that you leave the cooler at home and support our concessions endeavor. There are many beverage products available (alcoholic and otherwise) at the concessions tent located in the middle of the facility. Also, let's try and keep consumption to a reasonable level so we don't scare the kids and everybody can get home safely!
*NO FOOD OR OUTSIDE BEVERAGES
What happens if it starts raining during the show?
Turn your windshield wipers on and wait a little bit. Don't worry it never rains when Julian Jumpin Perez is on.
Will there be restrooms?
Absolutely! We are have portable toilets. Each one will be equipped with a sink as well as hand sanitizer stations outside of each unit. There will also be an attendant to sanitize the units after each use.
Can I buy exclusive merchandise from my favorite artist?
Yes! We have merchandise golf carts that will visit every car, so you can purchase that awesome t-shirt.
Can I walk up to the stage?
We ask that all event attendees stay within the confines of their vehicles . This allows for safe and social distancing. Don't worry, you will see our stage and JUMBO screens and hear the music just fine.
Is there any refunds or exchanges?
All sales are final. We are limited on space and expect a sold out show. Can't make it? You can transfer your tickets to another friend or family member. Lucky them! Please contact eventbrite for a proper transfer if need be.
What happens if we get life threatening weather or COVID-19 causes us to have another lockdown?
In this case, we will offer a full refund or offer you tickets for a rescheduled show. The safety of our fans is our #1 Priority.
STILL HAVE QUESTIONS?
Send us an email at: info@housepartydrivein.com
We will respond within the hour. Just don't email us at 2 in the morning :)
We can't wait to see you there!
Organizer of House Party @ The Drive-In Halloween Bash