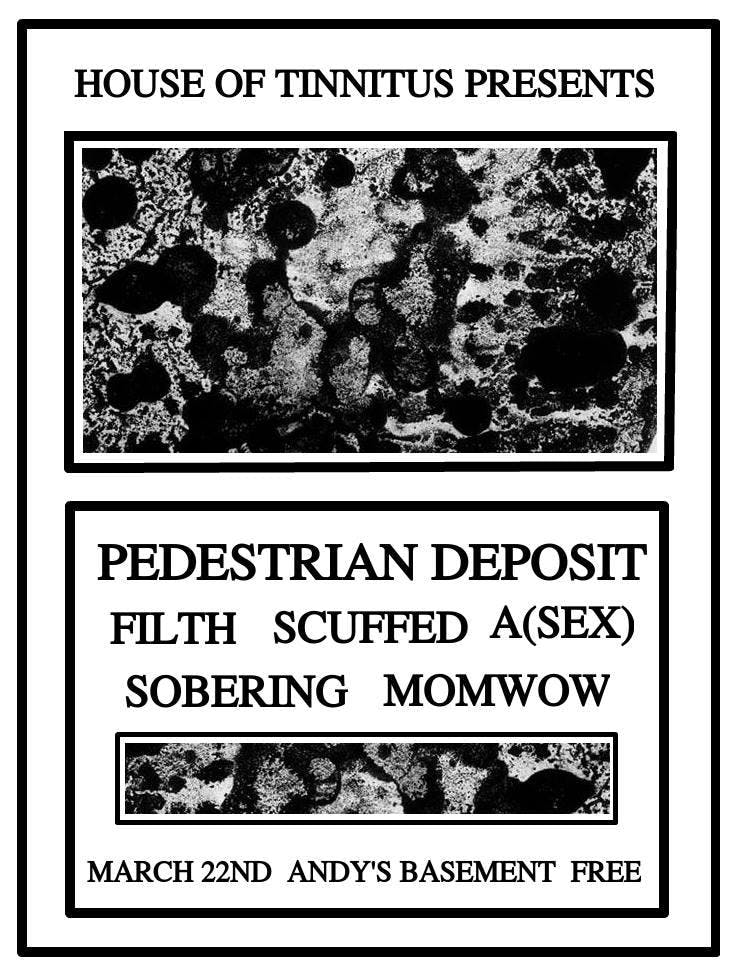 About this Event
HOUSE OF TINNITUS PRESENTS
THE RETURN OF PEDESTRIAN DEPOSIT !!!
MARCH 22nd
ANDY'S BASEMENT
FREE
Pedestrian Deposit - ONE OF THE BEST EXPERIMENTAL ACTS OF OF THIS DECADE!!! Reverse tension noise composition; existing somewhere between electroacoustic music, sound collage, and pure harsh noise, with elements of nearly every style of experimental music in-between. ... The collaborative work of Jonathan Borges and Shannon Kennedy of Pedestrian Deposit could be described as highly composed, often abstract sound textures combined to create dynamic experimental music that draws on the duo's widely contrasting auditory obsessions. Borges' use of crude yet disciplined electronics, tape loops, field recordings, and controlled feedback manipulation contrasts against Shannon's use of self-designed stringed instruments, bowing techniques and amplified wood and metal, resulting in music that is both raw and refined. Pedestrian Deposit bears elements of electro-acoustic sound, musique concrete, classical, industrial and harsh noise, but cannot be confined to any one genre. . THIS WILL BE THEIR 5TH TIME IN DENTON!! BUT FIRST TIME IN 4 YEARS!!!!!! YOU DO NOT WANT TO MISS THIS....ASK ANYONE WHO HAS SEEN THEM LIVE....INCREDIBLE!!!
https://pedestriandeposit.bandcamp.com/
FILTH - NOISY INDUSTRIAL JAMZ - YOU KNOW THE DRILL...
https://filthtx.bandcamp.com/
MoMWoW - HEAVY NOISE POP
https://momwow.bandcamp.com/
SCUFFED - NEW PROJECT OF KIM TEE. HEAVY DEATH ELECTRONICS.
(A)SEX - Brutal Cut-up / Harsh Noise master. Punishing and unrelenting.
https://www.youtube.com/watch?v=KFUQOocX5hQ
SOBERING - Long Standing TX project. Intense, precise. Masterfully blending elements of Harsh noise, Industrial, and Power electronics.
https://sobering.bandcamp.com/?fbclid=IwAR0nKzZIbDCnsMmOhVoX1tbI0NW4XP6VTn4U1UKgDKCBcGAgzfkSzQ9mqko
MORE TBA