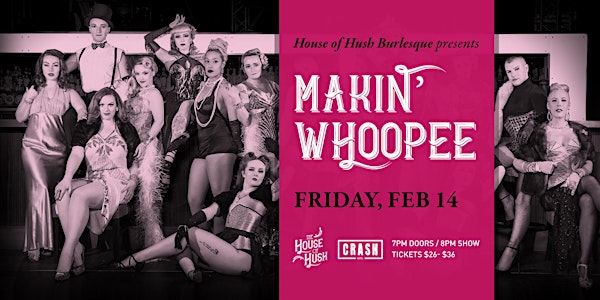 House of Hush presents: Makin' Whoopee
When and where
Location
Crash Hotel Lobby 10266 103 ST NW Edmonton, AB T5J 0Y8 Canada
Description
'Tis the season, and we all need another reason for makin' whoopee...
Grab a table for House of Hush Burlesque's speakeasy burlesque show at Crash Hotel's vintage cocktail bar! Go back in time to an era of luxurious outfits, cocktails and a night of classic burlesque. Styled after a past era of extravagant parties, this is an intimate show without the separation of stage: burlesque artists will be performing mere inches from your seat. If you're craving glittery costumes, glamour, or wild gin-soaked revelry – you've come to the right place! Doors are at 7pm and the burlesque show runs from 8-9:30pm, with a short intermission in the middle. Burlesque performers will be teasing and dancing all throughout the room, so at some point every seat becomes a front-row experience!
Tickets: For Valentine's Day, we are offering Dinner & Show Tickets! Dinner & Show Tickets are $105/person featuring a 3-course dinner created by award-winning chef Nathin Bye, including appetizer, entrée, dessert and wine pairings. Show-only tickets are $35/person. Note, this is a cozy venue: groups of two may be seated at a 4-top with another couple. Want a table to yourself? Purchase one of our 3 VIP tables: there are 2 booths available, and one large table (which seats up to 8). Dinner & Show ticket sales will close on Monday, Feb. 10th, 2020.
---
Menu:
FIRST COURSE:
Charcuterie to Share
marinated olives | flatbread | roast garlic hummus
El Coto | Rioja | 2015

SECOND COURSE:
Salmon & Prawn
Morrocan Glazed | Grilled | CousCous | Market Vegetables
Donkiesbaai Steen | Chenin Blanc | 2014
OR
AAA Alberta Beef Duo
Tenderloin & Braised Hunters Stew | Mushrooms & Roast Alberta Gems
Market Vegetables | Rosemary Peppercorn Demi
Creative Block 5 | Spier | 2015

THIRD COURSE:
Tuxedo Strawberries & Crème Brûlée
Perfect for Sharing | Vanilla Brulee | Love
XYRIS Mosto Parzialmente
---
Note, the Crash Hotel lobby is an intimate venue: there is a limit of less than 50 seats per show. Every seat is sold so expect to be seated at the bar or at a table with other guests. Want a table to yourself? Purchase one of our VIP tables! Coming alone? Please do! We will seat you at the bar, or with some future friends, and you'll have a grand time. Please note, tickets are non-refundable.
To see a map of the seating chart click here, or check out a photo of the space here. Check out our promo reel to see what the Crash Hotel cocktail bar space looks like, and to get a feel for our show!
---
Feel free to email us if you have any questions not covered here. hello@houseofhushburlesque.com
This is an 18+ show with mature themes and partial nudity.

Book our show for a private event! Get in touch with us at hello@houseofhushburlesque.com to chat about details and availability.
"If you give in to beauty, pleasure, and self-indulgence on a daily basis, not only will you be happier day-to-day, you will be less likely to go off the deep end when it all gets too much and you finally cave in. One must practice the art of hedonism regularly to get really good at it." - Michael Flocker