OPEN Sept 30 - Oct31 House of Horror Haunted Carnival is BACK at the MALL, taking over a 100,000 sq. ft. department store.
About this event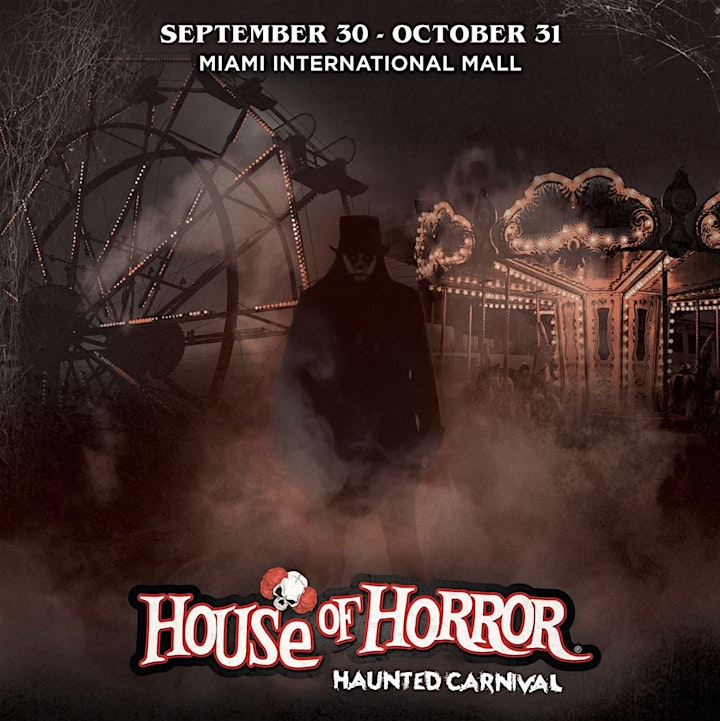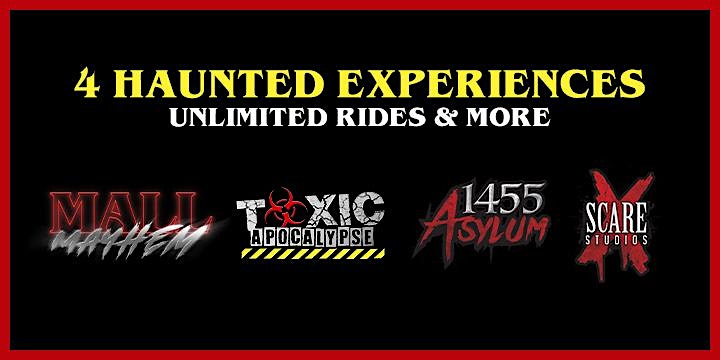 House of Horror Haunted Carnival, the largest Halloween experience in South Florida returns to Miami International Mall. Explore a giant abandoned department store that has been overtaken and claimed. For the first time ever, endure FOUR unique haunted experiences that will make you regret ever walking through the doors! Be greeted at "Mall Mayhem" by demented clerks and demonic mannequins. Brave the infested urban jungle, "Toxic Apocalypse," but be sure not to touch anything at the risk of becoming toxified. If you still have the nerve, check-in to "1455 Asylum," where the patients oversee the delivery of nervous breakdowns. Scare X Studios comes social media ready with an interactive experience that will take your breath away, making you a part of the horror! Finally – if you make it through all four unique haunts and still have some stiffness in your spine, take a risk and enjoy unlimited carnival rides, delectable treats, and carnival games at the House of Horror midway. See you there…if you dare!

WEEKDAY TICKETS - valid only on Tuesdays, Wednesdays and Thursdays
WEEKEND TICKETS - valid only on Fridays, Saturdays and Sundays
Carnival Hours of Operation:
Tuesday: 6:00 PM - 11:00 PM
Wednesday: 6:00 PM - 11:00 PM
Thursday: 6:00 PM - 11:00 PM
Friday: 5:30 PM - Midnight
Saturday: 5:30 PM - Midnight
Sunday: 5:30 PM - 11:00 PM
Haunted House Hours of Operation:
Open 7:00 PM daily - Close 15 minutes prior to Carnival close (time varies daily)
** Ticket may only be used for one single-day admission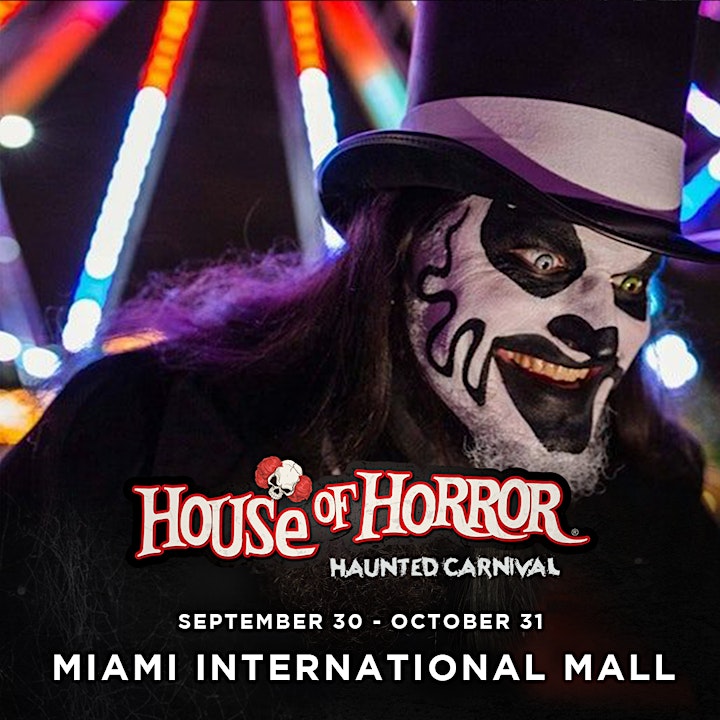 *******************************************************************************************
THE POSSESSION OF A TICKET SHALL CONSTITUTE AN ACCEPTANCE BY THE HOLDER OF THE TERMS, CONDITIONS AND ADVICE DETAILED BELOW AND IMPLIES AN UNDERTAKING ON THE PART OF THE HOLDER TO UNDERSTAND AND ACCEPT THEM.
NO re-entry! Policy is strictly enforced | There are NO ticket refunds, returns, rain checks, cancellations or exchanges | Event is not responsible for lost or stolen tickets and/or wristbands | Event is not responsible for any third party ticket purchase that is not originated from the official ticket merchant - Eventbrite or from the venue box office | Event is not responsible for any personal property | No animals will be admitted to the event site, except guide dogs or hearing dogs | No outside Food and Beverage is allowed inside carnival | Bookbags, large purses, bags, camelbacks are not permitted inside carnival | Ticket holders consent to the photography, filming/sound recording of the event as members of the audience, which may be used without payment or restriction by the event or its sponsors for any purpose whatsoever including, but not limited to resale, advertising, commercial or promotional material | Event tickets are security printed. Please keep them dry as to get wet may invalidate them | Event tickets remain the property of the event management until payment is received in full | Resale of tickets and/or wristbands is prohibited | Event is an outdoor event. It is advised that you bring appropriate clothing and footwear to protect against potential inclement weather | The event management reserve the right to implement any restrictions/conditions deemed necessary before and during the event to ensure the safe management of the event site | RELEASE OF LIABILITY - It is expressly understood that all participants in event enter at their own risk and that House of Horror Haunted Carnival or Engage Live, LLC. their officers and directors and all persons connected directly or indirectly with the operations of the event, or any sponsor of the event shall be exempt from any liability for slander, loss, damage, negligence, harm, injury or death suffered by any participant, entrant, vendors, exhibitors, or attendee of any form and equipment which may occur during the event.
The event management reserves the right to refuse admission to the holder if in the reasonable opinion of the event management admission of the holder to the event site might be a risk to the safety of the audience and/or the holder and/or affect the enjoyment of the audience and/or the running of the event, for example, if the holder appears to be under the influence of drink and/or drugs and/or is acting aggressively. Strictly no illegal substances will be permitted into the event site, persons entering the event site may be searched as a condition of the event premises license.
The event management reserves the right to amend the terms and conditions of this ticket in accordance with any new laws, legislation or internal company policies.
FAQs
1) DO KIDS PAY?
Children ages 2 and under are FREE
Children ages 3-6 pay Child Ticket which includes admission to the carnival but NOT to the haunted houses.
7 years and older pay and ticket includes admission to carnival and all three of the haunted houses
2) ARE THE RIDES FREE?
Yes, unlimited carnival rides and attractions.
3) WHEN DO THE HAUNTED HOUSES OPEN?
The houses open every day at 7pm until 15 minutes prior to carnival close (times vary nightly)
4) CAN WE USE A TICKET MORE THAN ONE DAY?
No, a weekday or weekend ticket is valid only ONE day.
5) IS THERE RE-ENTRY TO THE CARNIVAL?
NO re-entry permitted. Once your ticket is scanned at the main entrance you cannot re-enter the carnival.
6) WILL THERE BE ALCOHOL SERVED?
Yes, there will be alcohol available throughout the carnival. MUST BE 21+ to purchase. Valid ID Required.
7) IF I PURCHASE A CHILD TICKET, CAN I STILL BRING MY CHILD INTO THE HAUNTED HOUSE?
No, if you purchase a child ticket your child will not be able to enter the haunted houses even with parental supervision.
8) WHAT IS THE REFUND/RETURN POLICY?
The event is not responsible for any lost or stolen tickets. Absolutely NO ticket refunds, returns,
resales, rain checks or exchanges will be allowed.
9) HAVE A GROUP OF 20+?
Email us at tickets@engagelivellc.com
10) IS PARKING FREE?
All parking is free.
11) ARE BAGS ALLOWED INSIDE?
Medium to large size purses and bags as well as backpacks are not permitted inside the
carnival. Lockers are not available.
12) ARE THERE ANY STROLLER/WHEELCHAIR RENTALS?
No, there are none available for rent. Carnival is stroller/wheelchair friendly.
13) IS MY TICKET ONLY VALID FOR A SPECIFIC DAY?
Unscanned and/or Unredeemed Weekday tickets can be used for any valid weekday date within the season, excluding Monday's because the Carnival is closed. Unscanned and/or Unredeemed Weekend tickets can be used for any valid weekend date within the season.