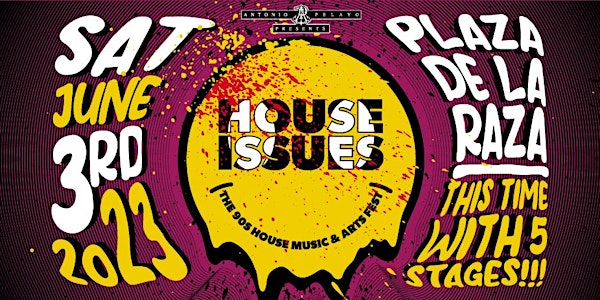 HOUSE ISSUES Festival
We're back for another epic night of House Music/ Art this time with 5 Stages! 21+ Advance tickets are strongly recommended. BAD BOY BILL
Date and time
June 3 · 7pm - June 4 · 1am PDT
Location
Plaza De La Raza 3540 North Mission Road Los Angeles, CA 90031
About this event
Antonio Pelayo presents,
HOUSE ISSUES the 90s House Music & Arts festival
At Plaza de la Raza, this time with 5 stages!!!
Main Stage Headliner:
BAD BOY BILL
TONY B & ORLANDO
Hosted by The Baka Boyz & Tito
Special live performance by The Godmother of House Music Womina Wells
Von Kiss
AJ Mora
Artie The One Man Party
Hefty
Speedy K
Curated by Antonio Pelayo
STAGE TWO:
DJs:
Gargamel
.Tony Powell
Larok
Apx-1
Hi-C
Curated by Dj Gargamel
STAGE THREE:
Soulful Sunday 30+ Years of Rave
Hosted by Joey Avila/Lost At The Rave
MC by Manny Quezada
Visual Stimulation Installment by Mauro Mindbend Events
DJs:
Thee-O
Dope-E
Bernard Thomas
Sal Meda
Jae Luna
Curated by Kimberly Tia
STAGE FOUR (all Vinyl)
2Dope Entertainment
Hosted by 2Dope
DJs:
2Dope
Steven Christopher
Jaybird
Jrod In Damixx
Freddy O
Curated by 2Dope
STAGE FIVE (Inside The Theater)
Jose Shuton
Robert Risque
DJ Eser
Joey Radikal
Curated by Jose Shuton
Exhibit curator:
Kimberly Tia
Featuring:
-Coco Fry-Rich for Excaliber Fashion Show/Go go & Exhibit
-Welcome to The Club Documentary
-DJ AJ Mora, The Movement
-DJ Hazze, The Movement
-DJ Flap Jack The Kandi Kid
-Space Channel Ghoulia
-Ghetto Fresh Clothing
-187 Hudda Official
-Flyer Parties
-Old Skool Funktionz
-Womina Wells
-DJ Sal Meda, 90s Party Crew Flyers
-Animal Events
Fashion show by:
Corinne Fry-Rich
Live Painting by:
CHAKA
And Cleps One EE x GhettoFresh Crew
Classic Car Show by Infamous crew from Glendale:
Twisters car club est 1954
& SCRAPERS car Club
Sponsored by: Vezbi, WeedMaps, Lotus Escrow, Titos Vodka, City of Los Angeles, Northgate Markets
VIP Room sponsored by: Aguila Real Tequila, Salvadores Mezcal, Casa Mexico Tequila, Aguas Locas & Keep It Cheesy Photo Booth
~~~~~~~~~~~~~~~~~~~~~~~~~~~~~~~~~~~~~~~~~~~~~~~~~~~~~~~~~~~~~~~~~``~~~~~
DISCLAIMER: Talent is subjet to change at anytime. All event attendees must be 21+ with a valid photo ID upon check-in. No in and outs are permitted. Upon entering our events, you are allowing our photographers and videographers to include you in video footage for any purposes including movie filming and photography. We reserve the right to use, reproduce and distribute any video and photography produced at our events. Solicitors are not allowed on the premises. Passing out flyers and/or promoting other events at or during our events is strictly prohibited and is grounds for removal. Ticket sales are final, NO REFUNDS. Talent is subject to change at anytime. Parking is very limited, Uber/Lyft is highly recommended. Cash, Credit Cards, PayPal, Venmo accepted at the event, ATMs will be available. No bags, backpacks or cameras permitted.
~~~~~~~~~~~~~~~~~~~~~~~~~~~~~~~~~~~~~~~~~~~~~~~~~~~~~~~~~~~~~~~~~~~~~~
QUESTIONS & General Information
-Are there Refunds: NO REFUNDS!
-What if it rains? This event is Rain or Shine
-Parking: Its FREE at the DMV which is right across the st from Plaza, but you must arrive at 7or 6pm to get a space, but we highly recommend UBER/LYFT to avoid all issues...
-Is it 21 & Over? YES no one under 21 will be admitted!
-Do i need ID? Yes
About the organizer
Antonio Pelayo is a leader in the event industry, creating a new type of cultural experience specializing in art exhibits, live entertainment, concerts, community outreach, sponsorship and fund raising.
The mission is to engage a large group of people and have them experience the new definition of FUN in LA…become part of Antonio Pelayos  movement and nothing will be ordinary!