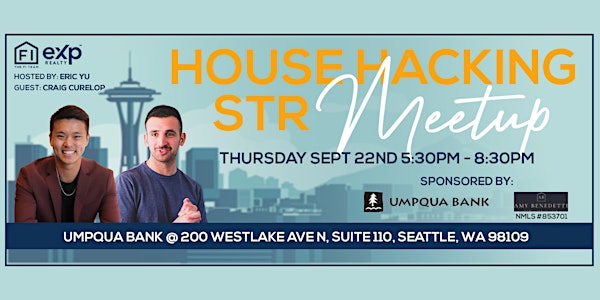 House Hacking/STR Meetup with Craig Curelop + The FI Team Seattle
Come network and learn about House Hacking with Craig Curelop & The FI Team Seattle!
When and where
Location
Umpqua Bank 200 Westlake Avenue North Suite 110 Seattle, WA 98109
About this event
So you wanna get to financial independence, but don't know how to get started?
Come join The FI Team Seattle on Thursday, September 22nd & hear from Mr. House Hack himself, Craig Curelop (@thefiguy)! What is house hacking, you ask? Come to this informational networking session to find out ;)
This is also The FI Team's kick-off event in Seattle. We'll be hosting monthly meetups for people looking to house hack, purchase STRs, or just get into real estate investing as a whole. If you're interested in learning more, please reach out to Eric Yu (@helloericyu).
Agenda for the evening:
5:30-6:15 PM: Come in, grab some food and drink, start networking.
6:15-7:15: Come hear from Craig Curelop & his journey toward financial independence with house hacking. 30-40 min presentation with 20 min Q&A!
7:15-8:30: Eating, drinking, and networking! And remember, don't forget to follow up after you go home!
You don't need to have any experience with house hacking or real estate investing to come. You can simply just come to have a good time and learn from others. We hope to see you there!
$10 admission fee will help cover food & event costs.