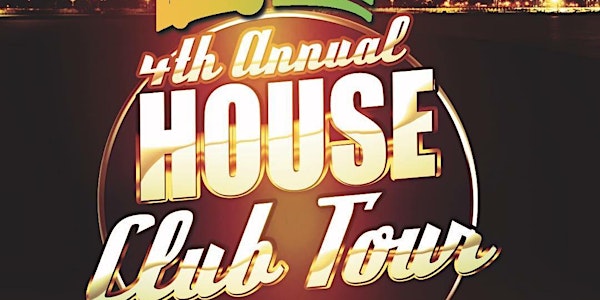 House Club Tour Pub Crawl #4
When and where
Date and time
July 3, 2018 · 6pm - July 4, 2018 · 12am CDT
Description
EARLY TICKET & SHIRT PURCHASE & PICK UP for HOUSE CLUB TOUR PUB CRAWL @ SOUTH LOOP HOTEL 11 W. 26th St. SUNDAY, June 24th & SATURDAY, June 30th 12pm-5pm"
(Discount South Loop Hotel Rooms Available)
Everyone's Talking About the House Club Tour. Part of the Excitement is Getting There!
Join the Adult House Excursion
4th Annual
HOUSE CLUB TOUR PUB CRAWL
TUESDAY, JULY 3, 2018
6pm-12am
http://hctpubcrawl4.eventbrite.com
Experience the journey through Chicago's south loop to the south side with 30 House DJs, 25 Buses, 10 Venues for 6 Hours All In 1 Night!
With REMY MARTIN Drink Specials
Hear the sounds of Classic, Disco, Soulful, Deep, Afro, Latin & Underground
*All 25 buses are for transportation only and will rotate continuously every 15 minutes 6pm-12am
*You can dance & party at any venue as long as you like.
*Your tickets will be held at your starting location you select on eventbrite.
*EARLY Pick Up & Purchase of Tickets/T-Shirts @South Loop Hotel Sunday, JUNE 24th & Saturday, JUNE 30th 12:00pm-5:00pm
*Discount Tickets Available @
https://hctpubcrawl4.eventbrite.com
DJS/ VENUES:
Bassline- Nick Nonstop, Mady Mod & Voc Walters
Blu 26 Roof Top - Vick Lavender,
Terry James & Hula Mahone
Truth Restaurant - Torin Edmond,
Jamal Cooper & Duane Powell
Room 43 - Fiddy Millz, David Sabat & Jukie Tha-Kidd
Promontory - Maurice Joshua, Lady D
Afrozons: DJ Ko & DJ Top Donn,
Leo's Den - Celeste Alexander,
First Lady, Big Easy & Hugo H.
Frances' Cocktail Lounge - Mz. Nicky, Dee Jay Alicia & Rick Wilhite
City Life - Erick Esmoove Miller,
DJ Velocity, DJ Purple
Red Pepper Lounge - Vernell Byrd &
Rick Wilhite
Family Den - Ron Carroll, Steve Maestro & Mickey Calvin
https://www.facebook.com/events/190347834907489/?ti=icl
About the organizer
The House Club Tour is a celebration of different sub-genres of House Music played through the city of Chicago.  As we captivate you as our audience, we will introduce the sub-genres of House Music through talented selected DJs throughout some of the city's hottest music venues!!