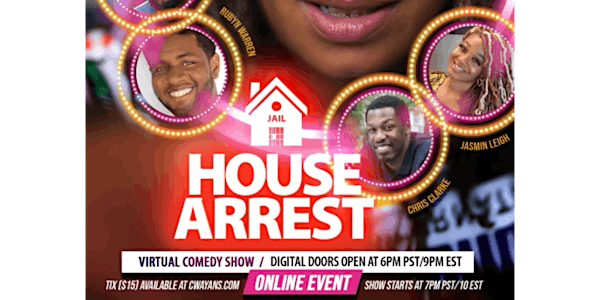 House Arrest Virtual Comedy Club
Chaunte' Wayans Monthly Updates Comedy Show Starring some of her favorite comedians you should know. Follow us @cwayans @anotherwayprods
Refund Policy
Contact the organizer to request a refund.
Eventbrite's fee is nonrefundable.
About this event
The show will be approximately 60-90 minutes.
Starting at 7pm PST / 9pm EST
VIP will be able to come in at 6pm like a doors open policy.
Tickets are per household sharing one device.
Chaunte' Wayans's Monthly Updates is a monthly show w/ some of her favorite comedians that you may have or need to see.
LineUp
Jasmin Leigh
Is an LA based Actress, Comedian and Producer who is currently taking the comedy scene by storm! Reared in Roosevelt, NY and Tallahassee, FL, she is gifted with both southern charm, and a take-charge personality.
Acting on a dare, Jasmin Leigh's comedy career began on an open mic, but immediately became something Jasmin craved. Because life is truly funnier than fiction, Jasmin Leigh currently stars in a web based talk show, aptly entitled Jasmin's World. Conceived as her brain child when she was a child, Jasmin's World invites viewers into Jasmin Leigh's creative mind through, interviews, skits, and all types of "life funny fiction." She also hones her comedic chops as a regular at The World Famous Comedy Store's "Belly Room," The Jay Spot and Ha Ha Comedy Club. She has had recurring roles on Laff Mobb's Laff Tracks and appeared on Comedy Central in "Jeff Ross presents Roast Battle II," and "Not Safe with Nikki Glaser."
Charlie Newhart
"Destiny Developer" Charlie Newhart is this generations' Exhorter and Motivator. For several years he was bullied and teased for wearing glasses and being an honor student. Before he had time to try and fit in he was diagnosed with Cancer at the age of 15. Five months after surgery he was told there were more Cancerous tumors in his body and another surgery was needed. Broken, depressed and hurt Charlie went in for the second surgery hoping it was the last. Through prayer, chemotherapy and God's Grace he came out healed at the age of 17. Even after all he went through at a young age he still chose to participate in illegal activities, womanize and self sabotage.
At the age of 23 he was shot at point blank range and nearly killed. This proved to be a turning point in Charlie's life but he still had a long road ahead. After a failed marriage he was a single Father with full custody of three kids at the age of 24. Unable to work due to injuries sustained during the shooting proved to be an opportunity to write and refocus. He connected with a church and recommitted to God.
Over time he wrote and acted in a stage play, then landed an agent who helped him book major roles in commercials, plays, voice overs and film. He has also written a life-changing book entitled. "I Love Myself" the 5 Keys to Successful Relationships which is proving to be a top seller for it's rich autobiographical content. In the book Charlie talks about how he overcame several obstacles and with the help of God chose to love himself in spite of it all.
Charlie's expertise in life, relationships and in business allows him to deliver intelligent, comical, powerful, life changing presentations that apply to Relationships, Sales, Leadership, Change, Self-Motivation and Destiny Development.
Rubyn Warren
Rubyn Warren is a rising comedian on the scene today. He was born with the gift of making people laugh. At age 14 he decided to get serious about comedy and honed his skills by performing at serious venues, like schools and churches. He has appeared on Fox, TruTv, Aspire and BET. A millennial with a bright future, he finds humor in simple truths, common life experiences, and obvious-in-hindsight observations.
Chris Clarke
The high-energetic styled comic with a vivid imagination comedian Chris Clarke has cemented himself as one of the most enjoyable acts working today. His first National tv appearance was on the 2013 revamped Comic View hosted by Sommore. He now tours the country with Veteran comedian Rob Schneider.
Besides stand up Chris has a very popular YouTube channel, where he's known as Csnacks. Tasting food/snacks from the front seat of his car. He has attracted over 40 million views on his channel. His hilarious and unique way of explaining the way different snacks tastes, landed him a national fast food commercial for Checkers and Rally, and also a hour special on the cooking Channel called baby got snack and was a food critic judge on the Beat Bobby Flay show.
About House Arrest Comedy Club:
The world is slowly opening back up, but times have changed and elevated in a lot of ways. This is a Hybrid production allowing the comedians to experience a small & safe audience while being able to live stream their performance to you in the comfort of your own home. Not to mention our VIP experience gives you a feel of being there and interacting with your favorite comedians via online.
RULES AND PROCEDURES:
This show has a VIP experience which gets you access to the show via Zoom where you will get a little behind the scenes as well as get to Meet and Greet with the host and comedians. There are only 49 slots so don't wait to get your tickets. Also please make sure to download the Zoom app on your phone or computer ahead of time. Everyone would be required to cut on their mics and video so that everyone can hear the laughter. Please make sure the environment around you is quiet so that there are no distractions and if you must put your mic on mute to handle anything please do so. You CANNOT share your purchase link with anyone and if more than one person tries to use it, both people will be locked out of the show. If you interrupt the performance or do anything inappropriate on video you will be locked out of the show and band from returning to another show with no refund.
Again you CANNOT share your purchase link with anyone and if more than one person attempts to use the link, both people will be locked out of the show and possibly band for any future shows without a refund.
DISCLAIMER:
House Arrest Comedy Club is providing service through the use of Zoom. We don't own or control either. By purchasing a ticket you are acknowledging you are aware of video and audio recording, and you grant the comedians and House Arrest Comedy the irrevocable permission to utilize the footage and your likeness as contained therein, in any way, throughout the universe in perpetuity, so long as the context is not changed to alter the meaning of the original interaction. If you are uncomfortable showing yourself, please purchase the ticket to view the live stream experience.
FOR REFUNDS PLEASE CONTACT ORGANIZER