Description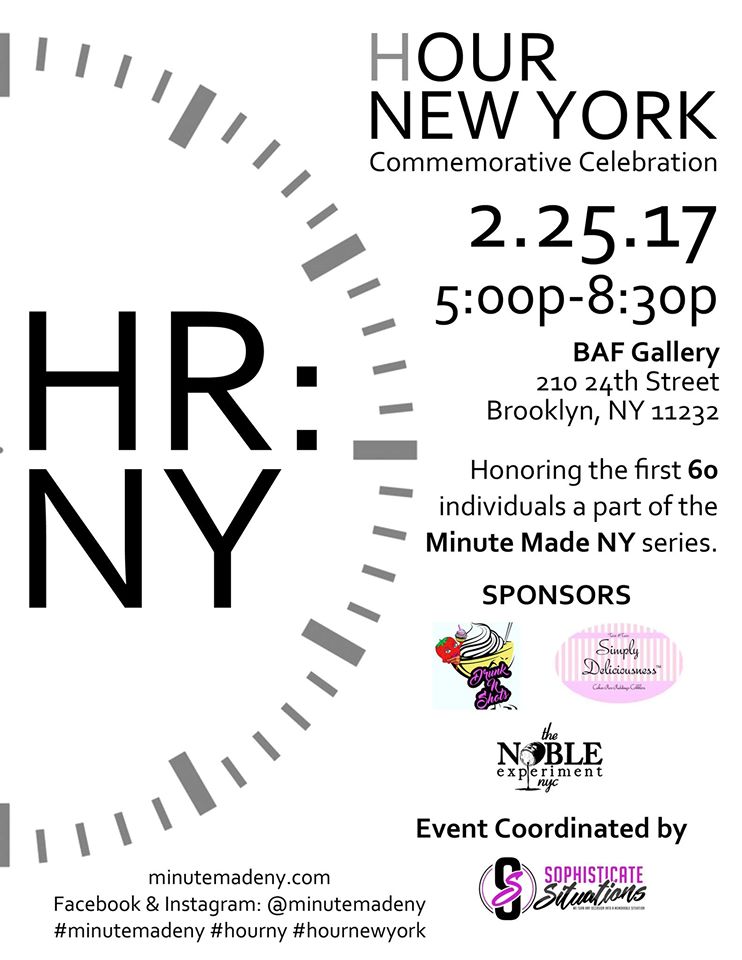 Minute Made New York
Vixon John
237 East 87th St
Brooklyn, NY 11236
Brooklyn, NY --- February 7th 2017 --- Minute Made New York will be hosting a commemorative event to launch the completion of an eclectic collection of minute long clips titled "Hour New York." The guest list comprise of media personalities, small business owners, artist, entertainers and a few lucky members of the general public.
The goal of this event is to highlight the talents, businesses and passions of those who contributed their time to this project in a setting where all are invited to network and have fun. Refreshments will be provided by a few of the honorees willing to share their goods with the attending audience. The objective of this event is to serve as a blueprint of things to come from Minute Made New York so be on the look out.
To inspire, connect, create and grow is the platform on which we stand so we encourage you the attending guest, to participate in this process by nominating other creatives and or small business owners to be featured in upcoming projects. Please do not hesitate as we hope to be a catalyst for those who wish to introduce themselves to the world through our eyes in hopes of making connections between the arts and life within our communities.
It is with great excitement that we at Minute Made New York announce our collaboration with local businesses, such as the BAF Gallery, host of the event's festivities, and Sophisticated Situations an event planning and coordination company, who in partnership, has promised to make the commemoration of this series one to be remembered. We are thrilled for you to join us Saturday February 25th 2017 from

5:00 pm to 8:30 PMAT

BAF Gallery 210 24th St. Brooklyn, NY 11232.

Please use this opportunity to RSVP as space is limited,
We appreciate you
Minute Made New York