About this Event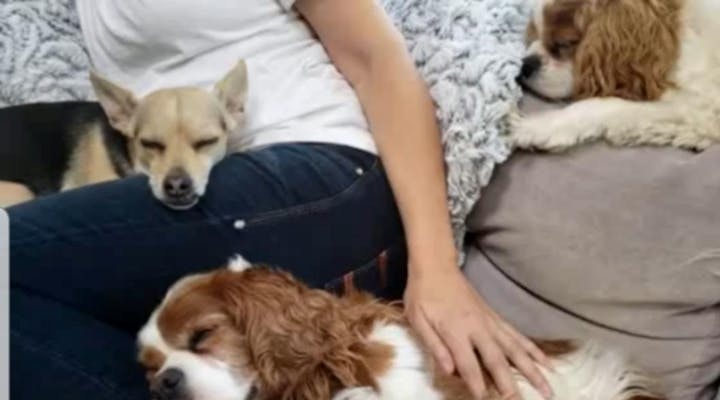 Kirsten will share her experiences with using sound healing around animals and the benefits of bringing sound healing to people and their pets for wellbeing. She will then gently guide us in a sound bath using Tibetan Singing Bowls, Crystal Singing Bowls and other sound healing instruments.
Our pets are truly life companions that are there to support us just as much as we are there to support them. When humans get stressed our animals pick up on that stress too. Sound Healing is a wonderful way to create a mutually beneficial and healing experience for both you and your pet. Our pets are drawn toward peaceful energy. When you sit or lay down with your dog while in a restful, relaxed space, they soon feel at ease and become more still as a result. They may even position themselves by your side in order to enjoy that calm connection with you. A sound bath is a great way to share a meditative tranquil space of calm and peace with your dog.
In addition to feeling more relaxed and less anxious, pets receive an array of other benefits from a regular meditation experience, just as humans do. Considering the significant influence you have on your pet's health and well-being, and they have on yours, a mutual meditation practice is entirely a win-win.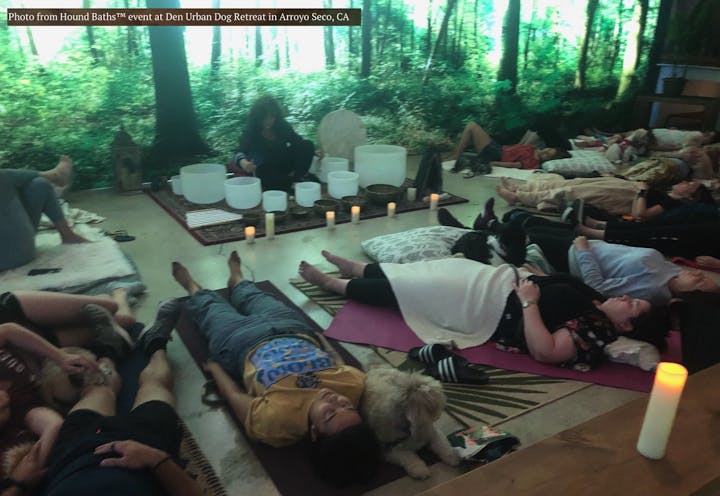 WHAT HAPPENS AT A HOUND BATHS™ EVENT ?
We start off with a 15 minute mix and mingle with the owners and their dogs so everyone can meet and the dogs can check each other out . Kirsten will then share about her experiences with using sound healing around animals and the benefits of bringing sound healing to people and their pets for wellbeing. Then dogs and humans relax lying down for a soothing sound bath using Tibetan Singing Bowls, Crystal Singing Bowls and other sound healing instruments.
WHAT ARE THE BENEFITS OF SOUND HEALING?
Sound therapy helps reduce stress and create a deep sense of peace and well-being for both humans and animals. Animals react intuitively to sound healing, and they often stretch out into a deep slumber. Their experiences can be even more profound than humans because animals have the capacity to hear more octaves and tones than humans. It is extremely loving and gentle so it's particularly suited for fearful, skittish, or hard to reach animals. This also means that sound therapy is very helpful in rescues, trauma, PTSD, and with a whole range of emotional issue healing with animals.
IMPT FAQs - PARTICIPANTS MUST OVER THE AGE OF 18
Is this event for me or my dog?
It's for both! Dog lovers that don't currently own a dog but love being around dog energy please feel free to join us.
What are my transportation/parking options for getting to and from the event?
There is parking available in the lot or on the Kester or side streets.
What should I bring?
Bring yourself, your dog, a yoga mat and an open heart. You can also bring a water bottle , blanket, your dog's favorite doggie bed or anything else that will make it more comfortable for you and your dog to be lying down on the floor during the sound bath.
How can I contact the organizer with any questions?
You can email kirsten@kirstenkorotinternational.com or call (310) 309-1564
What if I'm not sure how my dog will react?
Please use your discretion and bring your dog if it is something you think they will enjoy and/or benefit from along with you. The owners of Sobe Happy Dog BnB are very well trained in dealing with all kinds of dogs and will be supervising and help to make the animals comfy, but ultimately you know your dog best. We encourage people even with sensitive or nervous dogs to come and try it as we create a loving, supportive and grounding energy and space that can be great for calming their energy and building their self-confidence.
Are there any other requirements?
Dogs who attend events must be up-to-date on all vaccinations and not be known to be vicious or aggressive. You will receive a waiver we require all first-time guests to sign before participating in these events. Those will be emailed out to registered attendees to sign and bring with them. For those that sign up day of the event at the door you will need to sign waiver before entry.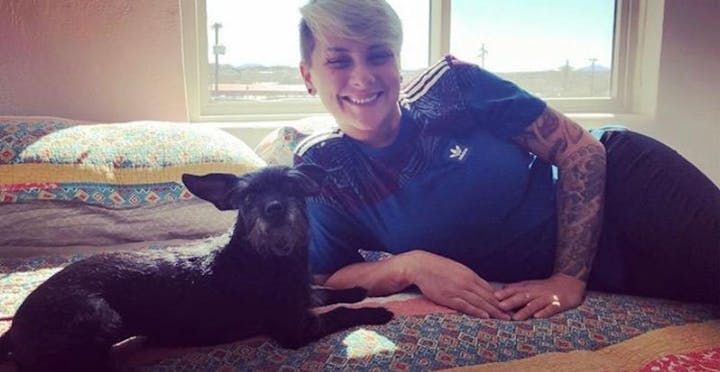 ABOUT SOBE HAPPY DOG BNB & OWNER DEBORAH WALDREP
SoBe Happy Dog BnB did not start as SoBe Happy, but rather a small side business located out of the current owner's, Deborah Waldrep, home. There would be many days of dog walking and many nights of dog sitting and over the course of time this love for dogs grew, as did her client base. As business began to grow and clients started referring friends and family Deborah knew she could make something special of this newly found passion.
After two years of caring for and watching over dogs out of her home, she made the leap and opened the current location; the doors opened October 2015...and the BnB was a success!
When naming her business Deborah put great thought into what gave her this passion and love for dogs. It was a no brainer...SoBe Happy Dog BnB! Sobe for the love of her life, Sobe Sand, her cocker spaniel, and Happy Lama, her little wired-haired terror mix, for the little piece of happiness she picked up along her and Sobe's way through life. These two pooches had no idea how instrumental they had become in shaping Deborah's dream of owning her own dog daycare and boarding facility in California.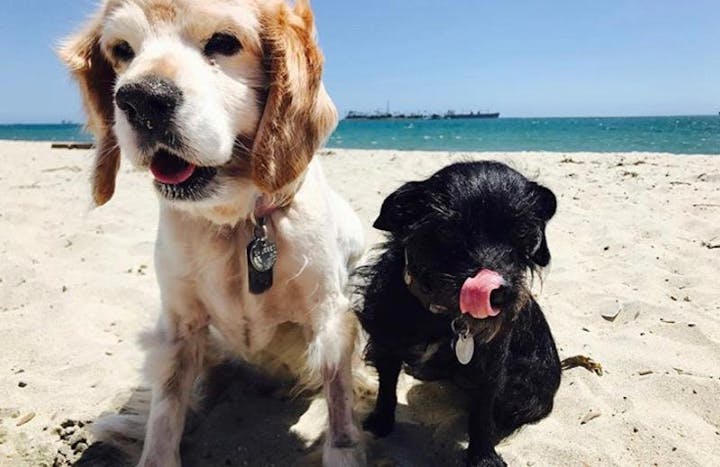 Sobe has since crossed the rainbow bridge and keeps an eye on Deborah from above, while Happy continues to keep Deborah company as the company mascot, showing up to the BnB from time to time, and Deborah's four-pawed, furry best friend.
SoBe Happy Dog BnB is thrilled to begin their new venture with a more holistic approach to the well-being of pups and their two legged friends. Joining forces with Kirsten Korot International will bring the BnB and it's clients a sense of peace, tranquility and relaxation...all while spending some quality time with their fur babies.