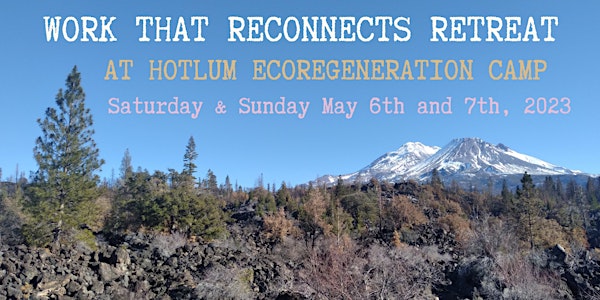 Hotlum Work that Reconnects Retreat
Cultivate the Courage to Act on Behalf of the Web of Life!
Date and time
Sat, 6 May 2023 09:00 - Sun, 7 May 2023 15:00 PDT
Refund Policy
Contact the organiser to request a refund.
Eventbrite's fee is nonrefundable.
About this event
1 day 6 hours

Mobile eTicket
Hotlum Work that Reconnects Retreat
Cultivate the Courage to Act on Behalf of the Web of Life!
Saturday & Sunday May 6th and 7th
Facilitated by Della Duncan
At Hotlum EcoRegeneration Camp, Hotlum California 96097
The Work that Reconnects (WTR) is both a process for transforming our despair into purposeful action, as well as a deep well of nourishment to continue. Through a series of creative and experiential exercises, The Work that Reconnects opens space for radical truth-speaking and personal and collective empowerment. Drawing on deep ecology, systems theory, and spiritual traditions, this open-source body of work is rooted in the teachings and experiential methods of Joanna Macy.
Join us for this transformational group process that builds motivation, connection, solidarity and vision, renewing the courage to act for the healing of our world. In these times of wildfires, climate chaos, rampant inequality, systemic racism, and other daily catastrophes, there is a tension between our desire to take urgent action and our need to process reality on a deeper level.
Accomodations: Participants are invited to camp at Hotlum EcoRegeneration Camp, a "private camp" with primitive camping only, or available dispersed camping on National Forest, or stay nearby in the town of Weed, CA
For questions regarding camping at this private and primitive Camp please email Hotlum.CA@gmail.com or call (530) 408-6001
Work-trade scholarships always available
Course Fee: 200$ per person
Half and full scholarships available, e-mail Della at della@upstreampodcast.org with your scholarship request
Della also will be leading an evening on Regenerative Economics and Watershed Regeneration at the Hotlum office on Friday May 5th, CLICK HERE for more information.
Detailed Outline:
Day 1 – Saturday, May 6th 9am - 4pm
Morning ~ Coming from Gratitude
We welcome each other with an opening circle, share an introduction of the Work that Reconnects' spiral journey framework, and participate in a fun and moving practice of connection.
~ Lunch ~
Bring your lunch and sit amongst the regenerating lands with new and familiar friends
Afternoon ~ Honoring our Pain
There are few spaces where we can authentically share our feelings about the ecological and social challenges of our time. We will hold each other and be held as we face what we are sensing and experiencing together, honoring and transforming our anger, fear, grief, and numbness into joy, ease, and peace.
6 pm – 9:30 pm ~ Fire Sharing Circle (Optional)
Day 2 – Sunday, May 7th, 9am to 3pm
Morning ~ Seeing with New and Ancient Eyes
We begin our second morning with an embodiment practice coming into relationship with the elements and our animal selves. We then explore helpful ways to see ourselves as humans and our relationship with and within the web of life, inviting insights as sources for radical empowerment. We also care for the the More-Than-Human World by moving into a forest restoration activity to give back to the land and Hotlum EcoRegeneration Camp that has supported our time together.
~ Lunch ~
Bring your lunch and sit in our urban garden oasis with new and familiar friends
Afternoon ~ Going Forth
In our final session together, we continue with our tree planting activity to give back to the land and Hotlum EcoRegeneration Camp that has supported our time together, we integrate what we have learned and experienced, we reflect on our lives and livelihood journeys, and we make commitments and connections to take back into our daily lives, renewed and re-sourced.
A welcome email with more details about the location, parking, what to bring, and more will be sent a few weeks prior to the retreat.
Cancellations: If you are unable to attend, you may cancel anytime up to Friday May 5th and receive a refund minus a 25$ administration fee.
Facilitator Bio:
Della Z Duncan is a Work that Reconnects Facilitator and Renegade Economist who supports individuals working to better align their values with their work as a Right Livelihood Coach, helps transition businesses beyond capitalism as a consultant, and hosts the Upstream Podcast, challenging mainstream economic thinking through documentaries and conversations including: The Green Transition Pt 1: The Problem with Green Capitalism. Della is also a Senior Fellow of Social and Economic Equity at the International Inequalities Institute in the London School of Economics, the Course Development Manager of Fritjof Capra's Capra Course on the Systems View of Life, a Gross National Happiness Master Trainer, a founding member of the Doughnut Economics California Coalition (DECC), and a Senior Lecturer at the California Institute of Integral Studies, Santa Cruz Permaculture, Vital Cycles Permaculture, and Gaia Education. Della has facilitated dozens of Work that Reconnects retreats in over 10 countries over the past decade and enjoys weaving invitations for regenerative livelihoods and finances into her WTR offerings.
Hotlum EcoRegeneration Camp:
Hotlum is dedicated to the restoration and healing of humanity's relationship with the biosphere. A primitive camp located on the slopes of Mount Shasta, with panoramic views of the Shasta Valley, the Klamath Mountains, the Siskiyou National Monument, Mount Eddie of the Trinity Mountains, and Mount Shasta. Mount Shasta is one of the most iconic mountains in North America, considered in many traditions to be sacred, and is a fount of pure water, the host to glaciers which feed the Klamath and Sacramento Rivers. This region on the north side of Mount Shasta is the traditional lands of the Shasta People. The Camp and surrounding areas are the site of historic timber extraction to build the railroad. Having never been successfully replanted, the extensive extraction has left the soil and forest struggling to regenerate for over 100 years. Campers have the opportunity to be part of a learning community developing an environmental education program and Ecosystem Restoration Camp from the ashes of a devastating fire with courageous resilient hearts.
Currently in the process of reestablishing the camp, there is no significant infrastructure at Hotlum. Hotlum EcoRegeneration Camp is in the planning stages of redesigning with an emphasis on supporting humans to live lightly and in balance with the Living Planet. It is a primitive camp and offers minimal amenities. It is accessible only by a Forest Service route and a temporarily roads. These roads are rough dirt roads. For questions regarding camping please email Hotlum.CA@gmail.com or call (530) 408-6001 with any questions.
In June 2021 Hotlum was at the epicenter of the Lava Fire - a lightning strike initiating the catastrophic fire storm which impacted the wilderness and remaining old growth forest of Mount Shasta. The camp lost over 99% of all conifer trees; as well as, the camp infrastructure, and tools. An atmospheric river took the roads out in the fall of 2021 and caused significant erosion. A team of dedicated volunteers have been working on developing a plan for restoration of the Camp and the demonstration of reforestation and regenerative social forestry.
The founder, Jonathan Kabat, is an Ecotherapist and Licensed Marriage and Family Therapist whose interests include humans response to ecological contraction and societal collapse.
Here's what Della's former Work that Reconnects participants are saying:
"Amazing. Love all of her quotes, visuals, exercises!! Loved how they engage all the senses. SO humanizing and connecting."
"What an amazing experience!! More of this please, I feel like this helped me so much to open up and be ready to experience my mothers passing a week after the workshop. Thanks for opening my heart to feel, trust, and keep going with life."
"The work that reconnects really touched me deeply and Della is a badass!"