| | |
| --- | --- |
| Hotel Cafe and GreenRoots Presents "BLUE 'n GREEN" Showcase, TUESDAY June 21st @ Hotel Cafe at 8:30PM | |
Event Details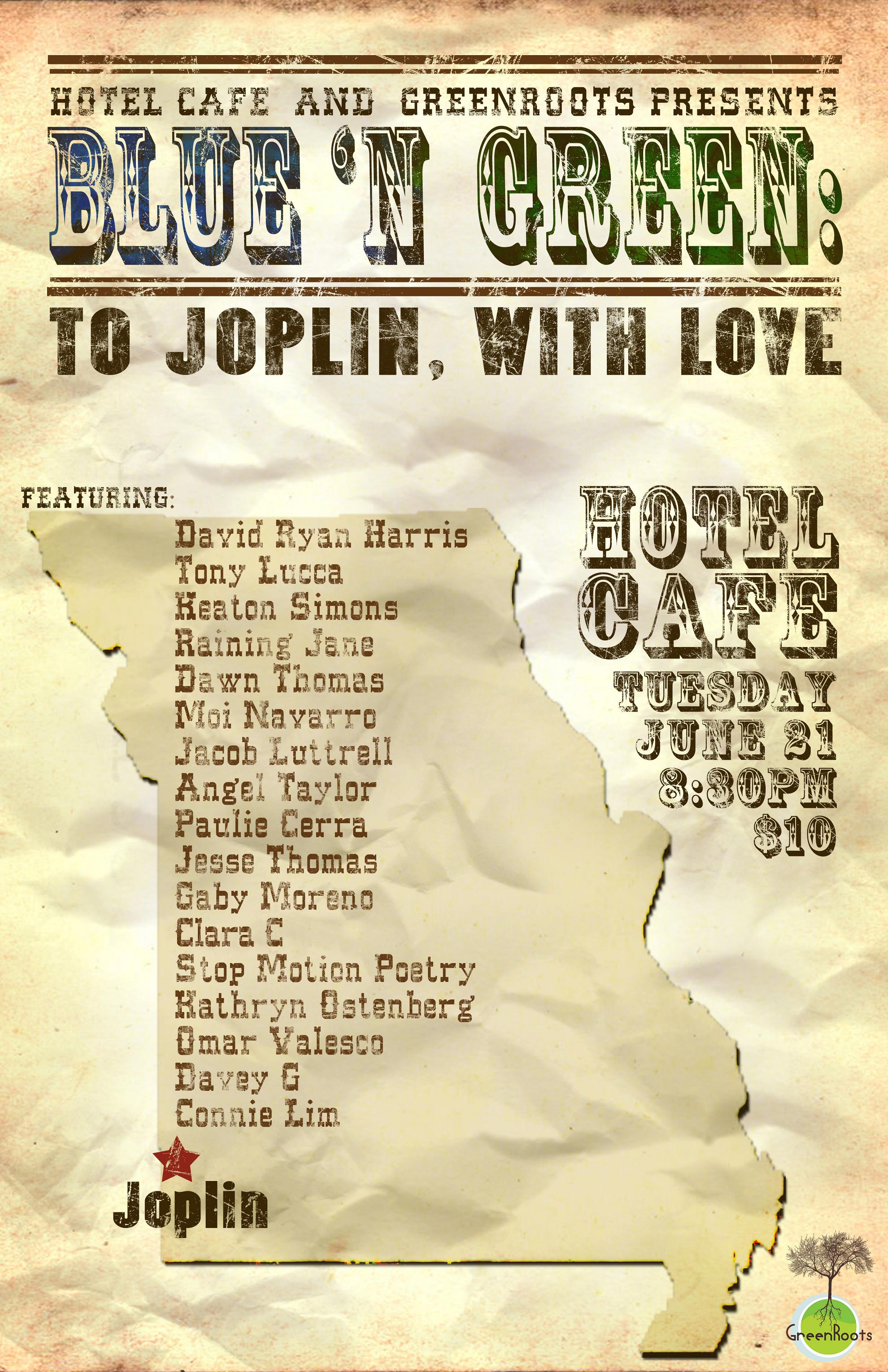 Hello family!

First, I want to thank each and every one of you for the tremendous support that has been shown at these monthly gatherings.  Since August 2010, we've assembled every month to hear some of the very best local musicians perform unbelievable music while raising money for various local charities and national relief efforts. From AIDS research, to inner city school programs to Haiti relief, the outpouring of support from the community has left me humbled and overwhelmingly appreciative.    
On TUESDAY, JUNE 21ST, we at GreenRoots are partnering with Hotel Cafe and Tony Lucca to bring you "Blue 'n Green: To Joplin, With Love", to help raise some much needed funds for the schools of Joplin, MO.  Tony's wife and her family are from Joplin and thankfully, every one of them was well and accounted for after the catastrophe.  But the devastation to the town, the homes, the businesses and the schools is going to take years to recover from.  
On June 21st, almost one month to the day the EF-5 tornado touched down, we will gather together at Hotel Cafe to do our part.  Please join us once again in our monthly get-together to help raise money for the Joplin Schools Tornado Relief Fund.
The Lineup:
                                                                                                   Tony Lucca
David Ryan Harris                                                                        
Keaton Simons                                                                                   Raining Jane
Dawn Thomas
Moi Navarro
Jacob Luttrell 
Clara C
Angel Taylor
Paulie Cerra
Jesse Thomas
Melissa Polinar
Omar Velasco
Gaby Moreno
Davey G
Dana Glover
Stop Motion Poetry
Kathryn Ostenberg
Chasen Hampton
Connie Lim

Tickets are $10 Presale, $15 at the door (Hotel Cafe is giving us 100% of the door the night of)

On behalf of the performers, Tony and Rachel Lucca, Hotel Cafe and GreenRoots, we look forward to another great night of music, community and cameraderie. See you @ 8:30pm TUESDAY, JUNE 21ST!

Peace and blessings,

Davey G. Garner
Angelique Sheppard
GreenRoots 

Graphic Design by Lauren Drzata.  Filming by Songwriter's Vantage. Law Offices of Martina A. Silas
Have questions about Hotel Cafe and GreenRoots Presents "BLUE 'n GREEN" Showcase, TUESDAY June 21st @ Hotel Cafe at 8:30PM?
Contact the organizer
Where
1623 1/2 N Cahuenga Blvd
Los Angeles, 90028


Hotel Cafe and GreenRoots Presents "BLUE 'n GREEN" Showcase, TUESDAY June 21st @ Hotel Cafe at 8:30PM