Description
Aloha!
We are excited to announce our 2nd Annual CrossFit Kawaihae Individual Competition/Team Competition. Last year was a blast and this year is sure to be even better! This year Individual awards will be given for 1st, 2nd and 3rd place in each division. You do not need to be on a team to compete but if choose to do so, Please read below for team details. We welcome Athletes from all over and would be honored to have you Throwdown at our HOTBOX!
2019 DIVISIONS:
Open Men
Open Women
Scaled Men
Scaled Women
Teens Division=JUST ADDED! (based on the amount of teens that sign up and their ages, we then will decide how to divide them. most likely, 12-14 and 15-17). Teens unfortunately will not be able to be on a team unless competing in the scaled or open divisions. Any questions please reach out to us. Mahalo CFK
TEAM OPTION
Optional team entry: 4 Person teams. One from each division. Team scores calculated cumulatively. Additional Price for Teams is $100 ($25 Per Team Memeber....)
Must already be signed up and competing as individual. Teams must have 1 Team Member in each division. (1 male/female scale, 1 male/female RX), Registration and payment should be made by the team captain.
Teams scores will be a cumulative score of each of the 4 Athletes per Individual Event, similar to the previous CrossFit Open team scoring. At the end of the Individual Competition the Top Teams with the best cumulative scores will go head to head in a Team Final WOD. Team winner will take home a CASH PRIZE. The cash prize amount will be determined by the total number of Teams signed up for the Competition.
*Rule of thumb....if you usually go RX and do wods RX then you should NOT do scaled!!
Please try your best to up your GAME esp if you have been Crossfitting and competing for awhile, Go RX if you been winning and doing scaled for a long time. We want the scaled to be for Scaled!! It's okay if you dont have a ring or Bar Mu, if programmed then Maybe it will be a PR day!!!
The Goal is to REPRESENT YOUR BOX!! More than 1 team per box is encouraged if possible, you can team up with other boxes to complete your Team if need be. Lets Have some Fun!!
~EVENT NOTES~
T-Shirt Deadline- Friday, July 5th 2019 by 5pm
If you register after the t-shirt deadline you are not Guaranteed an Event t-shirt!!
We are Hoping to have all Volunteers covered by our CFK Ohana and Friends but if interested in Volunteering esp Judging Please Call.....We are covered Mahalo Nui we are grateful and have so many volunteers!!
We Will NOT announce The FINAL event that all will do, the outside event and the Team Final, The team Final will only be for the top 4 teams with the highest points.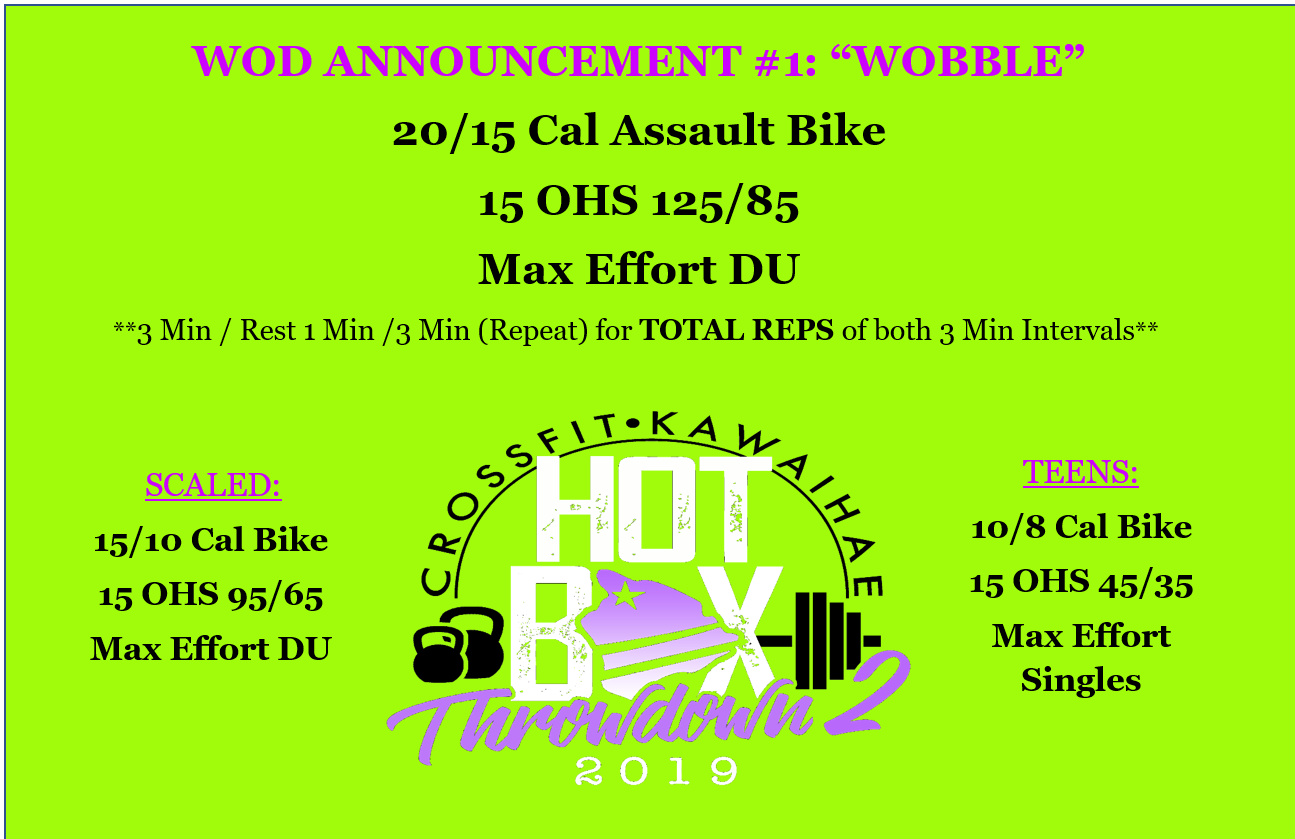 If you choose to do singles is fine but will not place higher than anyone doing Double Unders only in this WOD!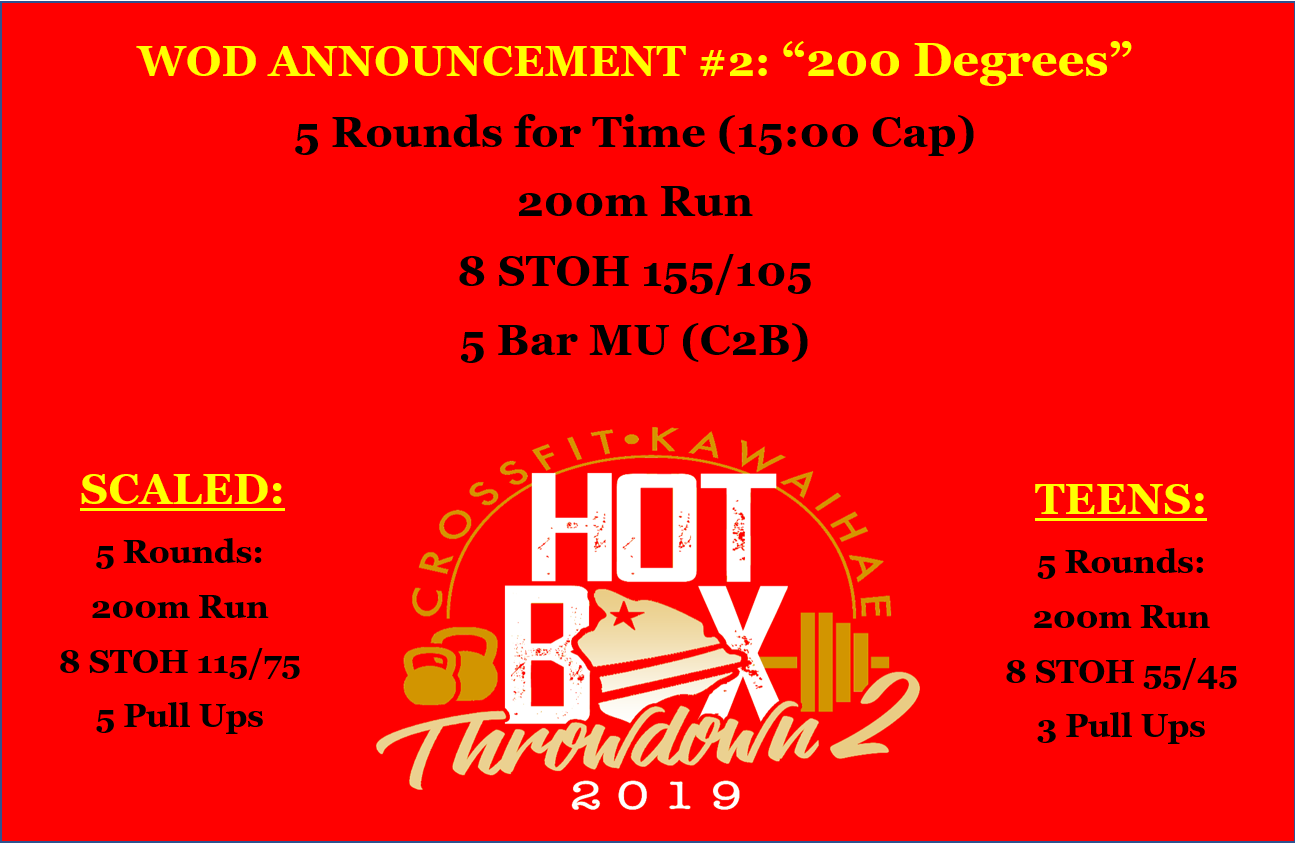 RX= If no bar MU then chest to bar pull ups are okay but will not score higher than anyone doing BAR MU!
Scaled and Teens= If no pull ups, Jumping pull ups okay but will not score higher than anyone doing Pull Ups.