Description
Happy Holidays Women In Media!

Please mark your calendars and join WIM for our Inaugural Holiday Celebration called Hot Topics & Hot Chocolate!
On Thursday December 7, 2017 from 2pm to 6pm, women will participate in engaging conversations while sipping hot chocolate in our signature WIM Mugs, discussing current events and important issues happening within the media industry! This is the perfect reason and season for some holiday cheer during a Girls Time Together, just to chat!
Guests can expect to hear from Loraine Ballard Morrill (Director of News & Community Affairs, iHeartMedia),Patty Jackson (Radio Veteran & Mid-Day Host 105.3 WDAS FM, iHeartMedia), and Mina "SayWhat" Llona (Host of the Morning Show Power 99FM, iHeartMedia) as Featured Speakers discussing critical "hot" topics.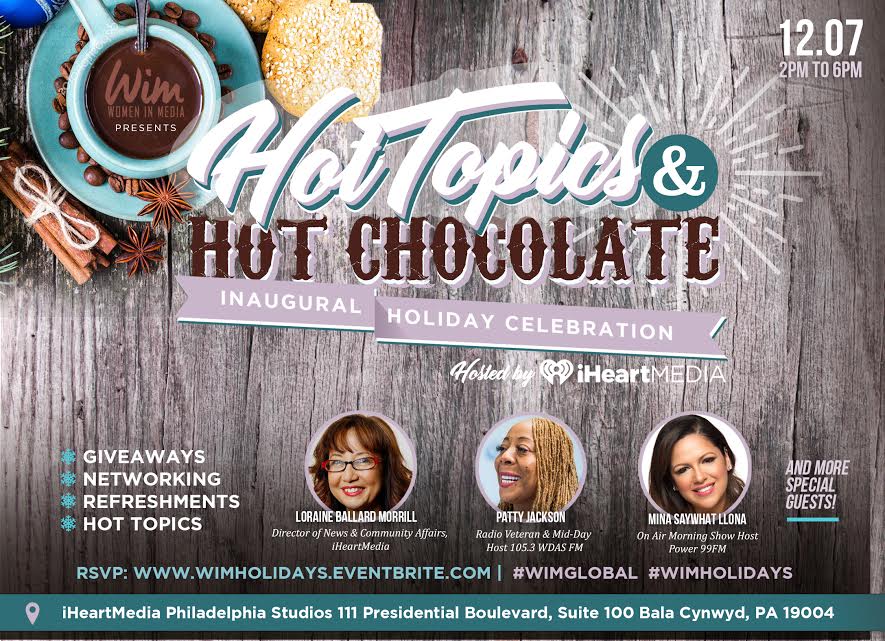 Meet & Greet with our Special Guests during the networking sessions, who will share success tips for media and leadership! Meet & Greet with Ms. Aunyéa Lachelle (Producer WPVI-TV Channel 6ABC) & Ms. Syliva Spivey (Executive Director, Women of Tomorrow nonprofit organization). Click here and Learn More!
Join #WIMGlobal for sweet treats, refreshments, a salad bar, a hot chocolate bar, giveaways, photos, videos, networking opportunities, and Holiday Cheer!
Share this event with your networks using the hashtag #WIMGlobal & #WIMHolidays!
THE FIRST 30 Women TO RSVP WILL RECEIVE FREE ADMISSION, only RSVP if you truly plan to attend. Students may also RSVP for complimentary admission. Mugs will be available for purchase for only $8.00 along with complimentary refreshments for everyone to enjoy! All proceeds benefits continued professional & personal development programming for Women In Media and the 6th Annual WIM Conference coming September 2018!