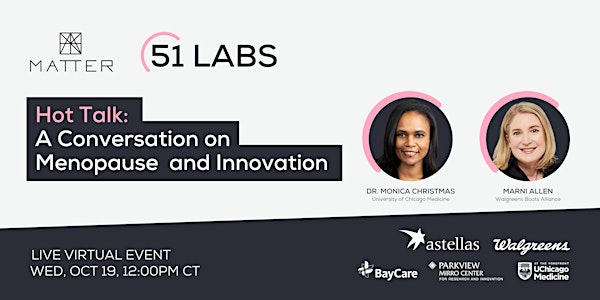 Hot Talk: A Conversation on Menopause and Innovation
Join MATTER, Astellas, Walgreens, BayCare, Parkview Health & University of Chicago Medicine for a discussion on innovation in menopause
About this event
MATTER recently launched 51 Labs, a women+'s health accelerator. With sponsors and partners Astellas Pharma US, Walgreens, BayCare, Parkview Health and University of Chicago Medicine, the inaugural year's program calls for innovative healthcare solutions that empower and support women+ during their menopausal transition.
On October 19, University of Chicago Medicine (UCM) Center for Women's Integrated Health Director and practicing UCM physician Dr. Monica Christmas and Walgreens Boots Alliance Director of Consumer Healthcare Futures Marni Allen will join us for a panel discussion on the need for innovation in women+'s health and menopause and the disparities across the menopausal experience and care among underrepresented women.
Following the panel discussion, the 51 Labs team will provide an overview of the program and take questions from the audience.
Agenda:
12-12:05pm CT | Opening comments
12:05-12:40pm CT | Panel discussion with Dr. Monica Christmas and Marni Allen
12:40-12:50pm CT | 51 Labs overview
12:50-1pm CT | Audience Q&A

About the speakers:
Monica Christmas, MD
Associate Professor of Obstetrics and Gynecology
Director, Center for Women's Integrated Health
Director, Menopause Program
Physician, University of Chicago Medicine
Dr. Monica Christmas is an associate professor and director of the Menopause Program and Center for Women's Integrated Health in the section of minimally invasive gynecologic surgery at the University of Chicago Medicine and Biological Sciences. She practices in all areas of general gynecology with special interests in the management of uterine fibroids, abnormal uterine bleeding, pelvic pain, sexual dysfunction and menopause. She has extensive experience in benign gynecologic surgery, including robotic and laparoscopic techniques, hysterectomy, myomectomy, sterilization and office-based procedures.
Dr. Christmas serves on the North American Menopause Society's Board of Trustees. She is a tireless advocate and pioneer championing the need to better understand unanswered questions about the optimal management of menopause in racially and ethnically diverse populations. Dr. Christmas collaborated with The Study of Women's Health Across the Nation (SWAN) to assess preferences in menopausal treatments and impact on quality of life based on racial/ethnic diversity which was recently accepted for publication. Through her work with SWAN, she was invited to serve with other experts in menopause on the International COMMA (Core OutCoMes in MenopAuse) Steering Committee and has published a systematic review of outcome reporting and measurement tools in clinical trials of treatment for genitourinary symptoms in perimenopausal and post-menopausal women. Dr. Christmas was also lead author on the revision of the Hazzard's Geriatric Medicine and Gerontology chapter on Sexuality, Sexual Function and the Aging Woman.
In addition to her successful clinical practice and research, Dr. Christmas is an avid educator with a focus on expanding advocacy and optimization of medical care to disadvantaged populations. Through a collaboration with two large federally funded health center-controlled networks, Dr. Christmas developed a webinar series aimed to educate the clinicians throughout their networks on menopause management and she has also written several blogs and spearheaded numerous community outreach programs to improve health outcomes for those at highest risk after menopause.
Marni Allen
Director, Consumer Healthcare Futures, Walgreens Boots Alliance
Marni is a very experienced consumer marketeer, who has spent her career building beloved brands, developing winning innovation and championing consumers' stories in business decision-making. In her current role at Walgreens, Marni leads the Consumer Healthcare Futures team, which develops insight-driven propositions geared toward driving growth in the retail business. She is passionate about creating solutions that can make a difference in people's quality of life, driving toward enabling them to live more joyful lives through better health.
About MATTER:
At MATTER, we believe collaboration is the best way to improve healthcare. The MATTER collaborative includes more than 700 current and alumni startups from around the world, working together with dozens of hospitals and health systems, universities and industry-leading companies to build the future of healthcare. Together we are accelerating innovation, advancing care and improving lives. For more information, visit matter.health and follow @MATTERhealth.
About Astellas Pharma US, Inc.
Astellas Pharma US, Inc. is a U.S. affiliate of Tokyo-based Astellas Pharma Inc., a pharmaceutical conducting business in more than 70 countries around the world. Astellas stands on the forefront of healthcare change to turn innovative science into value for patients. Keeping our focus on addressing unmet medical needs and conducting our business with ethics and integrity enables us to improve the health of people throughout the U.S. and around the world. For more information on Astellas, please visit: www.astellas.com/us. You can also follow us on Twitter at @AstellasUS, Facebook at www.facebook.com/AstellasUS or LinkedIn at www.linkedin.com/company/astellas-pharma-us.
About Walgreens
Walgreens (www.walgreens.com) is included in the United States segment of Walgreens Boots Alliance, Inc. (Nasdaq: WBA), an integrated healthcare, pharmacy and retail leader serving millions of customers and patients every day, with a 170-year heritage of caring for communities. As America's most loved pharmacy, health and beauty company, Walgreens purpose is to champion the health and well-being of every community in America. Operating nearly 9,000 retail locations across America, Puerto Rico and the U.S. Virgin Islands, Walgreens is proud to be a neighborhood health destination serving approximately 9 million customers each day. Walgreens pharmacists play a critical role in the U.S. healthcare system by providing a wide range of pharmacy and healthcare services. To best meet the needs of customers and patients, Walgreens offers a true omnichannel experience, with fully integrated physical and digital platforms, supported by the latest technology to deliver high-quality products and services in local communities nationwide.
About BayCare
BayCare is a leading not-for-profit healthcare system that connects individuals and families to a wide range of services at 15 hospitals and hundreds of other convenient locations throughout the Tampa Bay and central Florida regions. The system is West Central Florida's largest provider of behavioral health and pediatric services and its provider group, BayCare Medical Group, is one of the largest in the region. BayCare's diverse network of ambulatory services includes laboratories, imaging, surgical centers, BayCare Urgent Care locations, wellness centers and one of Florida's largest home care agencies, BayCare HomeCare. Its Medicare Advantage insurance, BayCarePlus, is among the region's few 5-star-rated plans and the system is ranked in the top 20 percent of large health systems in the country by FORUTNE/MerativeTM. BayCare's mission is to improve the health of all it serves through community-owned, health care services that set the standard for high-quality, compassionate care.
About Parkview Health
Parkview Health is a not-for-profit, community-based health system serving a northeast Indiana and northwest Ohio population of more than 895,000. Parkview Health's mission is to improve health and inspire well-being in the communities it serves. With more than 14,000 employees, Parkview is the region's largest employer.
Parkview Health includes 10 hospitals and an extensive network of primary care and specialty care physicians. Parkview has been designated a Magnet® health system for nursing excellence.
About University of Chicago Medicine
The University of Chicago Medicine, with a history dating back to 1927, is one of the nation's leading academic medical institutions. UChicago Medicine comprises the University of Chicago Medical Center, which offers a full range of primary and specialty care for adults and children through more than 40 institutes and centers; Ingalls Memorial, a community-based hospital and outpatient facility; a network of outpatient clinics and physician practices throughout Chicagoland and Northwest Indiana; the Pritzker School of Medicine, one of the top medical schools in the nation; and the University of Chicago Biological Sciences Division, with an affiliated 12 Nobel Prize winners in physiology or medicine.