Description
Experience the thrill of coloring, shaping and creating your own hand blown glass flower or elegant paperweight. We've got classes available from October through March 2020. Create ornaments in our December class. Sign up here on Eventbrite.
Join us January 25th for Wimberley Art and Soul, an Edu-tainment weekend in Wimberley. We have a glass class at night and Paperweight Heart Flash Classes all day on January 25th, Click here for signups.
Learn from our expert instructors about the history, tools and techniques of glass blowing. Perfect for individuals or couples, this small format two hour class of between 6 and 10 people offers you an extraordinary opportunity to become part of the 2000 year old glass blowing tradition! This is a hands on experience, right in our hot shop, on our benches, using our tools. You choose your colors, and we'll help you shape your piece to get it just right.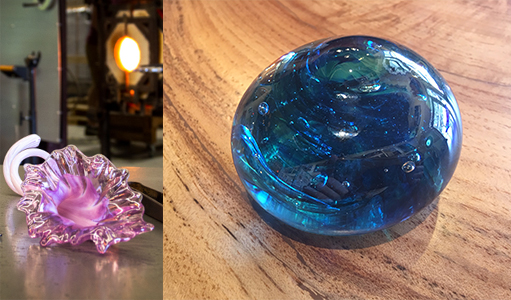 Make it a family thing, team bonding, or create your own piece to give as a gift.
For those wishing to gift this experience to others, these tickets are transferable. Give your ticket as a gift, and that person can bring the same ticket in when they come or change the date if needed up to 2 weeks prior.
---
All pieces require at least a day to cool and may be picked up when this process is complete about 3 days later. Shipping is available, though not included in the price of the class.
Disclaimers:
Must be 15 or older to participate. Cotton clothing and closed toe shoes are required for the class. Each client will use a separate blow pipe that has been sterilized with alcohol. Safety glasses and gloves will be provided and must be worn at all times glass is being handled. No alcoholic beverages or drug consumption prior to glass blowing class are permitted. Participation in the class requires that a release of liability be signed by each client. This class is designed to be a stand-alone glassblowing experience and should not be confused with formal training on glassblowing production techniques. All pieces made in a class must be picked up or shipped within 60 days of the date of the glass. Any piece not picked up or shipped in the requisite time frame will be discarded.
Tickets are transferable and can be given as gifts. Cancellations are refundable less a $5.00 processing fee and must be made at least 14 days prior to class event. Cancellations within the 14 day period are non refundable but are transferable and no shows are non refundable. Please contact us regarding any extenuating circumstances.