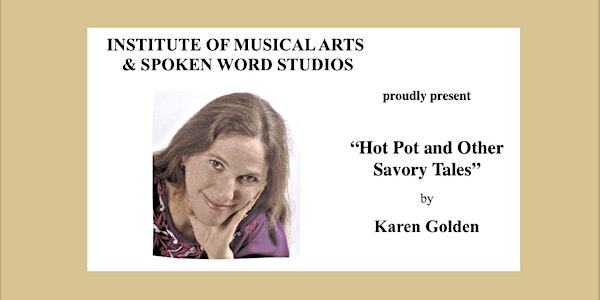 "Hot Pot and Savory Tales" by Karen Golden
When and where
Location
Institute of Musical Arts 3210 W. 54th Street Los Angeles, CA 90043
Description
Karen Golden is back! But this time, she has left her Jewish Kitchen to explore the incredible sights, smells and tastes of Asia.

On Saturday, October 21, 2017 at 2:00 p.m., the Institute of Musical Arts welcomes back Storyteller Karen Golden in "Hot Pot and Other Savory Tales", a solo performance of original stories. Karen Golden is a dynamic performer who delights even the most discriminating listener with an insightful blend of stories, music and philosophical musings about the great adventures of being human!
Always adventurous, last year Karen toured China, South Korea and Hong Kong as a teaching artist and told stories to students in English at International schools. Venturing outside the classrooms, she encountered a unique world of challenging languages and cultural differences. With little knowledge of Asian history and culture other than through folktales, she drew upon that "river of stories always flowing through her mind" to make person to person connections. In this truly special, yet humorous performance, Karen reveals how she also made connections with her own past and in so doing, gained an understanding of the universality of the human experience. Yes, around the "hot pot" we are all cousins.

You can buy tickets online: http://hotpotandothersavorytales.eventbrite.com, or by visiting our website: http://www.imalosangeles.com. You may also pay by cash, check or credit card, at the IMA office, while supplies last. As is our custom at the Institute of Musical Arts, a catered reception will follow the performance.
Ours is a small, intimate theater, and we do expect that this concert will sell out. So please, purchase your tickets today. Tickets for the performance are $20.00. For additional information call: (323) 300-6578.