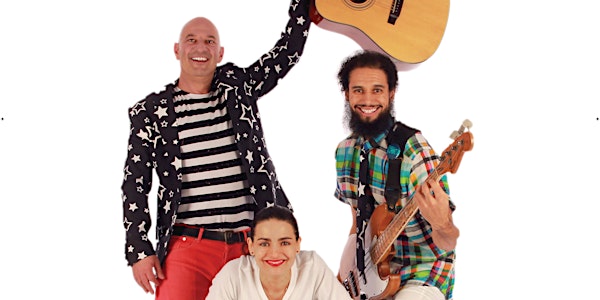 Location
The Smith Opera House
82 Seneca St.
Geneva, NY 14456
Hot Peas 'n Butter is an award-winning, multicultural family music band that wows thousands of young audiences across the nation every year
About this event
Hot Peas 'n Butter is an award-winning, multicultural family music band that wows thousands of young audiences across the nation every year with their highly energetic and interactive musical style. With eight award-winning albums and numerous music videos (some of which have been featured on Nick Jr. and Nickelodeon TV), Hot Peas 'n Butter makes new friends everywhere they go.
Named for the playground game they played as kids, Hot Peas 'n Butter incorporates many languages into their performances - English, Spanish, French, Korean and Hebrew just to name a few.
Lauded for their "hot and mellow multicultural groove," by the Los Angeles Times, Hot Peas 'N Butter mixes a tasty combination of traditional Latin music, Afro-Caribbean rhythms, jazz, bluegrass, country, and rock, bringing fans of all ages to their feet. Indeed, "This serving is the kind that will please musical appetites" (New York Times), "Their music is a rainbow of color and sound" (.NY 1 TV).
Songs like "Number 1" and their signature Latin beat tracks "Somos Familia," "Amistad," "Que Llueva," and "Round the World" enjoy radio play nationwide.
Adding to the success of their Parents' Choice Award-winning catalog of albums, the band's 2018 release, "Back to the Land", features special guests, Laurie Berkner , Dan Zanes, and Peter Yarrow (Peter, Paul and Mary), plus so many amazing people (including kids!) who participated in the making of this album.
This rootsy new album celebrates our connections to one another as a society, as well as our connection to our planet and its health.
Box Office, Tickets, and Seating
Ticket buyers will once again be able to choose their own seats via our ticketing service, Eventbrite. Attendees will no longer be seated socially distant from other parties.
The Smith's box office will be open for in person or over the phone sales Tuesday-Friday from 10am-4pm. Online tickets can be purchased at any time. The Smith is no longer mailing tickets or offering will call. All over the phone or online purchases will receive a digital ticket sent to your email. You must have a valid email to purchase tickets for this event, your email will not be used for marketing purposes.
Our box office is located at the Smith Opera House, 82 Seneca St., Geneva NY, 14456. Our box office can be reached at 315-781-5483 or boxoffice@thesmith.org.
The Smith's COVID-19 Policies
By purchasing tickets to this event you agree on behalf of yourself, and all other ticket holders in your party, to abide by The Smith Opera House's COVID-19 policies. These policies include, but are not limited to: All patrons over 12 years of age at films or live performances at the Smith Opera House scheduled through March 31, 2022 are required to wear a mask AND be vaccinated or show proof of a negative COVID test*. Children 12 years old or younger are required to wear a mask. Depending on the nature of the show, patrons may be allowed to remove their mask once seated in the theatre. All attendees must follow theater ingress/egress signage and should not enter the venue if they display COVID-like symptoms, have recently tested positive, or have been in close contact with anyone with a known case of COVID-19. Policies are subject to change at any time without notice; however, we will make every effort to contact ticket holders to alert them of changes to this policy.
*We strongly recommend the use of the New York State Excelsior Pass Wallet app available from your app store. This app shows vaccine data and test results and will make admission to The Smith go smoothly.