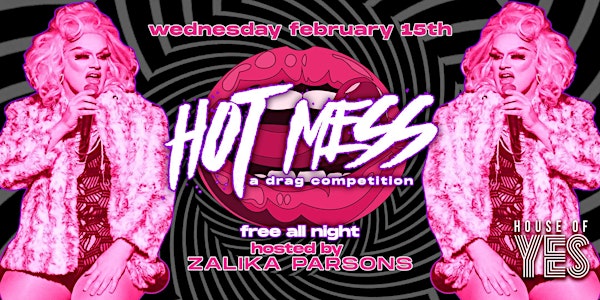 Hot Mess: Drag Competition
House of Yes presents HOT MESS: the hottest, messiest drag show this side of Bushwick tickets: private
When and where
Location
House of Yes 2 Wyckoff Avenue Brooklyn, NY 11237
About this event
Hot Mess is a raucous night of new talent, filled with shows Shows SHOWS in every damn flavor of drag!! Come meet the freshest drag queens, kings, queerdos and weirdos of EVERY variety, trying new sh*t and living their life in the spotlight, for your entertainment, and for your DOLLAR$Z$!
Come feel the fantasy as Zalika Parsons hosts, welcoming every kind of performer in the drag universe to our stage, doing whatever TF it takes to shock and amaze you all for a chance to be the star of the night! The performer with loudest audience reaction wins the title "Mx Hot Mess" and a bonus $100 cash money prize PLUS some free random gifts of love from wherever we pull that from.
Want to perform your drag brilliance for the whole world to see? Submit to houseofyes.org/hotmess.
Free All Night!
All drag is equal so whatever form you take, whether you are a seasoned professional or a baby darling, if you've got something to say, we want to give you the stage. COMPETE!
Dance party magic in between and late into the night.
~ FREE with RSVP | 21+ ~
#BESTSHOWSEVER
::: CONTENT WARNING :::
The performances and acts of artistic expression at House of Yes events may include portrayals of explicit actions, theatrical violence, bodily harm and physical risk that is often found in circus, sideshow or similar forms of performance art. The performances often explore adult subject matter. The views expressed in performances do not necessarily reflect that of House of Yes or its owners. We understand that these acts are not for everyone, so please use your own discretion. If you have questions about the content of our shows, please contact info@houseofyes.org
TABLES: YES, we have tables!- contact Reservations@houseofyes.org to book yours 🍾
Subscribe to our email list for first access to events & tickets: bit.ly/YESEMAILS
* * * SAFER SPACES POLICY * * *
House of Yes is a space for everyone to feel welcome. We have a zero tolerance policy for harassment, unwanted touch, and discrimination. Always ASK before touching anyone at our events. If someone is making you uncomfortable, speak to a security guard or ask for a manager. We will believe you, and we will help. All restrooms in our venue are gender neutral. The entrance to the venue is ADA accessible. Strobe lights are used during performances and parties. Find out more at houseofyes.org/SAFER