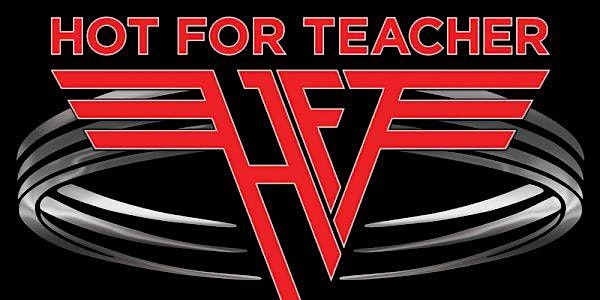 HOT FOR TEACHER & STUNG
HOT FOR TEACHER - Van Halen Tribute & STUNG - a tribute to Sting and The Police.
When and where
Location
Club Fox 2209 Broadway Redwood City, CA 94063
About this event
3 hours

Ages 21+

Mobile eTicket
Formed in 1999 to showcase the musical genius and large canon of memorable songs from the iconic Van Halen, HOT FOR TEACHER - the Van Halen Experience - is California's first and longest running tribute to the mighty Van Halen, and has performed across the United States, thrilling concert-goers and dedicated fans ever since. HOT FOR TEACHER brings to the stage everything fans of the world's greatest party rock band crave; including all of the biggest and greatest hits from both the Van Halen & Van Hagar eras.
Party-goers & guests can expect the roaring and volcanic lead vocals & showmanship from David Lee Roth and the melodic "Are we havin' fun yet?" musical good time vibes from Sammy Hagar, the stunning and signature guitar rhythms & solos and vocals from Eddie Van Halen, the thundering bass and incredible sonic voice of Michael Anthony who has actually performed with HFT, along with the driving beat of the massive drum sets and voice of Alex Van Halen; all of which combine in angelic vocal and musical harmonies. Because "When It's Love" "Everybody Wants Some". So, "Jump" into the "Best of Both Worlds" and "Dance the Night Away" "Right Now" with one hell of a remarkable and memorable experience from the good times and fun songs of summers passed; and brought to you by musicians of HOT FOR TEACHER the Van Halen Experience!
HOT FOR TEACHER features four explosive performers that are not only among the most talented musicians on the West Coast but are also dedicated scholars of the Van Halen musical legacy.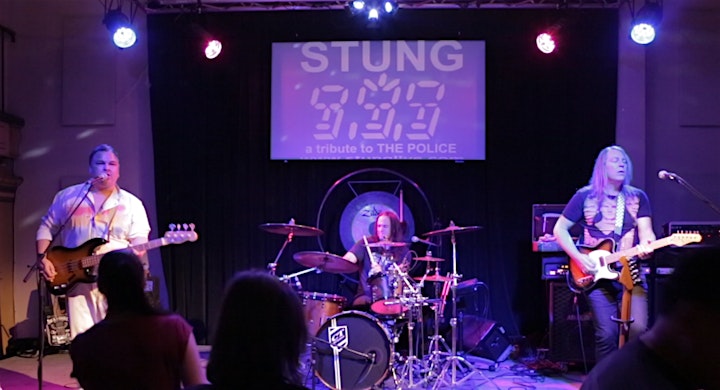 It takes a brave and talented trio to take on a tribute to The Police. Lucky for us, singer/guitarist Brooks "Bee" Lundy, drummer John Messier, and bassist Eric Swihart have a knack for nicking the sound of those pioneers of modern rock, from the poly-rhythmic beats of Stewart Copeland to the six-string soundscapes of Andy Summers to the reggae bass lines and soaring vocals of Sting.
This San Francisco Bay Area band has wowed audiences at the hottest night clubs and events around the Bay (SF Black & White Ball, Bay to Breakers "Rootstock" Concert, Bimbo's 365 Club) and the world (Holland Tribute Band Festival). Having even been blessed by a sit-in performance by Police founder/drummer STEWART COPELAND at his Beverly Hills Birthday Party, this trio of gifted musicians has established themselves as the premiere Police experience! STUNG remains dedicated to bringing back that authentic sound that audiences have missed for so long…the sound of the early, the original…The Police.
From their 1978 breakthrough album "Outlandos D'Amour" through 1983's swan song "Synchronicity", The Police constantly bridged elements of various music styles, blending reggae with punk, jazz, funk, and rock, and made a sound all their own. No one sounded like the Police…until now.
When they hear STUNG perform stunning re-creations of The Police's amazing collection of songs, audiences sing along, reveling in old gems and re-discovering many B-sides that groove. From early Police hits like "Roxanne" and "So Lonely", to chart toppers like "Every Little Thing She Does Is Magic", "Every Breath You Take" and "King of Pain", all the elements are there: the hyper-syncopated rhythm, the dreamy, ethereal guitar, the high pitched wail. You can close your eyes and forget, for a moment, that it is NOT the Police…and that's when you've been STUNG!!!