The Hot Chocolate 5k/15K has gone virtual for 2021 but we'd like to keep our annual tradition going with an in person run at the lake!
About this Event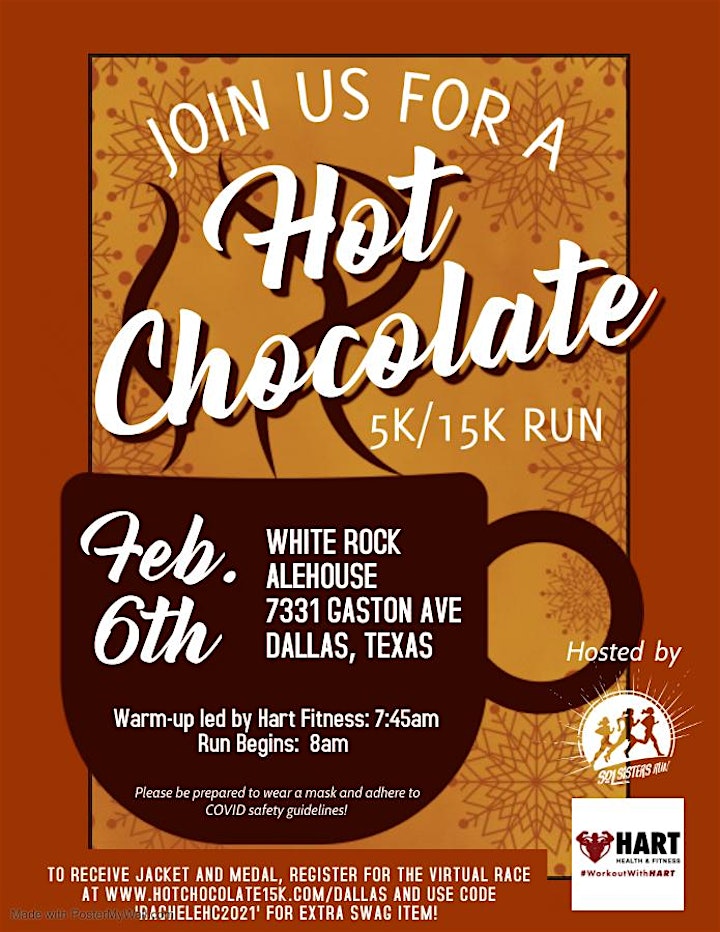 Even though the Hot Chocolate race will not be held in person as usual at Fair Park, SolSisters Run and Hart Health and Fitness are joining forces to host a smaller scale run at White Rock Lake as an opportunity for those who are registered for the virtual run to complete it in a motivating and fun environment with other runners!
Darryl Hart of Hart Health and Fitness will lead a pre-run warmup at 7:45am and then participants will have the choice of completing a 5K route or the entire lake loop for the 15K distance at 8:00am.
Registration for the virtual race is not required to participate in our in-person run at the lake! However, if you would like to receive the Hot Chocolate jacket, medal, and goodie bag you will need to register for the virtual race at www.hotchocolate15k.com/dallas. Cost is $40 and your items will be shipped to you. If this is your 3rd or 5th year of participation, you will receive your Legacy items in your mailed packet. You can use code 'RACHELEHC20' to receive an extra swag item!
For those who do not wish to register/pay for the virtual run with RAM Racing, your participation is still welcomed at our in-person run on February 6th (and is FREE! ) Please be prepared to wear a mask and following social distancing and other COVID safety protocols at the start and finish of the run. (Disclaimer: Our run is not sponsored by RAM Racing).
So grab your running buddies, fit friends, kids, and family members and make plans to join us on February 6th for a SWEET time!
(Please register on Eventbrite in order to help us plan for refreshments and logistics) .