Hot Chillie Entertainment New Year Eve Party in Pearl Banquet Parsippany NJ
About this Event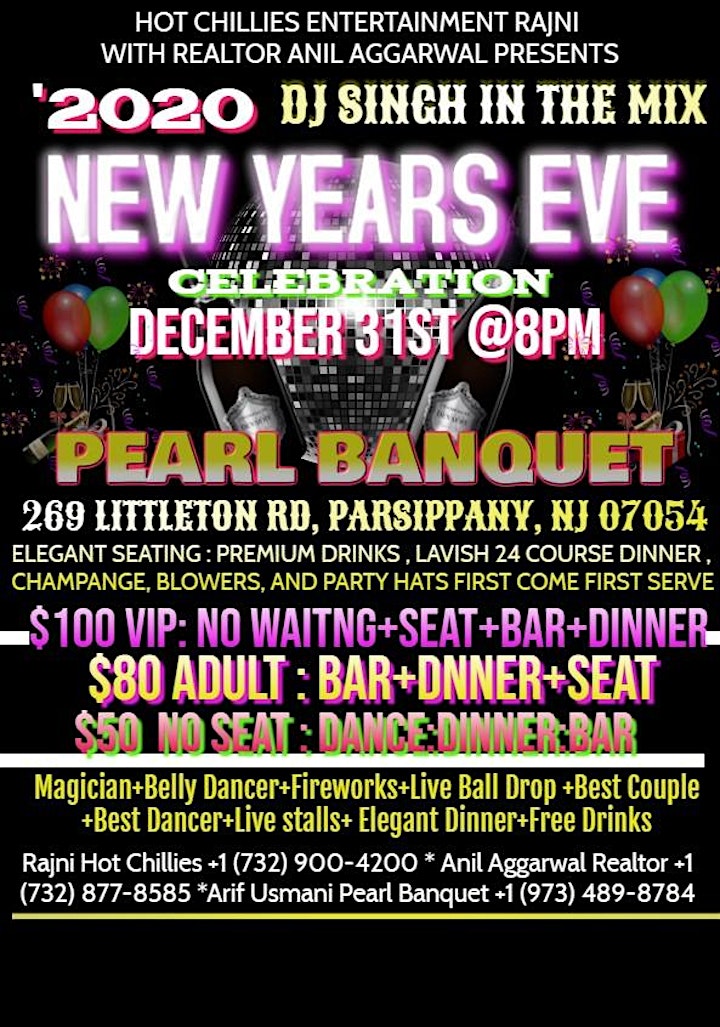 HOT CHILLIES ENTERTAINMENT RAJNI CHATTA WITH REALTOR ANIL AGGARWAL PRESENTS '2020 NEW YEARS EVE CELEBRATION DECEMBER 31st 2019, at Pearl Banquet Parsippany.
Party is family friendly.
Kids games.gifts, magician
Adults Belly Dancer, Open BAR, Elegant Dinner with beautiful decor
Three kind of tickets
Premium No waiting Open BAR for VIP guest. If you want to promote your business, or have bought 20+ tickets then you can get free Marketing at our multiple channel, websites and fliers , depending upon space. You can post your banner/standee at vanue and share your gifts, promotional items with guest.
Adults/Teen/Kids who want seat , have ticket which provides open bar (21+), SEAT, gifts, Live DJ, Live Stalls, and Belly dancer, with elegant linen tables seating.
Third ticket for those of us, who want to dance, dinner, dj , drinks and dont care for seat. These seats provide ample value and almost sold at cost price. These are limited tickets and sold on first come first served.
OrganizerHotchillies Entertainment And Realtor Anil Aggarwal
Organizer of Hot Chilies Entertainment and Anil Aggarwal Present New Year Eve Party
Organizer Website Website
Hot Chillies We are a dynamic and successful NYC & NJ based entertainment and event management company. We create and manage high end events for versatile clients like corporate, brands, association, not-for-profit and private. CALL US TO MAKE A BOOKING 732 900 4200
Realtor Anil Aggarwal is providing marketing and social media support. Events connect societies and bring humanity around families.
Please come and join fun and be part of big celebration.