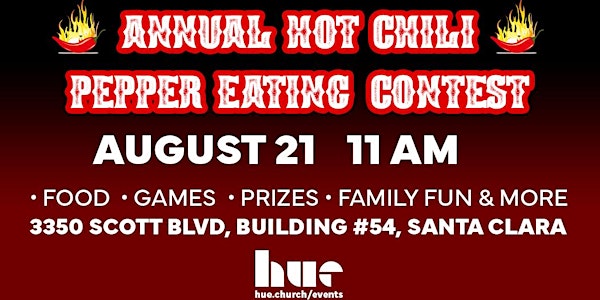 Hot Chili Pepper Eating Contest | Free Food, Snow Cones, Music & Prizes
Celebrate the National Hot and Spicy Food day at our annual hot chili pepper eating contest. Free food, drinks, prizes & childcare provided.
When and where
Location
3350 Scott Blvd Building #54 3350 Scott Boulevard Building #54 Santa Clara, CA 95054
About this event
As we celebrate the National Hot and Spicy Food Day, we are featuring the notorious of hot chili peppers from around the world. How do you stack up against The Carolina Reaper or the Trinidad Scorpion? Put your spice tolerance to test at our annual hot chili pepper eating contest.
Wondering whether you got what it takes? Statistically speaking, it's the first time participants that have a higher chance of winning the contest! So, why not give it a try? Winners will receive cash prizes of $100, $75 and $50 in addition to glorious fame!
Don't have an appetite for spice? Don't worry, we got you covered. We have regular, free food, drinks and snow cones available for you. This event is designed to bless you and your family with live music, an inspiring message, food, party games, a bounce house and free childcare.
We, the Hue Church are a start up church in the SF Bay Area. We love our neighbors and have put together this event to share this love with you. At the event, you will also have an opportunity to catch a glimpse of our vision for the bay area and beyond.
If you are interested in helping out at the event by grilling or organizing the fun, do indicate when you purchase your tickets.
Parking spots are available around the building. You will find Hue signage directing you to the event.