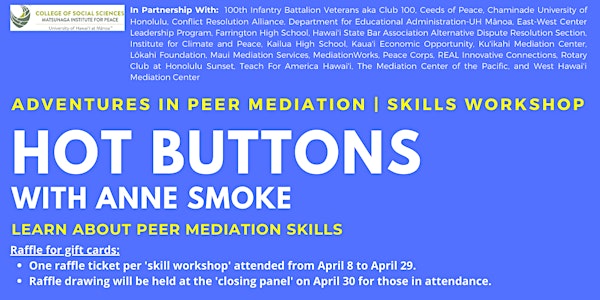 Hot Buttons | Skills Workshop
Adventures in Peer Mediation | April 7 - April 30
About this event
The Peer Mediation Conference has been bringing together youth peer mediators (ages 8 to 18 years old) for over thirty years. This is the first year the conference has gone virtual to connect peer mediators around Hawai'i and others aspiring to develop their own peer mediation program. The events are free and open to everyone who wants to learn more about peer mediation. We encourage youth and adults that work with youth to attend.
Terminology
Peer mediation is problem solving by youth with youth. It is a process by which two or more students involved in a dispute meet in a private, safe and confidential setting to work out problems with the assistance of a trained student mediator.
A mediator is a person who mediates—helps to settle a dispute or create agreement when there is conflict between two or more people or groups by acting as an intermediary or go-between for those parties. The act or process of mediating is called mediation.
Mediation is an alternative dispute resolution process wherein a neutral third party, the mediator, facilitates a discussion between the parties to promote the voluntary resolution of disputes.
Adventures in Peer Mediation | April 7 - April 30
34th Annual Peer Mediation Conference
"Hot Buttons" with Anne Smoke | Skills Workshop
Learn about peer mediation skills.
The Session:
Are you ever set off by something someone said and don't know why it bugged you so much? Does a particular situation or personality type stir an emotional response and you don't know why? This workshop will help you recognize your hot buttons so you can master your internal landscape and more effectively navigate difficult situations in life.
About Anne Smoke
Anne Marie Smoke, Appellate Mediation Program Administrator and Trainer, moved to the Center for Alternative Dispute Resolution (CADR) in 2016 from the Matsunaga Institute for Peace & Conflict Resolution at the University of Hawaiʻi (UH), Mānoa. With a graduate certificate in conflict resolution ('09) and MS in Travel Industry Management. Her graduate emphasis in sustainable tourism nourished her interest in collaborative community building where she has been an active facilitator for multiple public and private Hawaiʻi-based policy development, and strategic planning initiatives. Her 15 years of training experience includes teaching conflict management practices to local businesses, the Naval Station Pearl Harbor, various governmental agencies in Hawaiʻi including the Department of Health and the Advanced Management Leadership Program at the City and County of Honolulu. She has been an invited speaker at two annual meetings of the national chapter of Les Dames d'Escoffier Int'l. Anne was a campus mediator at UH while she worked as an Education Specialists in the College of Social Science. She has served on the executive board of the Association for Conflict Resolution- Hawaiʻi (now Conflict Resolution Alliance) for 13 years, including two terms as president. In addition to her ADR and training background, Anne applies her experience in marketing, promotions, and public relations to her outreach work at the Center.
Learn more about the Conflict Resolution Alliance at https://www.crahawaii.org.
Raffle for Gift Cards:
One raffle ticket per 'skill workshop' attended from April 8 to April 29.
Raffle drawing will be held at the 'closing panel' on April 30 for those in attendance. Learn more at https://adventurecontinues.eventbrite.com.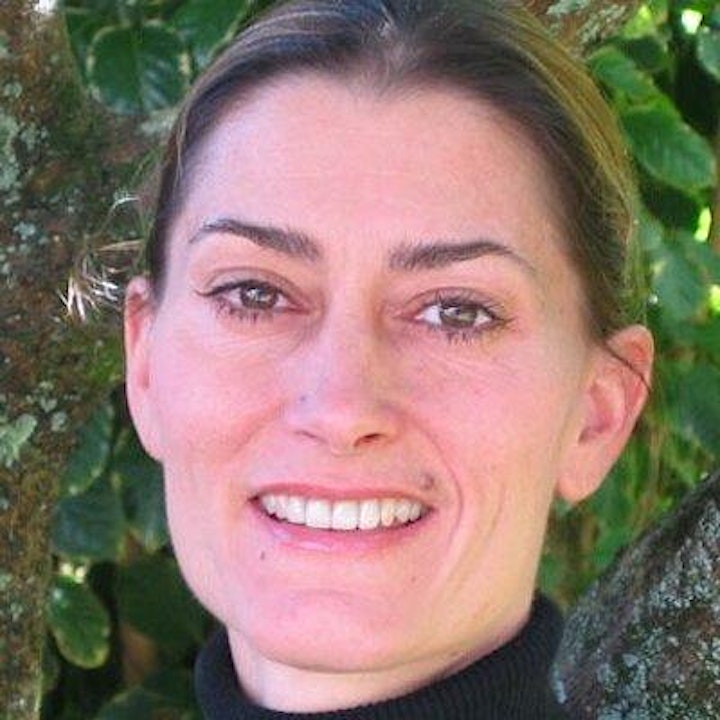 In Partnership With:
100th Infantry Battalion Veterans aka Club 100
Ceeds of Peace
Chaminade University of Honolulu
Conflict Resolution Alliance
Department for Educational Administration-UH Mānoa
East-West Center Leadership Program
Farrington High School
Hawai'i State Bar Association Alternative Dispute Resolution Section
Institute for Climate and Peace
Kailua High School
Kaua'i Economic Opportunity
Ku'ikahi Mediation Center
Lōkahi Foundation
Maui Mediation Services
MediationWorks
Peace Corps
REAL Innovative Connections
Rotary Club of Honolulu Sunset
Teach For America Hawai'i
The Mediation Center of the Pacific
West Hawai'i Mediation Center
APRIL 8 - APRIL 29 | 16 SKILL WORKSHOPS
Raffle for gift cards: one raffle ticket per 'skill workshop' attended. Raffle drawing will be held at the 'closing panel' for those in attendance.
APRIL 30 | CLOSING PANEL
Raffles will be held at the closing for those in attendance. We will have gift cards in $25 and $50 increments to be raffled for Amazon, Mana Up, Red Lobster, Starbucks, and many more. Over $500 worth of gift cards to be raffled up. Be sure to attend the skills workshops to obtain one digital raffle ticket per skills workshop attended.