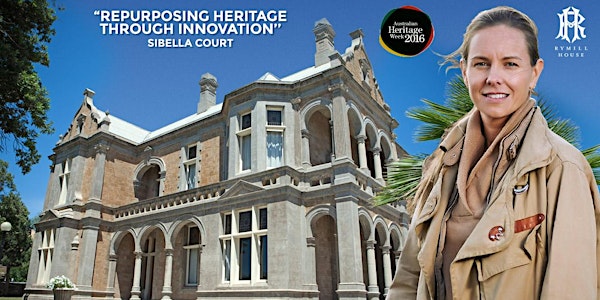 Host of the Popular ABC TV Series 'Restoration Australia' - Sibella Court -...
Location
Allan Scott Auditorium, UniSA City West Campus
50-55 North Terrace
Adelaide, SA 5000
Australia
Description
REPURPOSING HERITAGE THROUGH INNOVATION
PUBLIC LECTURE SERIES


Sibella Court Talks Innovation
Sibella Court, Host of the popular ABC TV series 'Restoration Australia'
Key Note Speaker
Sibella Court is host of the popular ABC TV series 'Restoration Australia', a renowned international creative director, interior stylist and historian.
From vision and concept through to direction and creation, Sibella has transformed commercial spaces in the hospitality industry - curating the scene for over a decade with inspirational settings at Hotel Palisades bar, The Courthouse, Mr Wong, Palmer & Co, El Loco, 30 Knots, The Beresford, Ms G's! and The Rocks.
An award-winning author, she is further in demand conceptualizing and styling for the likes of retail giants Bloomingdale's, West Elm, Saks Fifth Avenue as well as publications such as Gourmet, Marie Claire and Vogue Living.
Sibella Court, InStyle 2015 Women of Style, will be addressing the question - how to repurpose heritage through innovation?
Tessa Sare, 2015 Rymill House 'Living Heritage' Travelling Grant Recipient
Speaker
Tessa Sare will report on his cultural journey of 'living heritage' through Copenhagen, Denmark and provide insights from the next generation of thought leaders in architecture in contribution to fostering a culture of innovation and design in South Australia.
About the Rymill House Foundation
The Rymill House Foundation 'Living Heritage' program as part of Australian Heritage Week continues to be at the forefront of a new paradigm for heritage through the repurposing and repositioning of heritage listed properties to create cultural and economic value for the State of South Australia.
Each year the Rymill House Foundation offers an architectural student the opportunity to embark on a program of international travel to explore best practice in 'living heritage'.
On return to South Australia, the student shares their own experiences and insights about global best practice and contemporary approaches to enhancing heritage places as a means to advance South Australia's culture and identity.
Sibella Court's visit to Adelaide as part of the 'Repurposing Heritage Through Innovation' public lecture series will articulate how social change is reflected in the evolution of design. Curating culture, redefining function and use as a means to evolving the stories of people in places will awaken innovation in creating inspirational spaces and places of cultural and economic value to South Australia.