Description


HOST2Transform introduces world's first "springboard" - online open change framework, designtoolkit, and global business ecosystem - to grow human-centered leadership and business to make change work.

We humanise leadership and business to make change work by unlocking the potential within leaders, teams, and organisations, to transform, thrive and lead in our fast changing, complex, and digital world.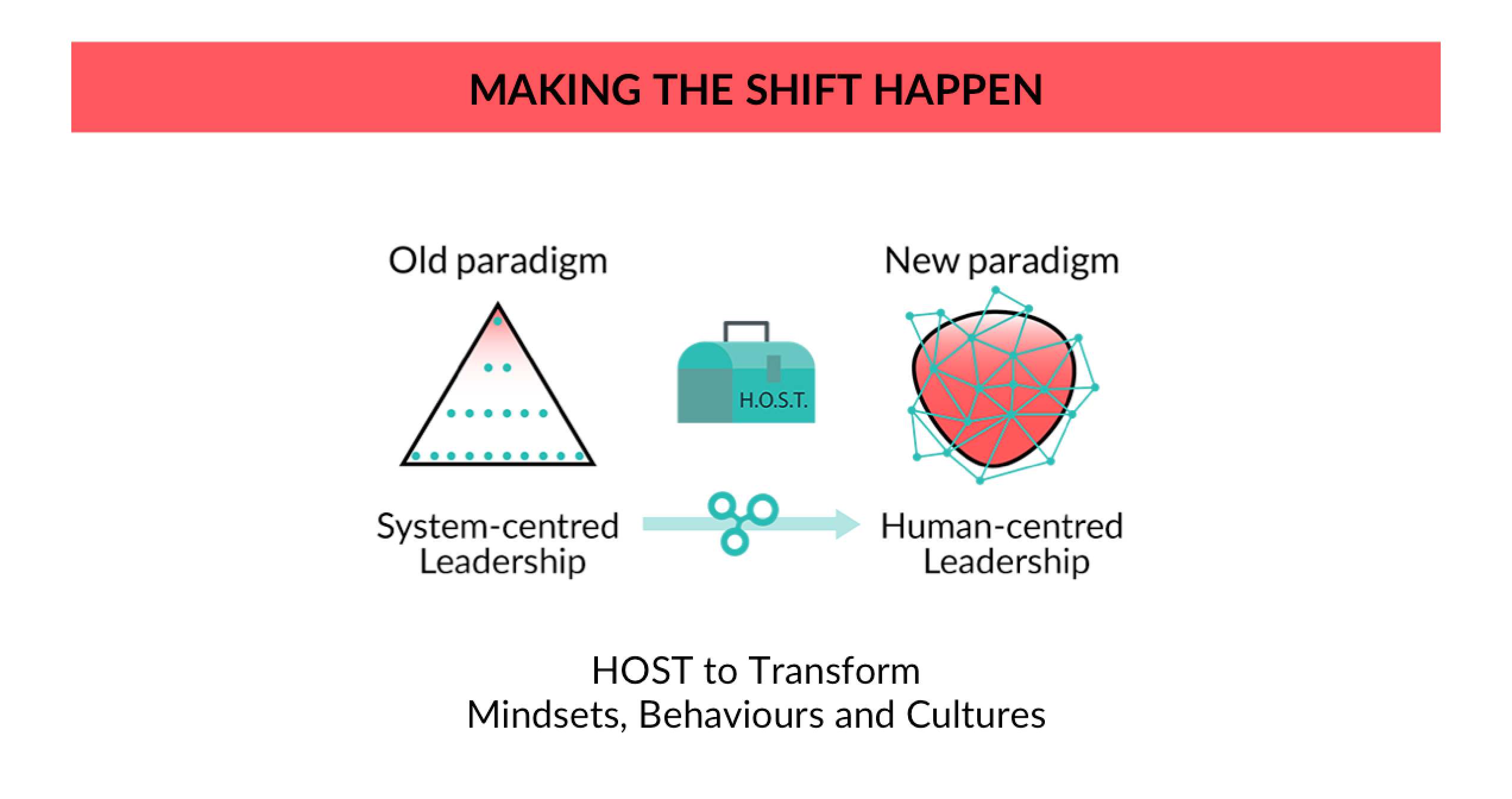 HOST Demo:

We help grow human-centered ways in how we work, lead and educate to foster a people culture for ongoing transformation. A culture where people are connected with themselves (i.e. have clarity about their strengths, weaknesses, purpose and boundaries) and their environment (i.e. grow emotional intelligence, awareness how to improve interpersonal relationships, communication and collaboration) that grows self-improving teams, purpose, entrepreneurship, inclusion, resilience and agility, the "HOST Impact Indicators".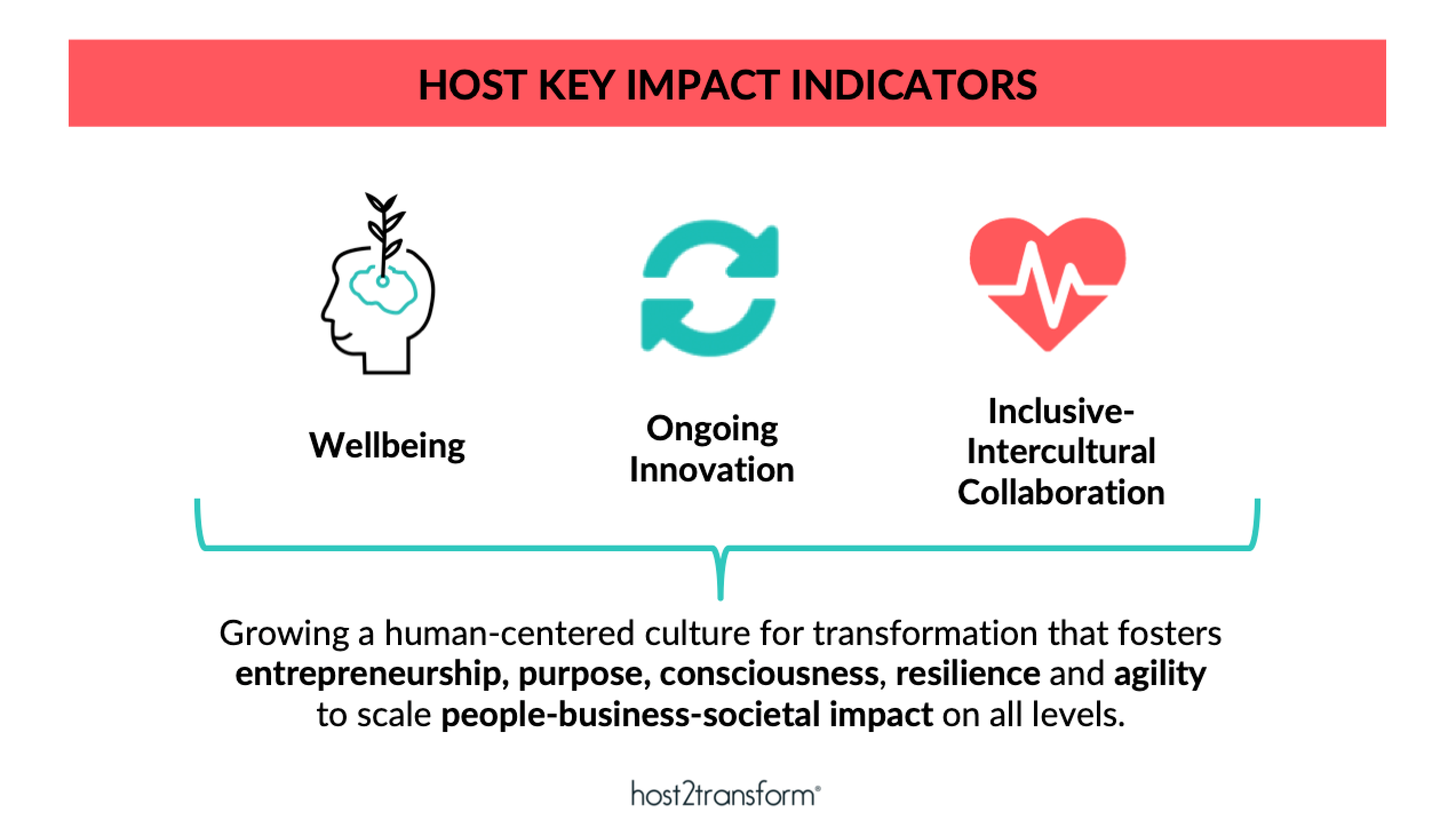 In a short time you experience how HOST can help you to connect people with themselves and their environment with ease, joy and scalable impact. For people to feel safe, be(come) their best selves and adopt (agile) mindsets and behaviours that fosters a culture for transformation, that is supportive, (self)learning and (self)leading and leads to ongoing improvement of processes, products and organisations.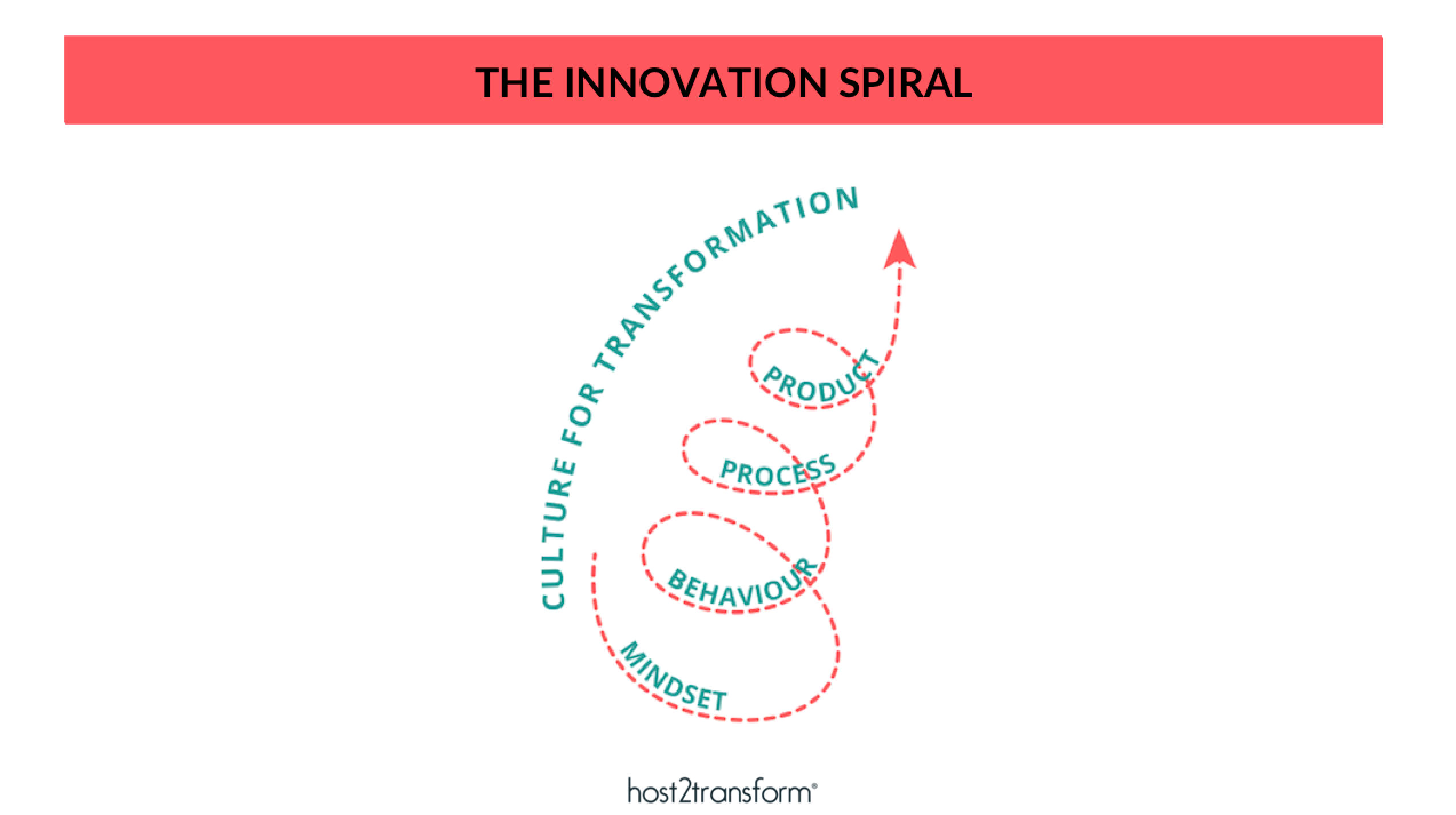 Evidence-based & Multidisciplinary approach
Our services are graded with an average of 5-stars. We keep an customer validation report, include a continuous feedback loop by our HOST practitioners and the HOST Board of Experts and back-up HOST with accurate science and run our own research for validation. We apply principles based on Sociology, Organisational Anthropology, Behavioural science, Applied Improvisation theatre and Business innovations.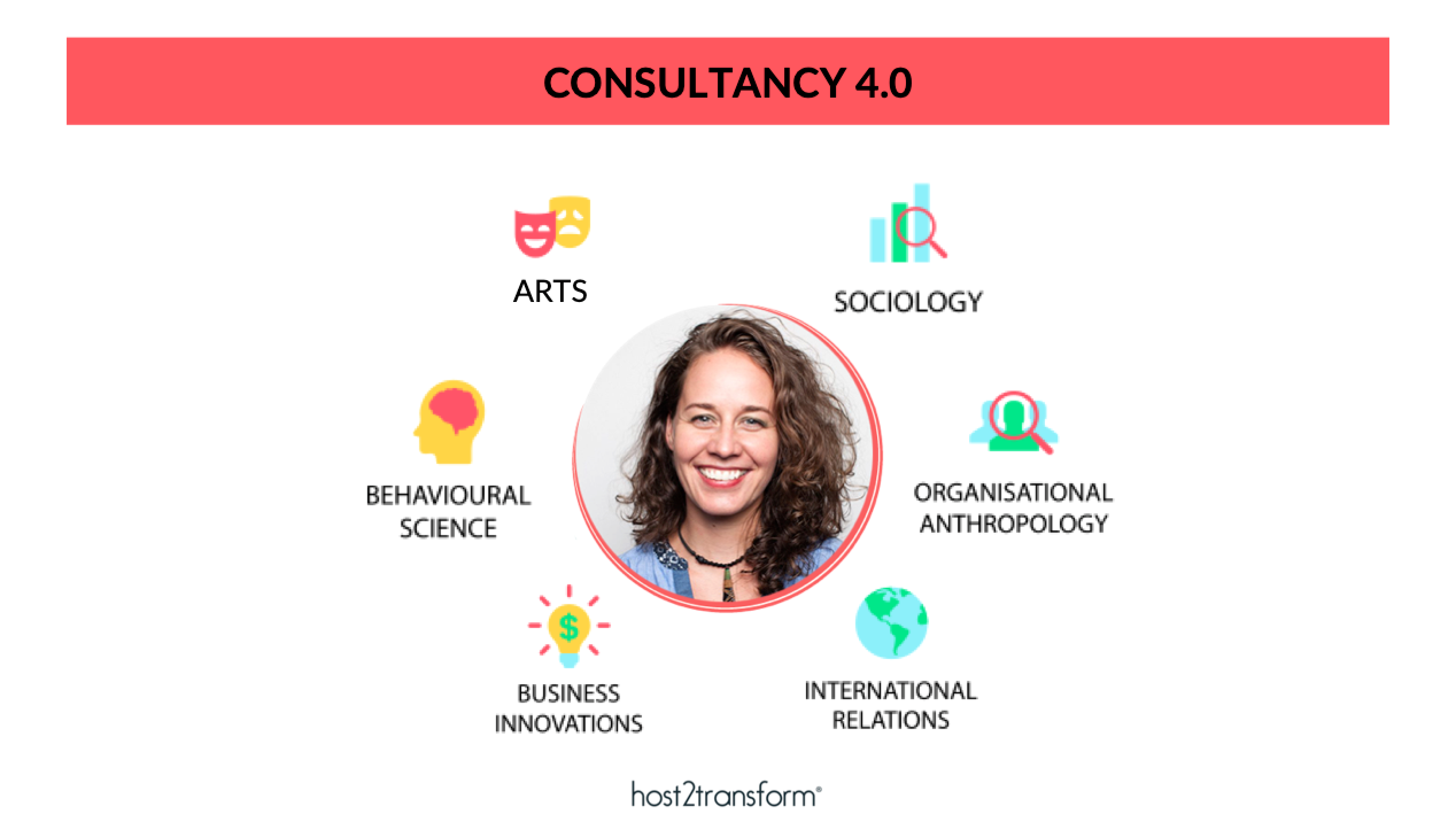 We believe a multidisciplinary approach is key to meet today's complex systemic challenges. The worlds is globalising and digitalising, we can't no longer isolate global the impact of events from the organisational and people context, and the other way around. This "interrelatedness" becomes easier to understand once we raise our awareness.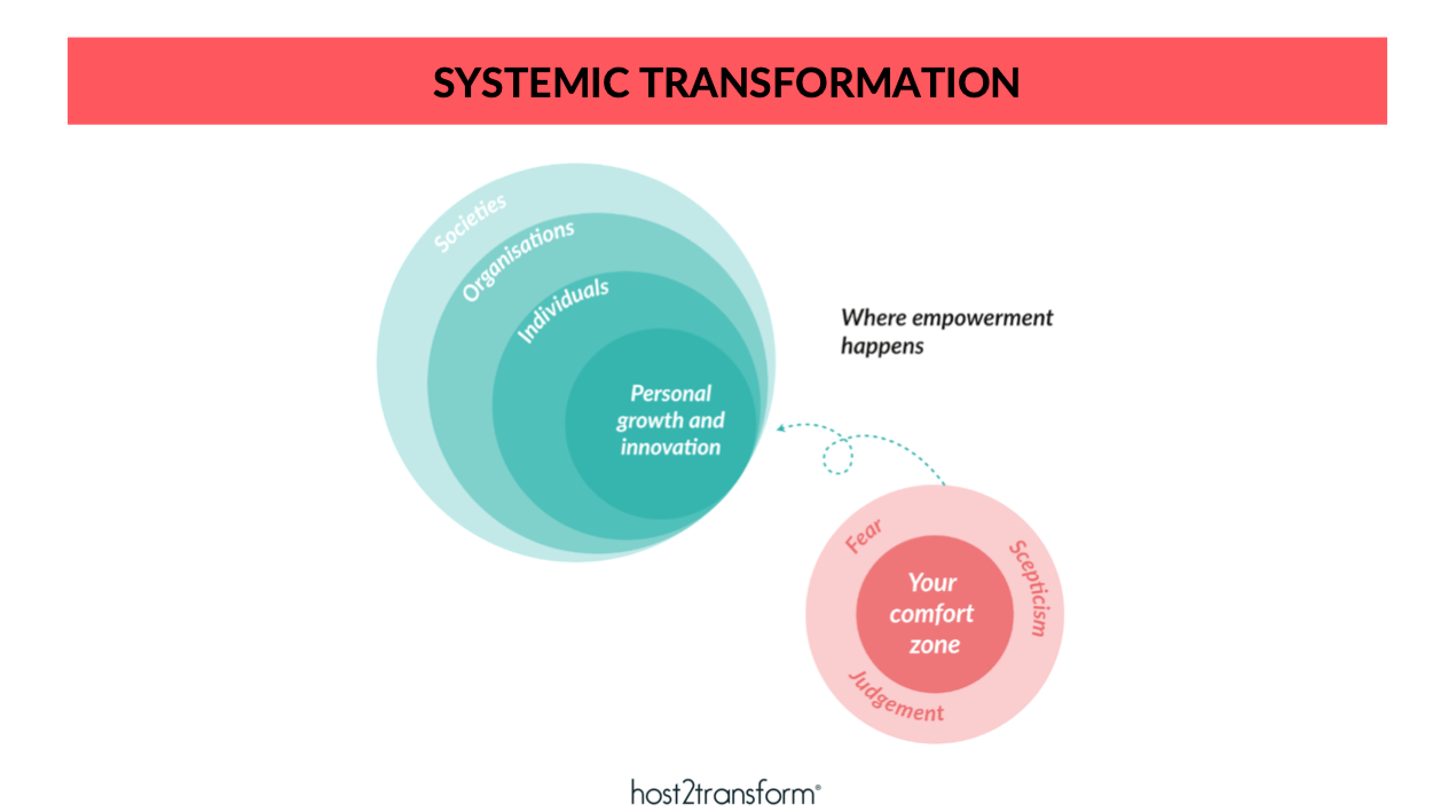 Future-proof Business
Over the years we've learned that having the best services and programs in place, is not sufficient to make your impact grow. Therefore, next to you experiencing HOST, we help you apply HOST into your specific work context, grow your impact and share our best practices how to grow, or even scale, your business, by applying 4.0 impact (RoI) measurement, connective sales, marketing, and business models.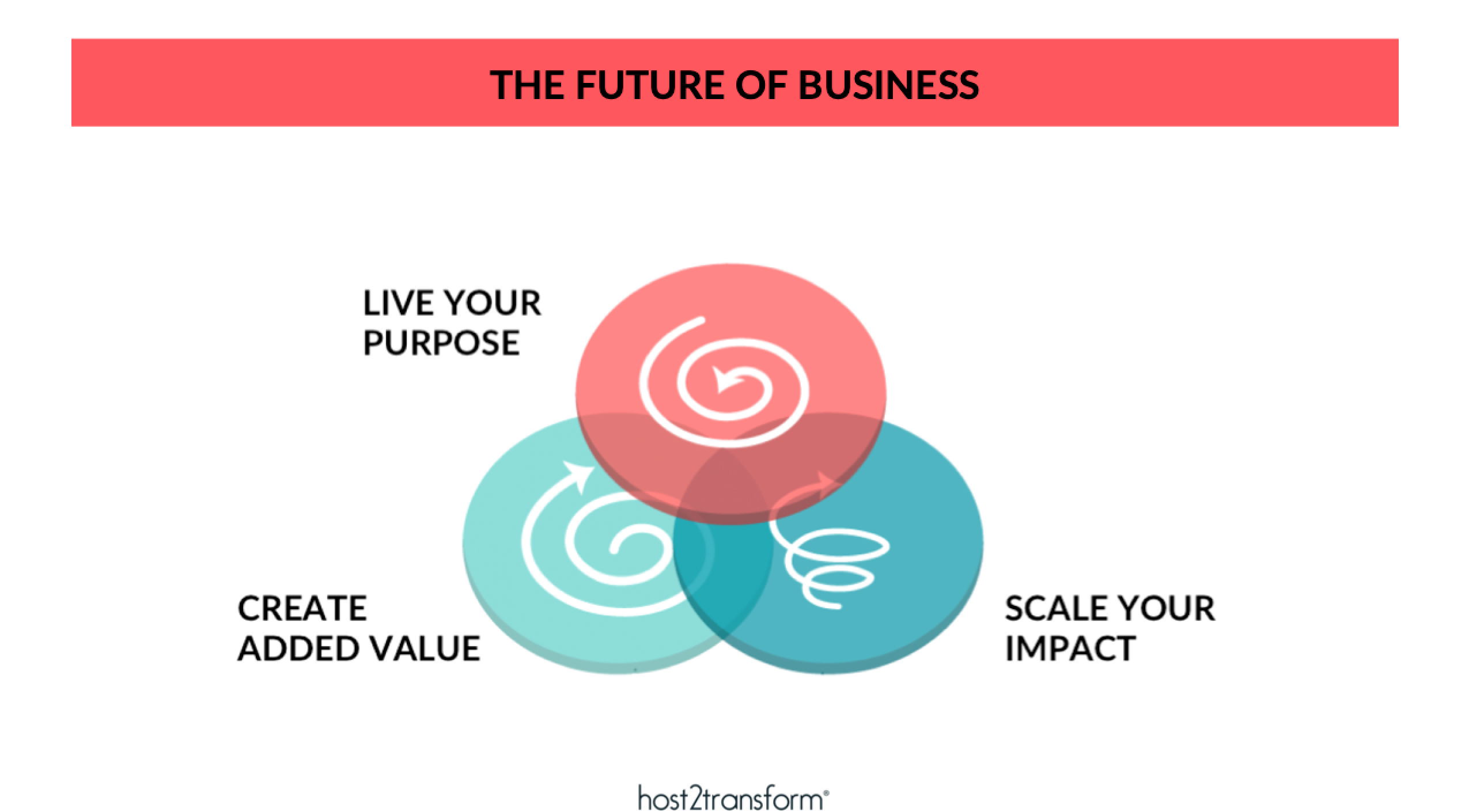 For whom:

This HOST Demo is tailored to pioneers in leadership-, learning- and organisational development (coaches, trainers, facilitators and consultants). heads of change agencies, HR teams and global training academies.
All purpose-driven to drive human-centered leadership, innovation and transformation and scale their people-business-societal impact.

Note: Host2Transform has a "learn-by-doing" approach and works with future-proof "learning and development" approaches; such as blended, experiential, peer-to-peer, embodiment and exponential learning. With the aim to foster inside-out change followed by outside-in change.




Your takeaways:
Get clarity on the global tends
Why "human-centered leadership to make change work" should be on top of each organisations agenda. What are the global challenges and benefits of leaders, teams, and organisation to drive human-centered transformation?



Grow your impact and business
Integrate the HOST blended, flexible and human-centered transformational leadership practices, designs and strategies into your services, programs or business; grow your impact and truly help leaders, teams, and organisations transform, lead and thrive in our fast changing and digital world.



Connect with like-minded pioneers
We grow a business ecosystem of forward-thinking pioneers eager to transform the way we lead, educate and work.


Early-adopter HOST Master Certification Training discount
- Tap into human-centered transformational leadership (blended) interventions, designs and skills to make change work.
- Receive real-time implementation support how to integrate HOST into your services and/or business proposition to grow your impact, sales and business.
- Collaborate and tap into the community of global like-minds, purpose-driven to grow human-centered leadership on all levels to make change work.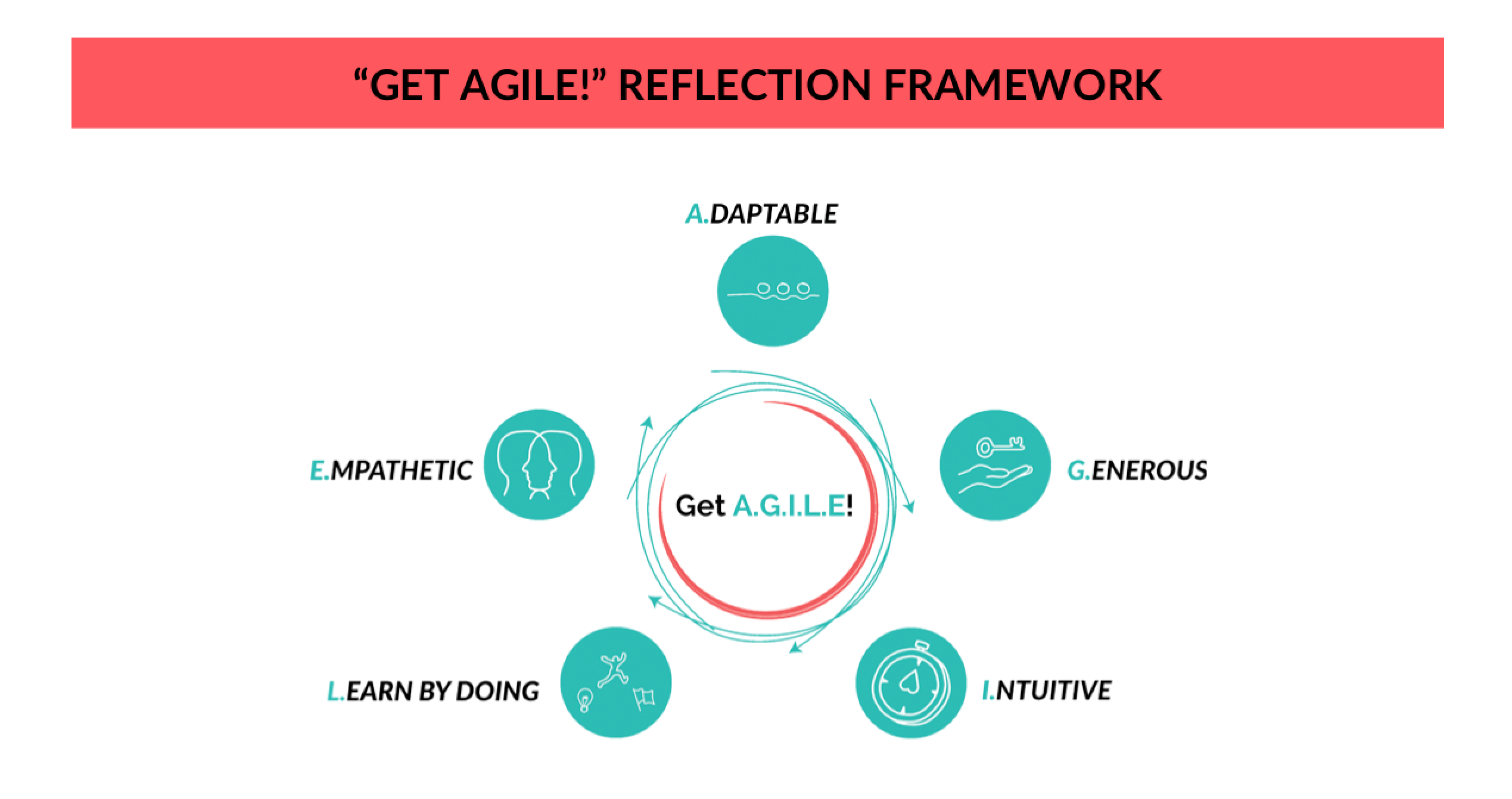 Program:

Flipping the classroom:
Prep-Quiz: "Smart Failure in our Fast Changing World".
HOST Guide: apply the free HOST practices and skills.

Monday Schedule:
18:45 PM Walk In Coffee & Tea
19.15 PM - 21.00 PM HOST Demo
21.00 PM - 21:45 PM Q&A, Drinks & Bites

Your investment covers our costs for venue and drinks.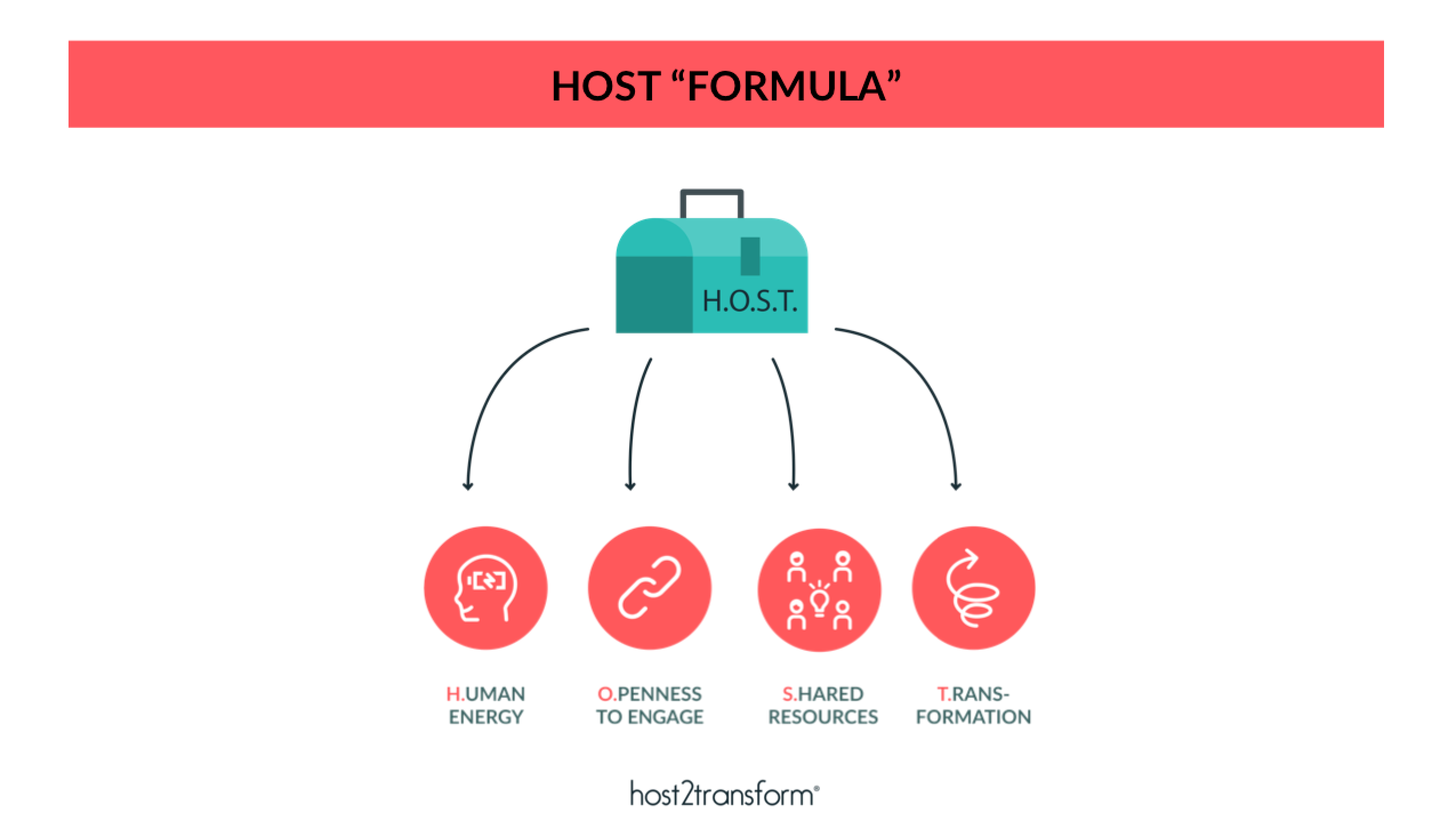 Your HOST's to Transform:
This Introduction session is hosted by Adda and Jessica:


"What I love about the HOST practices is the spontaneous way participants take on a positive attitude which makes them more flexible and supporting to their team. My purpose is to create flourishing organisations with a culture of growth mindset and an atmosphere of collaboration and trust."

- Adda van Zanden, HOST Certified Practitioner, Executive Coach at Center for Evolutionary Learning, Brain Facilitator at LEF Future center, Global Speaker, Inclusive Organisations advocate.

"I'm purpose-driven to connect the dots - my systemic and interdisciplinary background in Sociology, Organisational Anthropology, International Relations, Spirituality, Arts and Business - to humanise the costly and little effective traditional L&D industry and help co-create a new market that grows human-centered leadership on all levels to make-change-work!"

- Jessica Tangelder, Founder Host2Transform, Global Speaker, Future of Leadership Consultant & Business Coach. Redesigning Leadership Development.


How we grow:

Together with our Host2Transform (Master) Practitioners and partners, we unlock the potential within leaders, teams. organisations and societies and contribute to a global human-centered leadership culture with eye for wellbeing, ongoing innovation, inclusive collaboration, entrepreneurship and people, business and societal resilience and agility.

As we speak we are partnering up with Certified Master practitioner in world's most progressive cities such as Amsterdam, New York City, San Francisco and Bangalore. For more information check our website: www.host2transform.com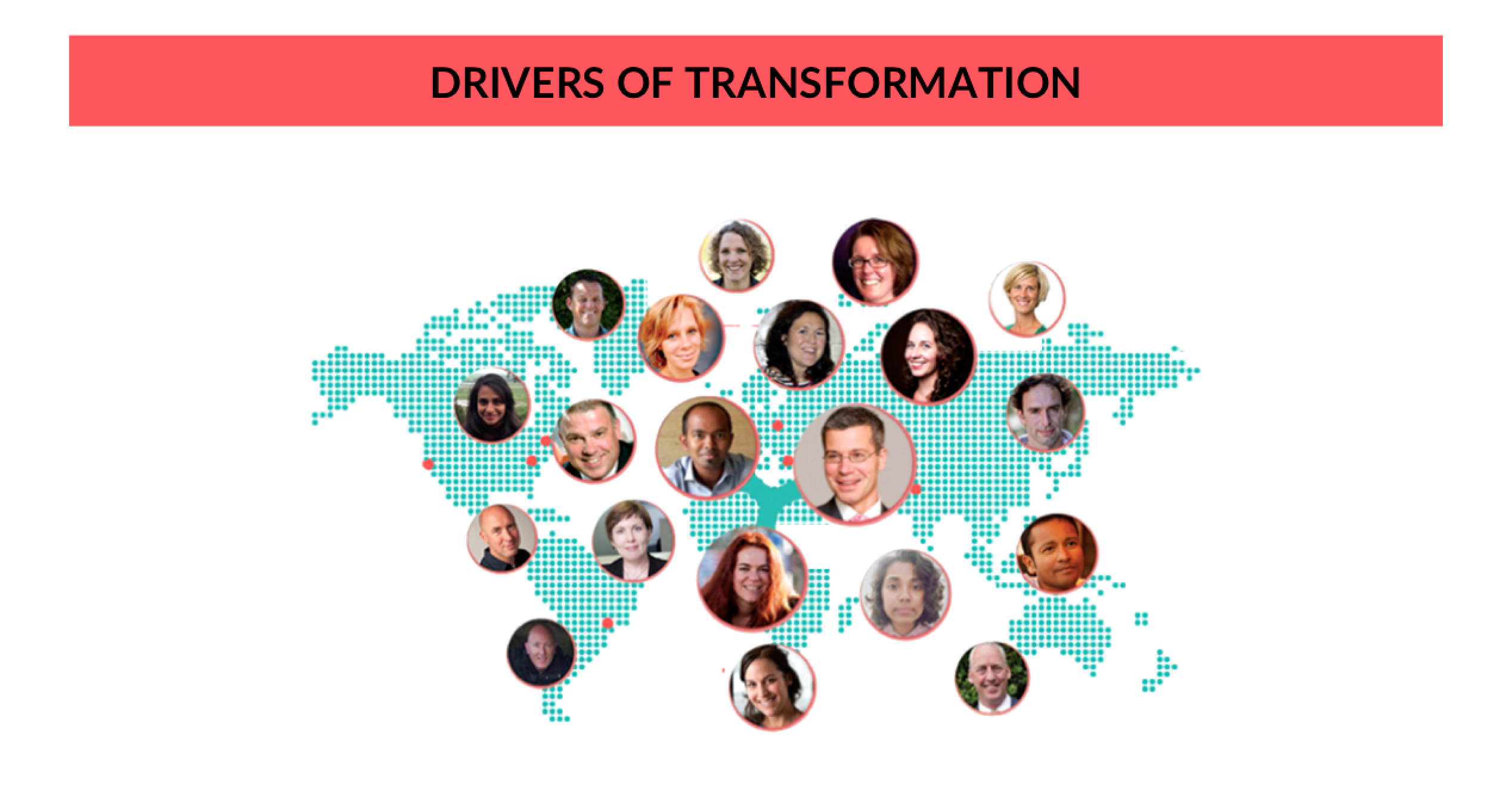 Why people join HOST


Upskilling and lifelong learning. Our online HOST coaching cycle, HOST DesignToolkit and user-friendly human-centered platform enables us to accelerate transformational learning and development, on a personal, professional and business level.


Growing business ecosystem. Connecting like-minded drivers of transformation from across industries that give each other real-time support and lift each other to the next level and complement each other.


Meaningful certifications. Growing your (online) visibility, boost your linkedin portfolio and attract more of your ideal clients.


HOST partnership. Certified practitioners and agencies who become part of our business ecosystem and create multiple income streams becoming an HOST ambassador or consultant.


Our impact:

We've certified 155+ Host2Transform Practitioners across industries and (work) cultures who represent or apply the change practices in organisations such as Google, Philips, ING, Ashoka University India, ReShape Health Innovation School, Province North Holland, Solidaridad, Bol.com, Ministry of Health & Welfare, HAN, IBIS, Saxion, HU, Fontys & Nyenrode Business University.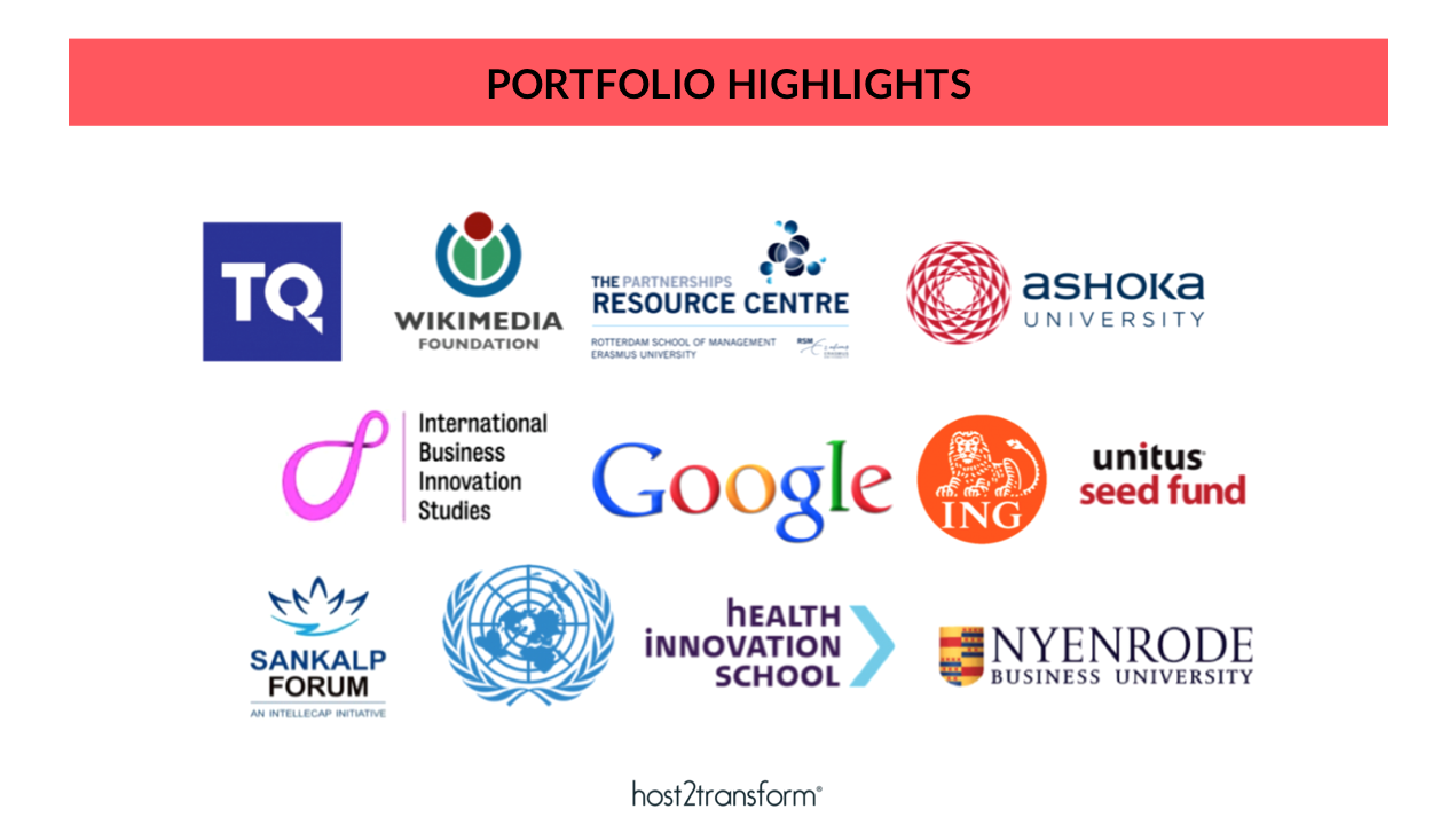 What HOST practitioners and participants (our clients) say:
"I appreciate very much the intense and passionate style of Jessica. Her way of working is making a lot of positive personal impact on people. It supports effectively the transformation of the people participating in her programs to a next level. Jessica knows how to create personal experiences that really help you to grow. With Host2Transform she has developed and brought together very interesting change approaches and tools that are very useful for different target groups like managers, trainers, facilitators, coaches. They can apply these tools in flexible ways in their own practice. The international oriented business and people approach is making H2T an attractive partner for all your change programs. Jessica and her colleagues from all over the globe are wonderful guides in these programs and a great source of inspiration".

Marjolein Maree - Over 20 years Management consultant, facilitator, trainer, executive coach
"Working with the Host2Transform concept and the toolkit was a true revelation. What I thought would be a set of soft exercises turned out to be simple, down to earth and highly impactfull. Very useful for a corporate environment.

The available exercises do not only make you smile, but more importantly generate valuable insights in the efforts required to transform yourself and your teams. A simple 5 minute exercise reconfirmed the essence of connecting the mind and the body, while another one showed the importance of trust in yourself and in others and from others when you want to lead."

- Dick Rüger - Curious Personal Coach, Cert. TIHR (Coaching), Leadership Agility Aficionado, Agile Transformer and Facilitator.


"I love to provide these Host2Transform Introductions because it creates the conditions for co-creation and transformation in no time! I partner with H2T to increase my impact and build on the broad experience and expertise of the H2T team. My purpose is to empower people to be the best version of themselves, mostly within Health care and Tech."

- John Schmeitz, Consultant Digital Transformation, Transforming Leadership.

"I'm interested in exploring different ways for transformation in HR. Host2Transform is one of my favourites and U.lab (Theory U), organisation constellations and many others. Thanks to Host2Transform I'm equipped to give my clients the option to approach my HR services in a transformative or traditional HR way."

- Ellis Haring, Independent HR Consultant, Transforming Human Resource Management.

"Getting to know Jessica was inspiring and fun. She has great talent to create a mindset of trust, openness, and playfulness amongst a group of people, providing a solid base for transformation, co-creation, and innovation within organisations, networks, and perhaps, whole societies!"

- Saskia Jongma Program Leader Modern Economy at the Ministry of Foreign Affairs. Transforming Societies.
More stories:
https://youtu.be/hkB8i0kwYoQ

In the news:

Deutsche Welle:
https://www.dw.com/en/surrounded-but-alone-cracking-the-co-working-conundrum/a-18024981

Office Today:
https://allwork.space/2014/10/co-working-isolation-a-new-program-in-the-netherlands-attempts-to-break-the-ice/

YourStory:
https://yourstory.com/2015/06/trainer-jessica-entrepreneur/


FAQs
* I couldn't make the Prep Quiz: now what?
Of course, you are still very much welcome: we'll make sure you catch up with the rest!
* What can I bring into the event?
Yourself, a peer, colleague or friend (make sure they get themselves a ticket as well ;-))
* How can I contact the organiser with any questions?
You can email us at connect@host2transform .
* What's the refund policy?
We can't refund money, however, we can reschedule your ticket for the next best opportunity!

* Where can I park easily?

There are various places. This place is cheap:
Parking Shopping Center Brasil, Oostelijke Handelskade. Entrance at Albert Heijn.
7 minutes walk to the HOST venue. For google maps go here.