Multiple Dates
HOST Demo Amsterdam | HOST2Transform: Welcoming The Evolution of Leadership
About this Event

The urge for a LeaderShift
In our digital age, companies can no longer rely on long business cycles. Burn-out rates are accelerating and globalization is increasing. Therefore a new approach to leadership and transformation is paramount (see list articles below).
Since 2012 HOST2Transform Global (HOST) breaks new ground introducing a virtual and blended human- centered leadership approach that guides individuals and teams in transforming organizations to thrive, and lead in increasingly complex, global, COVID-restricted, and digital workplaces.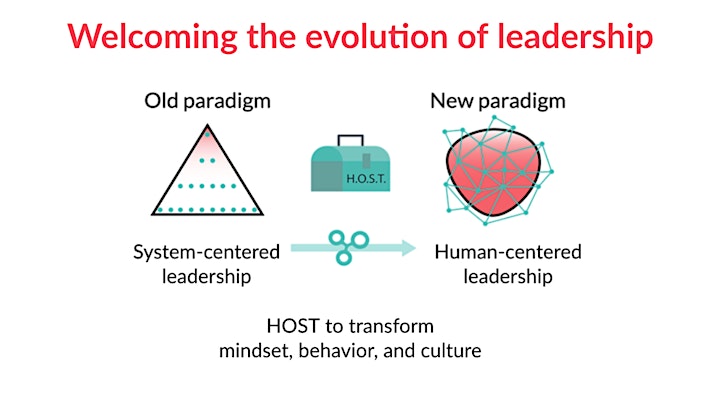 Today, more than ever the demand for change through human connection in the (virtual) workplace, is key for rapidly changing organizations to survive and thrive.

HOST Demo
The premise of the HOST Demo is that you will experience the HOST's proprietary framework and will walk away being able to unlock transformation and lead people by connecting them with themselves, others, and their (remote) work environment. Connect beyond unconscious bias, silos, departments, industries, and digital to guide lasting and meaningful transformation.
Receive:
Transformational Roadmap: clarity and focus on your/ your team or organizations needs.
Lifetime access to the digital HOST DesignToolkit: multi-media library with practices, skills, and strategies to unlock the potential within your work environment. Here you see us "doing the work" for you to tweak and apply in your own best ways.
Free 15-weeks try-out remote peer consulting and groups coaching (HOST Growth Cycles) by like- minded peers and experienced professionals: your bi-weekly "retreat and mastermind" to embed leadership and transformation in your every day work experience.
and much more i.e. "Get AGILE!" Reflection Framework, HOST Power Questions Cards, meet the founder, Jessica Tangelder, and other HOST Members. Our motto: together, we can scale (y)our transformational impact!
Program Build-up:
14.15 - 14.45 Welcome, Intro & Check-in
HOST Demo: experience the HOST practices, skills, and strategies and translate them into your own work environment/context
HOST Lab: bring in your transformational case/ challenge, receive multi-dimensional feedback by peer experts.
Fill out your Transformational Roadmap for ongoing learning and development.
18.00-19.00 Wrap-up, Feedback & Drinks & Bites! Welcome to join for dinner afterwards (excl. in price ticket). We have to leave the venue at 19.00 sharp!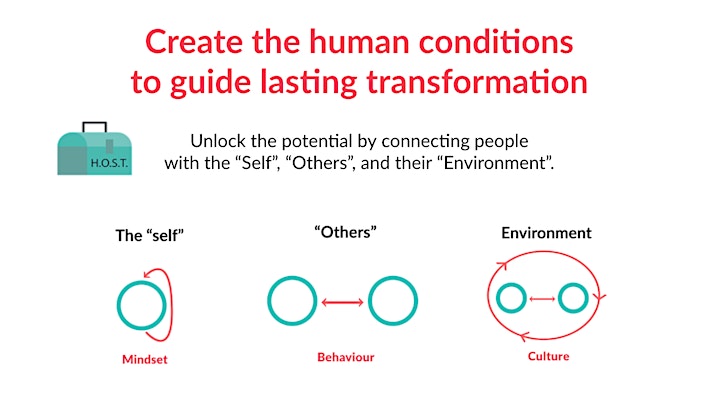 What we do
We believe meaningful and lasting transformation starts with the people; their mindset that underpins behavior, processes, results, and culture.
HOST provides a modern human-centered leadership consultancy platform to upskill, empower, and connect forward-thinking consultants and high-performing organization to help guide lasting transformation in our increasingly complex, global, and digital world. Our comprehensive services exsists out of:
Organizational Leadership Culture for Transformation: virtual or blended multi-layered Membership-Programs for consultants, executives, leaders and managers on all levels. Combining state-of-the-art practices in coaching, facilitation, training, education, and peer consulting to guide meaningful and lasting transformation from the inside-out.
Fast-pace Learning Innovation Design Workshops: remote 7-15 weeks DIY design workshops that bridge knowledge and skill gaps on topics such as: designing: COVID-proof, Resilient & Transformational Work Environments > Customer-focus Process-Product-Business Innovations > Purpose-driven Organizational Strategy.
Transformational Consultancy (Advice, Strategy & Interim): by our licensed world-class network. Empowering high-performing organization with i.e. digital transformation, business and leadership strategy development, HR transformation, and project and interim management. Obtain new perspectives to guide meaningful and lasting transformation from the outside-in.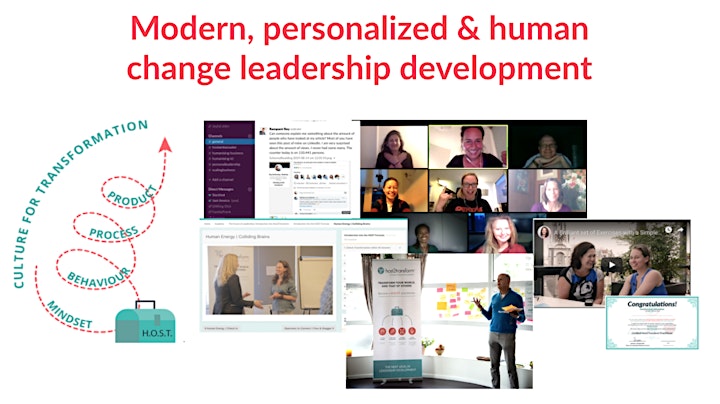 How we work
Our change leadership development services are based on state-of-the art design principles: a modern, human-centered, virtual and blended, personalized approach to enable change leadership on all levels across the organization.
With HOST's framework we help leaders thrive in an ever growing volatile workplaces, the aim is to repurpose the way leaders succeed in high-performing organizations by connecting them with themselves, their teams, and their work environment.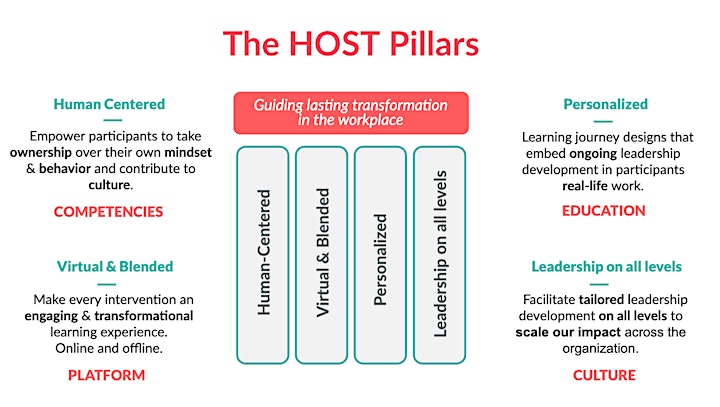 For whom
We perform best working with experienced consultants and high-performing organizations run by forward-thinking leaders, managers, and change agents who:
resonate with our HOST DNA as mentioned in the image below.
align with our shared purpose: to help humanize the way we work, learn, and lead to transform people, business, and society towards a sustainable future.
are aware of the urge for a LeaderShift and look for serious partners who invest in their employees to make-work-change and make-change-work.
dare to move beyond standard KPI's measurement and leadership competencies. Cliché, but mor true then ever: "If you want different results, you have to try different approaches." (Anonymous).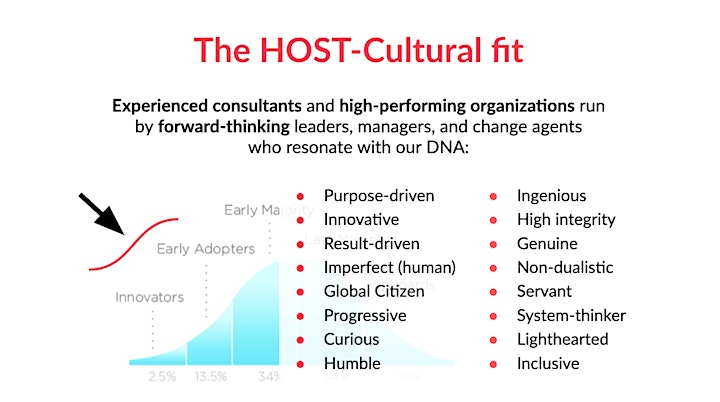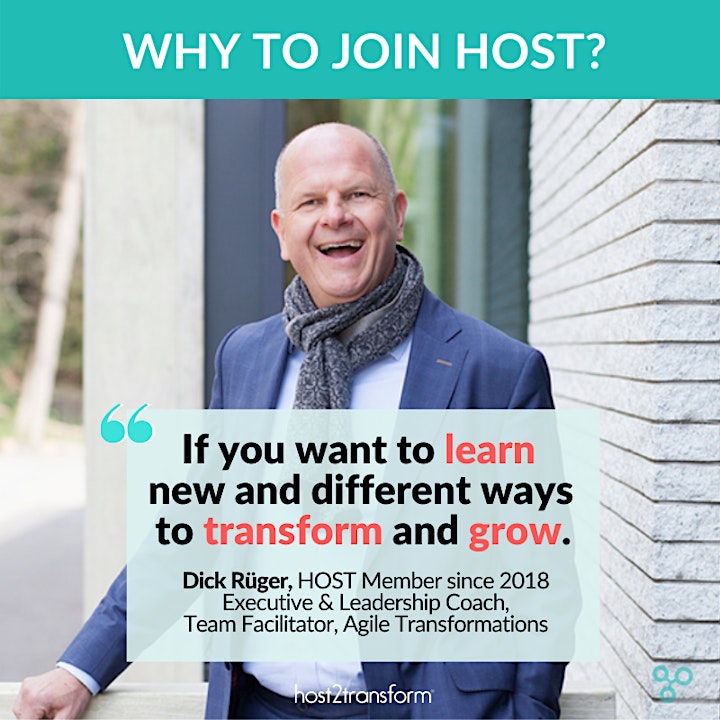 Measure to Scale Impact
Culture is not as "soft" as prejudice would have it. It produces hard results. Why do organizations invest in organizational (leadership) culture?
Culture influences organizational performance, innovation, agility, engagement, recruitment and retention, and competitiveness.
Positive climate, positive relationships, communication, and positive meaning lead to "positive deviance" or high performance.
Lack of Culture is the reason why 70 percent of all mergers, acquisitions and organizational change projects fail.
A toxic culture decreases productivity with 40%(OCAI online).
Below an overview of our client's Return on Investment on people (wellbeing), business (innovation), and societal (global citizenship/ inclusive collaboration). Areas of impact are determined by the scope of work and the participants' need assessment.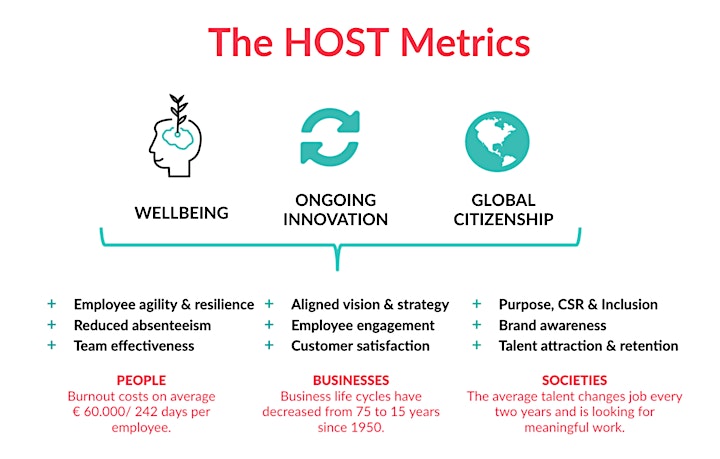 What HOST Members, faculty, and clients say: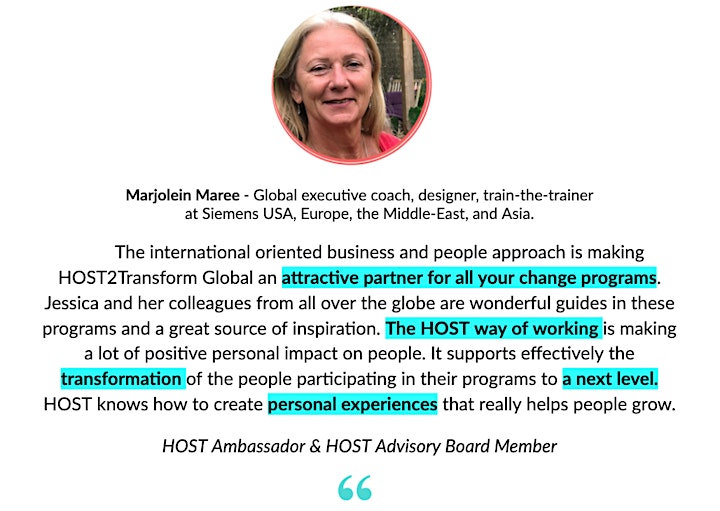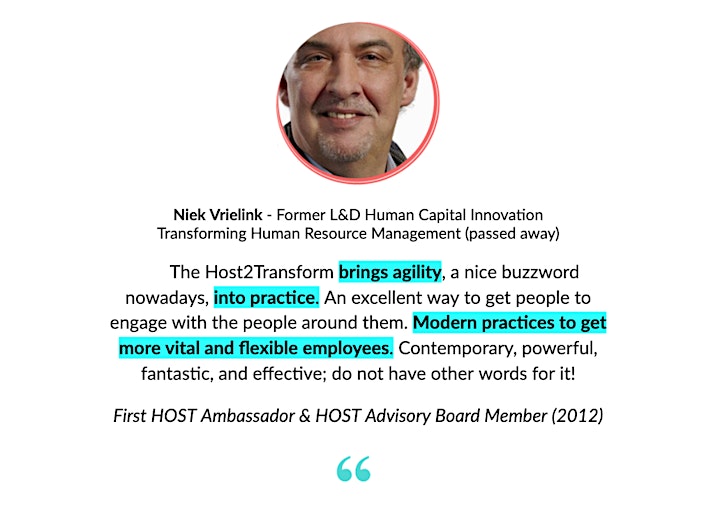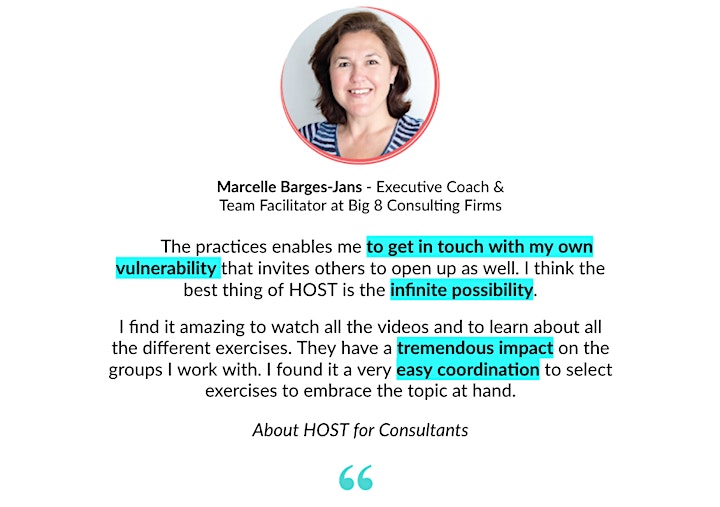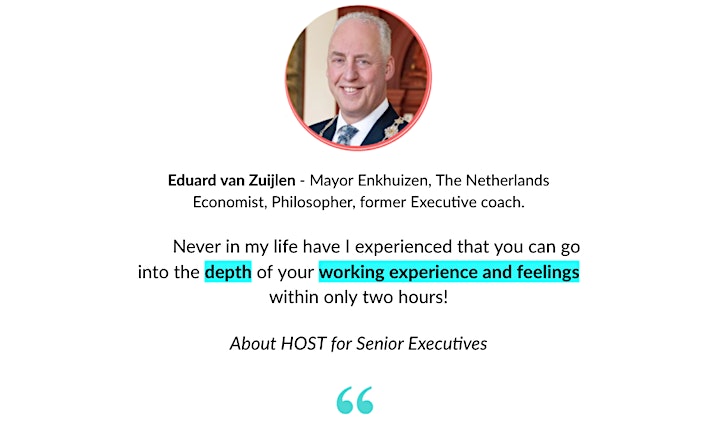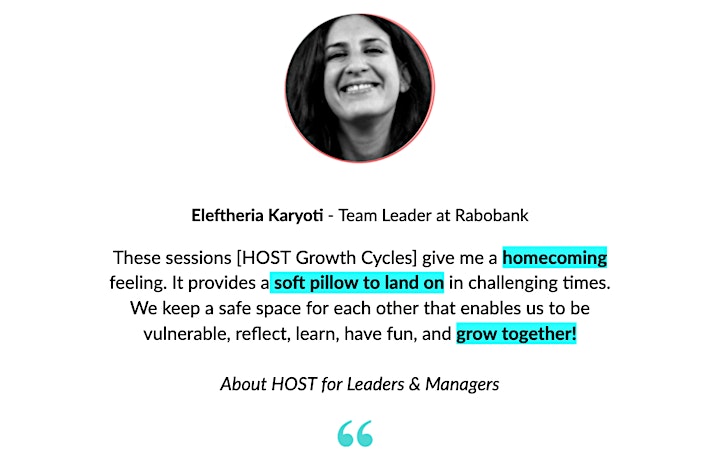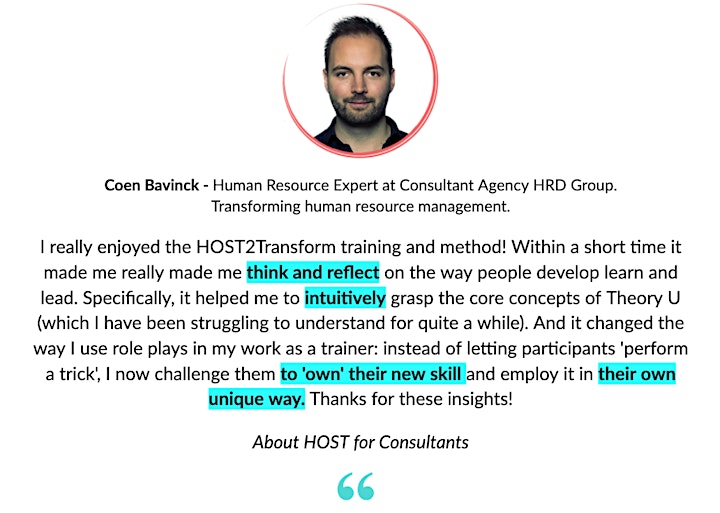 Evidence-based articles - Urge for a LeaderShift
Below highlights based on our global trend report: evidence-based articles that call upon the urge for changing the way we work, learn, and lead on all levels.