Event Information
Refund Policy
Refunds up to 30 days before event
Description
Youth externships provide our youth with foundational work experiences while they continue to pursue their education, and offer employers extra support for small projects and a chance to strengthen community relationships.
Spring Break Externship Program:
Session 2 - April 9, 2018 to April 13, 2018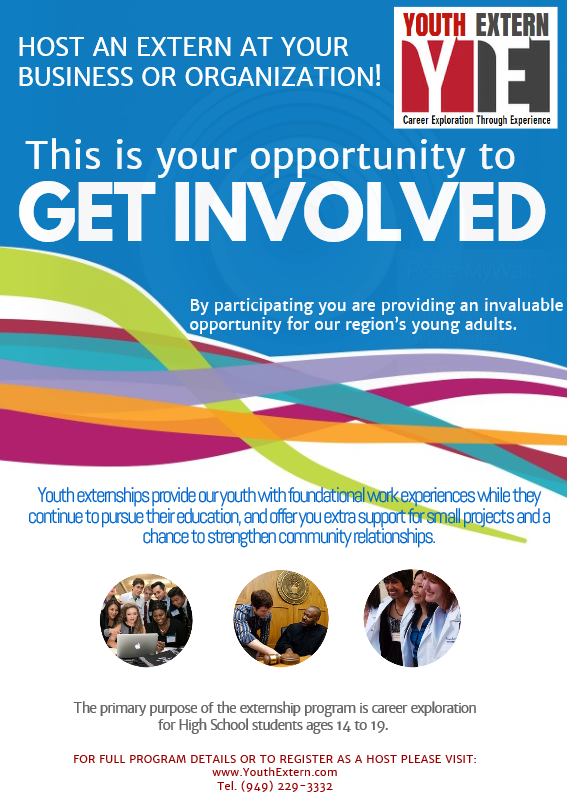 Join other employers who have worked with Youth Extern!
By participating in Youth Extern, you are providing an invaluable opportunity for our region's young adults.
​Interested young adults fill out an extensive application, and our coordinators conduct a thorough screening process to find the best participants for your organization.
Our team will then match the participants' interests and experiences to your business needs.
​
Youth Extern participants take part in work-readiness training that addresses communication, professionalism, teamwork and other workplace skills so they are ready for your workplace on Day 1.
​An externship gives the opportunity four our youth to explore a specific career path, gain marketable job experience, and make professional connections by working with hosts. The primary purpose of the externship program is career exploration.
Externs will most likely participate in the following activities:
Shadowing one or more professionals
Attending meetings and presentations
Touring the department
Conducting informational interviews
Participating in daily operations that will provide hands-on exposure to the career field or industry
Completing a relevant project, if the externship is long enough
​
Youth Externs are provided with:
Apparel with our logo

Supportive services from our Youth Extern staff.

Campus tours of Universities in the area.

All students who successfully complete all requirements will received a stipend at the end of the program. (Amount depends on the session you participate in.
​
When do the externship program run?
Winter Break Externship Program:

Session 1 - December 18, 2017 to December 29, 2017

Session 2 - December 26, 2017 to January 5, 2018 (no program on Jan.1-Holiday)

Spring Break Externship Program:

Session 1 - April 2, 2018 to April 6, 2018

Session 2 - April 9, 2018 to April 13, 2018

Session 3 - April 16, 2018 to April 20, 2018

Summer Break Externship Program:

Session 1 - July 5, 2018 to August 4, 2018​
​
We ask that all business hosts donate a minimal fee to help with the cost of running our program and will provide a stipend to each Youth Extern participant.
Winter Break Externship 2 week Program: $500 minimum

Spring Break Externship 1 week Program: $250 minimum

Summer Break Externship 4 week Program: $1,000 minimum
If you are unable to donate but are still interested in hosting, funding may be available to sponsor your extern.
Are they any liabilities issues to hosting?
No.
Externs are considered our interns who complete their hours externally at an outside business or organization in the local area.
Date and Time
Location
Refund Policy
Refunds up to 30 days before event